In the annual fight against August ennui, academics have a powerful ally: the promise of September.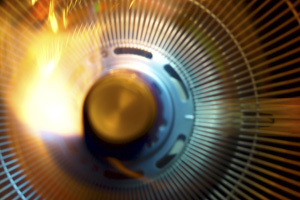 August reigns as the golden age of fans.
Stored in the image archives of my memory is a Roz Chast New Yorker cartoon, circa 1984, entitled "More Hamptons." As an alternative to those pricey Long Island vacation spots, Chast offered up Fanhampton, Tubhampton, and Roofhampton. Her cartoon spoke to me. I've never summered in the original Hamptons, but I am a return visitor to Fanhampton and as a singleton spent a week each August commuting between the office and an out-of-the-way spot that Chast would no doubt dub Couchampton. Coming straight home from work, I'd turn the fan in front of the living-room sofa to high-speed, pour a tall glass of lemonade, dive into a Georgette Heyer Regency romance, and read until 2 or 3 a.m. The next morning I'd get up and go back to the office until it was time to resume where I'd left off. No phone calls, television, errands, visits with friends. At week's end, I'd return to normal life, refreshed. August remains the perfect month for escapism, great and small—at least in the northern hemisphere. Spring's green promise has turned brown around the edges, heat and humidity combine to weigh down the spirit, and the news of the day can seem overwhelming. Sometimes the only way to face reality is to take a break. Those of us who move in academic circles have one big advantage in the annual fight against August ennui: September brings a new cycle, new possibilities, faces, promise. If you need proof, we have it in this issue—"Chicago Seven: The Final Frames," the last installment of a project that began in Summer 2001. That's when we asked seven members of the Class of 2005 to allow us an annual check-in as they made their way through the College. We liked the students when we met them as first-years, and when we interviewed them as second-years, we liked them even more, fascinated by how much they'd changed. They'd gotten taller, acquired new hairstyles and majors, moved out of the dorms and into apartments, were planning to study abroad. The kids were growing up, a process that continued through their third year. This June, when we caught up with them near graduation, they were still changing—and still thinking about how they want to continue to change. What more can you ask of a liberal-arts education?
Another August ritual
With this issue the Magazine bids goodbye and good luck to two members of its staff, Associate Editor Megan Lisagor and Alumni News Editor Amber Lee Mason, AB'03. Both have headed East. Megan, based in Washington, DC, has started freelance writing and editing while also preparing for an October wedding, and Amber, a few miles up the road in Baltimore, also is freelancing while trying to find a foothold in the world of public radio. Back in Chicago, we'll miss their efficiency, their good humor, and, above all, their writing talents.—M.R.Y.