Cartoonist Ivan Brunetti, AB'89, draws out his inner world.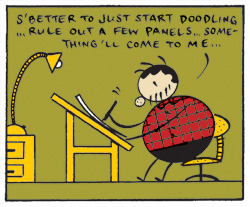 A Brunetti self-portrait. To see the full-size image of another strip he drew for the Magazine, click here.
At 37 Ivan Brunetti walks slowly, talks softly, and wears muted colors and a fuzzy beard. He has a sweet smile, a round face, and a round belly, and during a spring evening lecture, part of this year's Festival of the Arts, he worries that he sounds "like a crazy old man."
But in fact when he discusses comics—his chosen career—he speaks eloquently, comparing his lifelong medium to calligraphy, music, and Buddhism. Like comics, he tells the Cobb Hall lecture group, "Buddhist philosophy is about the way things flow." When you create art, "you make a mark, you type a word, a sentence—that becomes the seed for the next one."
Brunetti, who flirted with Buddhism but now finds himself too busy to meditate, has tried to make his mark in comics since his childhood in Italy, where he copied images of Donald and Daffy Duck. Moving with his family to Chicago's South Side when he was 8 years old, he drew for his high-school paper and later the Maroon.
After graduation, Brunetti snagged a U of C Press job doing production and copy editing, continuing to draw in his spare time and collecting Misery Loves Comedy, the Maroon strip that he continued to pen, in an anthology. In 1990 he married a fellow alum, and in 1995 Fantagraphics Books published his first comic book, Schizo Vol. 1, a peek inside his head. Two years later, he says, his life "fell apart." His wife left him and he had a fallout with his family. In retrospect, though, it was the "best thing that could have happened." He found himself "humbled," he says, "by how much I had screwed up my life."
Leaving behind some of the self-loathing and scatological humor of his earlier work, Brunetti decided to incorporate more complexity into his mostly autobiographical stories. At some point he found himself a bit "repulsed" by focussing so narrowly on his own life. An occasional hermit, he began to draw brief, enigmatic strip biographies of other lonely artists and writers, including Kierkegaard, Piet Mondrian, and Erik Satie, published in New City, McSweeney's, and the Chicago Reader, which regularly features his strips. Still, most of his work sticks pretty close to home. "My comics are about me," he says. "Or people that I think are like me. Or animals that are basically me."
Though the late Peanuts creator Charles Schultz ranks high on his list of muses, Brunetti doesn't draw strips likely to show up in the Sunday funnies. His work is often defined by introspection and melancholy—with some drinking and sex occasionally thrown in for good measure. His mature subject matter and moody tone place him in the "alternative" or "underground" category—terms that, Brunetti contends, hardly make sense anymore as media exposure, from Art Spiegelman's critical success to 2003's American Splendor, has bolstered the genre into the mainstream.
In that scene Brunetti has carved out a place. While his caustic early work made him "a little notorious" in the comic set, nowadays he's friends with artists he admires. He's also "very close to almost making a living" and no longer relies on commercial illustration for Entertainment Weekly, Spin, and Mother Jones, among others, "to pay the dentist bills." At work on the fourth volume of Schizo, due out this fall, Brunetti says he's achieved a better balance between his misanthropic and "maudlin" tendencies. In September Chicago's Columbia College is hosting a "monster" exhibit, curated by Brunetti, of 50-plus comic artists, in conjunction with Yale University Press's upcoming Anthology of Graphic Fiction, which he edited. He hopes by next year he'll be able to drop his current job designing Columbia College Web sites and pick up more local teaching work—adding to a recurring U of C gig on Writing the Graphic Novel. He enjoys being in the classroom. "I feel like I've been struggling with [writing comics] for so long," he says, "that I can talk about it with some confidence." As with his strip, teaching is about "putting people into my head and hoping they'll understand it."