After Katrina hit, Chicago opened its doors to Gulf-area students.
Marie Scantlebury was sitting in a Tulane University classroom August 27, a Saturday morning two days before Hurricane Katrina hit, when her father called from Champaign, Illinois, to ask what she planned to do about the "really bad storm" heading for New Orleans.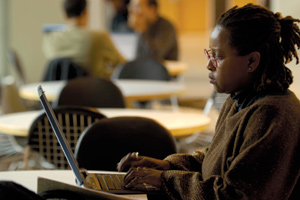 Transplanted Tulanian Marie Scantlebury studies in the Graduate School of Business.

"I said, 'Well, I'll think about it after my exams,'" laughs Scantlebury, a first-year in Tulane's executive-business program who was preparing for upcoming tests. In the year she'd been living in New Orleans, she'd weathered three hurricane evacuations, and each time the area "didn't even get any rain," she says. "You know what," she told friends, "I'm not doing this again." She resolved to stay.
At 1:30 a.m. Sunday, Scantlebury awoke suddenly to a change of heart. Throwing her laptop, homework, laundry, and detergent into her car, she left, following the flow of traffic to Mississippi. After a couple days in a Jackson motel, she headed to Champaign. That Thursday she saw her New Orleans neighborhood on CNN and realized she wouldn't be returning to Tulane anytime soon. "I lived on the first floor," she says, "so that pretty much sealed it."
She contacted her landlord and creditors; ordered her University of Illinois diploma, Social Security card, and birth certificate; applied for a food-stamp card; and bought clothes with a $50 voucher that Champaign's Salvation Army provided to evacuees. At times her experience has been "humbling and humiliating," she says. "Unless you're wearing this big sign on your forehead that says 'Hurricane Katrina evacuee,'" some social-services workers "treat you like dirt," she says. "But then you come here"—to the University of Chicago—"where they roll out the red carpet," she says, "and throw out hugs and stuff, and so you can forget temporarily."
Scantlebury, who is taking three classes at the Graduate School of Business and living with Judy Friedberg, a University executive assistant, is one of the 39 displaced Gulf students whom the University is accommodating as students at large. Applying for admission on a quarter-by-quarter basis, students at large are not degree candidates but may earn transfer credit. In a typical quarter, 20 to 30 such students enroll, says Associate Registrar Andrew Hannah. This fall, the displaced Katrina students boosted that number to 71. Assuming those students have already paid their schools, the U of C has provided classes and housing gratis. Administrators have also checked in with the 105 Chicago students from Katrina-affected states, providing financial-aid clemency, clothes, and other support as needed.
The University's efforts have not been limited to students. The humanities division and the Franke Institute, for example, established a $50,000 relief fund to support up to 33 visiting scholars from academic institutions that closed for the fall. The half-dozen professors who took the slots received $1,500 "to help purchase books that were lost, or to be used as they see fit," says Kathleen Skurauskis, manager of administrative services in the humanities division, but they do not teach classes.
For the Katrina students now at Chicago, the usual application standards were relaxed, with only a few days between the application deadline and the September 16 admissions decision to evaluate students. "It really wasn't competitive," says Vice President for University Relations and Dean of College Enrollment Michael Behnke. The College admitted most students who applied, Behnke says, based on whatever materials they could submit. Similarly, at the GSB, it was "not our goal to strongly assess their credentials," says Kristine Mackey, director of the evening and weekend MBA program, but rather "to make sure they don't flounder in the classroom."
Mackey received calls of inquiry from a Mississippi shelter, the Salvation Army, and a truck stop. For the most part, the students she turned away—she spoke with about 46 students, of whom 22 applied and 15 were accepted—were those interested in matriculating permanently at Chicago. "We want to help Tulane" and other Gulf schools "get back on their feet," Mackey says, so "we were only interested in visiting students." Despite the minimal background information some students provided, says Ann Perry, assistant admissions dean at the Law School (which accepted about half a dozen students of the roughly 40 who applied), "I really felt like students self-selected because of their connection to the city or the area."
By late September, when classes began, the GSB had 13 students, the Law School four, the Graham School one, and the Social Sciences Division two. Though prepared to accommodate 50 students, the College enrolled only 19, including 14 from Tulane, one from Dillard, two from the University of New Orleans, and two from Xavier University, Behnke says. By class year, there are five first-years, four second-years, three third-years, and seven fourth-years. Fourteen of the undergrads live in the dorms, according to Director of University Housing Katie Callow-Wright.
One such student is John Walters, a Tulane first-year from Arizona living in the Shoreland. He arrived in New Orleans two days before Katrina hit. Upon reaching his dorm, "they said I had ten minutes to pack a duffel bag because we were leaving," he says. He dropped off his suitcases, packed for four days, and got on a bus with other students to Mississippi's Jackson State University, where they stayed in a gym. "It was really kind of cool," Walters says, "meeting people from Tulane." Several days later they were bussed to Atlanta, and Walters flew home. He applied to Chicago because of its late start date and available housing, choosing it over Seattle University, near his grandmother. "I'd never been to Chicago," he explains. Admitted a few days after applying, he arrived in time for orientation. "It didn't affect me all that personally," Walters says, "so I don't have that much to complain about." Chicago, he says, is "a great school and I really like it here," but he plans to return to Tulane come January. It's an odd way to start college, he acknowledges, "but I guess hurricanes happen."
For Scantlebury, shaking Katrina's impact isn't so easy. If she returns to Tulane, she intends to commute from Baton Rouge, where she worked before moving to New Orleans. "I don't know that I could do the New Orleans thing again," she says. "I'm a bit paranoid, and since I'm not a native I don't really have the ties." Recalling her harried departure, she says, "My only plan was, I'll be inconvenienced and two days' worth of hotel and gas poorer." Now she knows better. If a hurricane struck again, "I know what I would pack, where it would be kept, when I would evacuate if I had to do so," she says. "I have a totally different outlook."