Gothic revival
Since its inception, Goodspeed Hall has undergone two renovations: in 1938 for the Department of Art and again in 1980 for the Department of Music. During the latter redesign the Classics Reading Room was annexed and remodeled into the 150-seat Fulton Recital Hall. But the room's original ornate wood-trussed ceiling (below) lives on.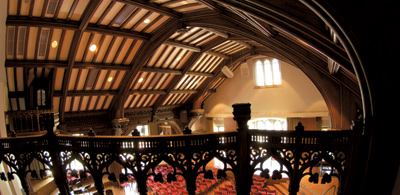 Originally intended to house 50 male undergraduates each, Goodspeed, Blake, and Gates Halls are the grandfathers of University architecture. Built in 1892, they share with Cobb Hall the distinction of being the oldest buildings on campus. Before Goodspeed was renamed to memorialize University trustee and historian Thomas Wakefield Goodspeed, the building was called South Divinity Hall, situated in what was then known as Divinity Quadrangle.
His namesake befits Goodspeed's ideal for the campus. A prime University fund-raiser, he helped dream up future architectural designs. Envisioning a Gothic spread recalling the greatest European academic institutions, Goodspeed helped dissuade architect Henry Ives Cobb from the then-fashionable Romanesque style.—M.M.