Caribbean getaway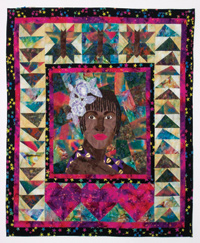 Erzulie Dantor, Courtesy of Michele David.

Seeking a reprieve from winter's gloomy gray? Michele David, MD'88, has just the cure. Combining the vibrant colors and inviting landscapes of her Caribbean homeland, the Haitian-born quilt artist presents a retrospective of her work, Painting with Fabric: Quilts by Michele David, through January 8 at Boston's Museum of the National Center of Afro-American Artists. Experimenting with beads, feathers, and other embellishments—in contrast to the geometric patterns of traditional domestic quilting—she creates pieces that reflect her warm cultural heritage. The exhibition features a dozen pieces, including Ancestral Spirit I, a mask-like quilt with a feather headdress, the music-themed Conversation About Jazz, and the flowered Metamorphosis.
A women's health physician at the Boston Medical Center by day, a quilt artist by night (and weekends), David notes the connection between her two worlds. "There's sort of a feminine aesthetic to it," she says of textile's familiar, physical nature. And for her, the art counterbalances the demands of medicine. "I don't do a lot of precise quilting," David says, "because I do that in my other work life and I really don't want to replicate that when I do my creative work." Instead she adopts a stream-of-consciousness approach, letting the fabric "speak" to her.
Though trained in Haiti as a dancer and surrounded by the arts—several family members are writers—David was always considered "more the scientist of the family." It wasn't until after medical school that she began dabbling in the visual arts, eventually discovering quilting in fall 1999. She has since won numerous awards and exhibited her work in more than 20 shows nationwide.