Macbeth, Falstaff, Prospero: D. Nicholas Rudall has played them all, plus many others. But on the eve of his retirement, the founding director of Court Theatre and professor in classics performed the one role he had yet to master—spectator. Sitting in Court's maroon plush seats, Ru--dall fixed his eyes on the stage as colleagues, students, and family members delivered a performance a lifetime in the making: a celebration of his 40 years at Chicago.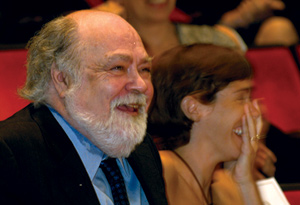 Goodbye, Mr. Rudall: the professor and his daughter at a Court Theatre tribute.
Between sweet, often hilarious tributes to the man who helped grow Court Theatre into an acclaimed professional company, actors performed some of Rudall's favorite passages from his translations of The Bacchae, Electra, and Oedipus at Colonus.
The evening, emceed by former Chicago Tribune theater writer Richard Christiansen, was a tough ticket to come by. Helping to pack the house were Rudall's year-old granddaughter Molly and her mother Clare Rudall Lorring. Lorring recalled how her father, the son of a Welsh steelworker, spent his summers toiling as a "clay boy" until he won a scholarship to the elite Llandovery boarding school, where he fell in love with the theater. In his first Shakespearean play, Lorring said, "he played a girl."
Later he attended Clare College, Cambridge, earning a bachelor's in 1962. He received a PhD in classical languages and literature at Cornell and in 1966 joined Chicago's classics department. He taught tragedy and the ancient theater, Aristophanes, and Propertius.
In 1970 President Edward H. Levi, PhB'32, JD'35, asked Rudall to create a professional theater. He became artistic director of Court Theatre in 1972. By the mid-1970s the company was using professional actors rather than the students and community members it started with, and by decade's end the subscriber list had risen from 500 to 5,000. While earlier performances took place both inside and outside the Reynolds Club, Court built its current home in 1981.
At that home during Rudall's farewell, philosophy professor Ted Cohen, AB'62, told of Saturday afternoons playing "cowboy" pool together at the Quadrangle Club. Although they were heated games full of off-color ribbing, Cohen said, players could always feel the empathy that Rudall famously brought to his classrooms and the stage—directing, among others, Measure for Measure (1977–78 and 1991–92), The Glass Menagerie (1987–88), and The Mystery Cycle: Creation and The Mystery Cycle: The Passion (1992–93), codirected by Bernard Sahlins, AB'43.
"Nick gave a confidence to his actors," agreed Kenneth Northcott, professor emeritus in Germanic studies, during his tribute. "He did not tell them what to do. He knew what he wanted, but he managed to make each actor think it was he who thought of it."
After an Oedipus at Colonus reading, author Sara Paretsky, AM'69, MBA'77, PhD'77, took center stage with a "Hedy Weiss" tag pinned to her chest. Weiss, the Chicago Sun-Times theater critic, couldn't make the event, sending Paretsky in her stead with a letter about the three Welshmen Weiss has had crushes on—Richard Burton, Dylan Thomas, and Rudall. Seeing him perform in Endgame in the early 1980s and imagining him as a teacher, Weiss wrote, "was one of the few times I wished I were in school."
David Bevington, the Phyllis Fay Horton distinguished service professor emeritus in humanities, did witness Rudall's classroom persona when they cotaught a two-quarter class on the history and theory of drama. Though he didn't admit to falling head over heels, Bevington, one of the world's top Shakespeare experts, offered high praise: "Nick taught me whatever I know about Western drama."
For Rudall, the highest compliment of all was that three classics doctoral students spent more than a year planning the festivities. "It was an extraordinary honor to have my students put such an event together," he said. "It was so heartfelt and emotional, and it's just very moving indeed. I am beyond touched."
There's life after retirement for Rudall. His current project is a translation of Ibsen's An Enemy of the People, which will take the stage this fall at Washington, DC's Shakespeare Theatre Company.