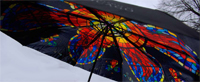 MAKE A GIFT of $50 or more to the University's umbrella alumni publication and receive a Chicago-themed umbrella in return. See larger image.

UChiBLOGo
The Magazineís Web log, updated every Monday, Wednesday, and Friday @ 3 p.m.
---
In Their Own Words
The Magazineís online catalog of books by alumni. Notices are submitted by authors or their publicists.
---
Views
Screensavers & desktop wallpaper from the University of Chicago Magazine.
---
UCHICAGO.EDU
The Magazine's monthly e-bulletin offering links to University and alumni news and programming.
---
Update your mailing address
If you have any questions or problems submitting your new information, please contact the Alumni Association at 1-800-955-0065.

Peer Review
The Hyde Park Art Center stakes out new turf, and a social historian breaks down boredom. Plus: alumni news, deaths, and classifieds.
::
Read more
::
more "Peer Review"