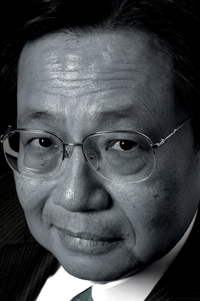 Wai-Keung Cheng, MBA'73, wore a University of Chicago tie at this year's Alumni Convocation in Rockefeller Chapel, where he was honored as the 2006 Alumni Service medalist. Chairman and managing director of Wing Tai Holdings Ltd., Cheng has long strengthened the Graduate School of Business's ties to East Asia, serving as the force behind the GSB's Singapore campus, which opened in 2000. He committed his company's landmark building for the site, he introduced GSB deans to Singaporean officials, and his company funded the cost of turning the historic building into a state-of-the-art educational facility. After getting his MBA, Cheng, who earned a BS from Indiana University in 1971 and lived in International House while at the GSB, joined Wing Tai, a Hong Kong garment manufacturer founded by his father. Now its board chair and managing director, he has expanded the company's presence throughout South Asia and beyond; he also is chairman of Raffles Holdings Ltd. and Neptune Orient Lines Ltd., the world's seventh largest container shipping and logistics company.
On finding time for volunteer work: Everything is a trade-off. I could spend all of my time on business and nothing else. But serving the community also gives me a certain, different type of satisfaction. Each activity has a different kind of reward—that's how I see my trade-off. It's not whether I have to spend more time here and less time there, whether there's a sacrifice. I never think that anything's a sacrifice. I have the freedom of doing what I want. Trade-off to me is always positive.
Why dorms should be the norm: I learned a lot about American culture purely because I lived in a dormitory. Now the percentage of students living in dormitories has become less and less. That's a great loss in university education. You can only understand a culture by living together. Then you know what life is like, you know how people feel on social issues. Of course, during my time in America, there were race riots and student demonstrations. These are experiences that you cannot replicate—and that you don't want to replicate—but having personally experienced some of that great upheaval, I can see how the country has now become a melting pot again.
With growth comes problems: If China continues to grow the way that it has grown—indiscriminately, without considering environmental issues—I think in ten years no place in China will be livable. There's a price for fresh air, for clean water. When you start developing, you can dump all the waste into the water—but there's a cost. You can see major disasters in the coalmines, in the petrochemical industry. Why are they having those? It's because they are creating economic development at the expense of safety. The trouble is, China has a huge population, and the leadership has to provide jobs. So there's a trade-off of how to create growth and provide jobs for the millions of people entering the job market and still handle the social and environmental issues.
Globalization's ups and downs: In the mid-1960s and early '70s, "international company" was a dirty word—these were the companies that overthrew governments, exploited poor places. For the past 30 or 40 years we have proven that this definition was wrong: the standard of living has improved, a lot more countries have more freedom as a result of globalization. But there is a crossroads now: is globalization all that beneficial to the developing—or even the developed—countries? Economic progress has moved so fast, social progress has not been able to catch up.
On the road(s) not taken: When I was young, I was very practical already. I never questioned what my father expected of me. When I talk to my children about this, they never understand. Did I rationalize this? I don't know. That is what I had to do, and I had to make the best of it. After I graduated, I was told to go to Singapore, then a totally alien place to me. But life is like that. I'm a practical person. I decided I had to go there and make the best of the situation. It's like business. Nothing is perfect, but you want to make the best out of the constraints.