The Hyde Park Art Center showcases its new stomping grounds.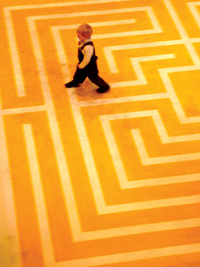 Creative moves: A young visitor navigates a maze, part of the Hyde Park Art Center's opening exhibition.

Stroller-wielding parents maneuvered maze-like corridors. Preschoolers and preteens devoured pancakes. Jean-clad coeds painted at easels and peered into every corner of the new Hyde Park Art Center (HPAC) space at 5020 S. Cornell Avenue. "It's like when you go house hunting and you look in people's closets," says Allison Peters, the center's director of exhibits. "We want people to feel they can explore the building at all times." Despite a rainy April weekend, more than 7,000 visitors turned up for the center's housewarming festivities. Dubbed Creative Move, the 36-hour affair included watercolor workshops, ballet lessons, a midnight ceramics class, an all-night dance party, and discussions with many of the artists in Takeover, the center's opening exhibition.
Even before it got its new space, HPAC shunned the mausoleum-like atmosphere of other art venues and provided a lively South Side refuge for Chicago artists. Founded as an alternative exhibition and class space in 1939, the center gathers professional artists—imagists Jim Nutt and Ed Paschke showed early works there—and community members under one roof. "Creativity really is fostered when people who are very different from each other are interacting," says executive director Chuck Thurow. "We're trying to create a space where that happens."
With 32,000 square feet—nearly triple the size of HPAC's old home at the Del Prado Hotel—there is ample room for collaboration. Five indoor exhibit spaces; a digital façade for outdoor exhibitions; dedicated ceramics, photography, and multimedia studios; and a café provide room for artists of all stripes—including the more than 4,000 Chicago Public School students HPAC works with through its outreach program. "You have all these talented kids down here on the South Side," says Thurow, "who probably have very little interaction with career artists."
The first-floor resource center aims to fix that deficiency. Named 4833:RPH after the street address of board member Ruth P. Horwich, whose living room was a hangout for Chicago creatives during the 1960s and '70s, it is designed to be a watering hole for amateurs and professionals. Local high-school students can also take college-credit photography and digital media courses at $15 a pop, while 12th-graders can get advice on prepping portfolios for art school.
Providing such resources is exactly what Thurow had in mind five years ago when he and a board member began shopping for a new space. The two-story brick structure on Cornell—a defunct University printing plant—immediately caught their eye. Although University Theater was using the warehouse as its interim scene shop (now located at 5245 S. Cottage Grove), the U of C had no plans to use the space as an academic building. Because the land itself has significant worth, says Hank Webber, vice president of community and government affairs, administrators had to decide whether the center would "offer enough value to the community and the University in terms of making Hyde Park a better and livelier place to live that it justified a very considerable cost." In 2003 HPAC and the U of C struck a deal. In return for a free, 35-year lease, the center would raise all rehab and programming funds. Four studios dedicated for Chicago faculty capped off the partnership.
By December 2005, Thurow and his art-center team had cobbled together nearly $6 million, and Chicago architect Doug Garofalo was already transforming the brick box into an inviting, open space emphasizing transparency. Windows in studio walls allow ground-floor gallery visitors to peek in on classes, while second-story guests can spy on staff quarters. Every inch of the building is fair game for artist exhibitions. For Takeover, 39 Chicago artists were encouraged to "take over" the center, installing pieces in the hallways and stairwells. "There is no space that is preferenced," explains Peters. "The artwork determines the space."
That art isn't limited to the inside. Breaking up the brick exterior, an 80 x 10–foot glass-and-steel digital façade—the world's largest—magnifies the shadows of visitors on the second-floor catwalk and serves as a tableau for video-projection exhibits. Random Sky, a work by multimedia artist Iñigo Manglano-Ovalle that ran during the opening weekend (and was described as "mesmerizing" by architecture critic Blair Kamin) featured changing designs corresponding to nightly weather patterns. "So much of creativity is serendipity," says Thurow, explaining how the artist paired up with electronics guru Mark Hereld of Argonne Labs to construct the piece, only to later learn that Hereld was also a painter.
The center's organizers hope to create more interdisciplinary projects. "We're talking to some of the physicists about collaborations between artists and scientists," says Thurow. "That's the theme of the building, bringing together people who never would otherwise get together." The exhibit Home of the Free (running through September 3), for example, features pieces by artists who teamed up with members of the general public to create artwork and contribute personal objects that represent everyday freedom.
As they continue to put finishing touches on the building—during opening weekend a collection of kilns sat swaddled in plastic and darkened studios contained unpacked boxes—the center's staff doesn't anticipate moving again anytime soon. As Thurow predicts, "I presume we'll be here way beyond the 35."