Tested waters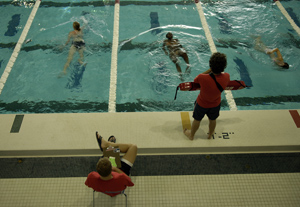 In the span of half an hour, three first-years need rescuing from the swim-team lifeguards who also grade the test. Chicago has required the exam since the mid-1950s.

Before opening their first books, the Class of 2010 spends Orientation Week testing brawn over brain to pass the College swimming exam. The mission, should they choose to accept it, is to swim 100 yards—four laps width-wise in Ratner Athletics Center's Myers–McLoraine Pool—without stopping, without a time limit, and by any strokes necessary. Otherwise they face a required quarter-long swimming course. According to an athletics-department brochure, "The purpose of this test is to assess endurance and safety in the water." For the roughly 1,200 entering first-years, the exam carries a much simpler message: welcome to the U of C.
The Tuesday morning of O-Week marks the start of the examination, with swimsuited first-years trickling in for their assigned lap times. While many students take it in stride, the test raises anxieties for non-swimmers or those who fear embarrassing failure in front of their new peers. Some examinees emerge from the locker rooms visibly uncomfortable, biting their nails or lips. One student says he's bought new swimming trunks for this event, since he hasn't swum in years. More confident first-years arrive with goggles, swim caps, nose plugs, and Speedo racing swimsuits.
Five University swim-team members sit with clipboards at each lane, greeting test-takers and instructing them to wait on poolside bleachers until a lane frees up. Their job is simple: pass the students who make it back successfully, and fail those who do not. The judges record names, ID numbers, and test results on a list that eventually reaches the registrar's office.
Waiting on the bleachers, students quiz those emerging from the pool about the experience, water temperature, and any tips. Some subscribe to the "slow and steady wins the race" approach, while others splash their way to a pass mark within minutes.
In the span of half an hour, student lifeguards intervene to safely rescue three distressed test-takers. One out-of-shape student, desperately dipping above and below the water before lifeguards reach him, later says, "I don't want to talk about it." Another first-year steps to the pool's edge, looks down at the water, and returns to her towel and slippers, shaking her head. "I just can't," she sighs, adding, "This is so embarrassing."
"They don't have to take the test," says the University's head swim coach, Jason Weber, who supervises the process. "They can opt out," signing a waiver that means they, along with those who fail the test, must take the swim course to graduate.
Exceptions are made only for medical and religious reasons. A physician's note describing the medical restriction, most often physical limitations or chlorine allergies, warrants an exemption. Students whose religion prohibits coed swimming can submit a religious leader's exemption request. Nor do transfer students or those with updated American Red Cross lifeguard or scuba-diving certifications have to take the plunge.
While some students whine about the test, others see it as another memorable University tradition. Chicago undergrads have faced the exam since its addition to the College curriculum in the 1954–55 academic year. Waiting their turns in the pool, some first-years describe how their parents had shared their own swim-test memories.
As former Chicago Maroon sports editor Joe Katz, '07, writes in the May 19, 2006, issue, the swim test is "one of the last quirky traditions that separates us from the Berkeleys and Harvards of the academic world." The University joins only Notre Dame, Cornell, Columbia, Washington and Lee, Dartmouth, Swarthmore, Hamilton, MIT, and the service academies in retaining such a requirement.
"It seems a little outdated," says Allison Ringhand, '10, of Milwaukee, up next for her turn. "But I don't really mind." Janine Garcia, '10, of Miami, has no trouble cutting through the water, but she feels the test is "really unnecessary, unless you're going into the profession, like a lifeguard or something." Then there's Katie O'Mara, '10: "I think it's pretty hilarious," she says while drying off, adding sarcastically, "Now I feel much more well-rounded."
"It's not really a big deal," says Brooke Ullery, '10, as she waits for her new first-year friends to finish their laps. "The anticipation is greater than the actual test." Moments later Rob Price, '10, climbs up the ladder, panting, gasping, and smiling from ear to ear. "It was fun as hell," he tells the students in line, heading to the locker room as the next tester plunges in.