At Prairie Crossing, a suburban subdivision that mixes houses and condos with wide-open wilderness, Victoria and George Ranney Jr. carry the conservationist torch.
GEORGE RANNEY JR. IS HIS UNCLE'S NEPHEW. Sixty years ago, Gaylord Donnelley came home from the Pacific, where he'd fought the Japanese aboard the USS Essex, and assumed the life of a conservationist. Looking for a quiet place to raise their three children, he and his wife Dorothy bought an 80-acre farm in Lake County, 40 miles northwest of Chicago. "He didn't want to live in the city," Ranney says, "and he didn't want to live in Lake Forest," an upscale suburb where other family members had settled. "He wanted somewhere beyond." One look at the sage willows and inland sea oats washing toward the horizon, and Donnelley took out his checkbook. His brother-in-law George Ranney Sr., another war veteran, bought a farm nearby.
"So this is where I grew up," says 65-year-old Ranney Jr., JD'66. "We had horses and chickens and I was a 4-Her with cows. ... Whenever adjoining property came up for sale, my aunt and uncle and my parents would persuade friends to buy it." By the late 1950s, as Chicago was swiftly suburbanizing, eight families had knit together a widening swath of open land. Donnelley, a rising executive at R. R. Donnelley & Sons Co., the printing firm his grandfather founded in 1864, himself bought several hundred acres, later ceding much of it to the public as protected wilderness. Over the next half century, Donnelley served as national president of Ducks Unlimited, as trustee of the North American Wildlife Foundation, and as adviser to the Illinois Department of Conservation. When he died in 1992 he was in the process of preserving a South Carolina river basin, having already donated 6,000 nearby acres to conservation groups and cordoned off another 10,000 from development. "His environmental legacy," Ranney says, "is enormous."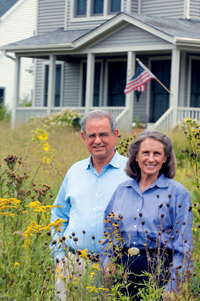 "Kids really learn well when they can see and feel and hear what they're learning about," says Victoria Ranney, with husband George. The farm routinely doubles as an outdoor classroom.
For two decades Ranney—a University trustee, like his father and uncle before him—has carried that legacy forward as developer of Prairie Crossing, a 677-acre Lake County subdivision where winding trails take the place of sidewalks and front lawns undulate with waist-high prairie grasses. Commuters walk from their homes to two Metra stations for an hour-long train trip to the Loop, and children ride their bikes to Prairie Crossing's charter school. Two-thirds of the development's acreage remains open as wetland, prairie, or organic farmland, while 359 single-family homes cluster around a lake so pure that state environmental officials stock it with endangered minnows. "We see all kinds of wildlife around here—egrets, blue herons, muskrats, even coyotes," says resident Carol Sonnenschein. Two years ago a bald eagle made local headlines when it swooped in for a snack. "People were thrilled to see it," Sonnenschein says. "It ate a couple of seagulls and left."
Prairie Crossing stands only a few miles west of the farm where Ranney grew up and the house where he now lives. All three sites are part of the 3,200-acre Liberty Prairie Reserve, a combination of public open land and private property legally shielded from development. Donnelley's conservationist endeavors motivated the reserve's creation in 1995, and Prairie Crossing, Ranney recalls, was a site in particular need of rescue. In suburban Grayslake and Libertyville, which Prairie Crossing straddles, commercial strips and conventional subdivisions had sprung up along broadly paved roads. "Developers wanted to build up to 3,000 homes here," Ranney says. "My father and the Donnelleys decided to try and stop it." They signed onto a 1973 lawsuit filed by county and local governments, and after a 15-year battle helped settle it by agreeing to buy the land. With seven other investors, Donnelley founded Prairie Holdings Corporation and asked Ranney, then a law partner at what is now Mayer, Brown, Rowe & Maw, to spearhead plans for the property. "The Donnelleys were thinking of maybe 30- or 40-acre farms," Ranney says. "We persuaded them that it would be better to have more homes clustered together, to really try to build a community dedicated to conservation. ... We wanted to make Prairie Crossing an economic engine for preservation."
Such a venture meant careful planning. Ranney and his wife, Victoria Post Ranney, set up headquarters in the kitchen of their Hyde Park home. (The couple spent 30 years on Woodlawn Avenue, raising three children before they moved in 1997 to a Libertyville home looking out over 100 acres of woods and prairie.) During the early stages of Prairie Crossing's conception, "the kids used to tease Vicky," Ranney says, "about having all these sketches and scribbles lying around." Some of those scribbles grew into a set of ten "guiding principles," which the Ranneys used to help steer development. The principles set forth concrete aspirations like environmental protection, efficient transportation, and economic viability as well as less tangible goals: lifelong learning, a healthy lifestyle, "a sense of place," economic and racial diversity. "We spent a huge amount of time," Ranney says, "getting those ten principles right."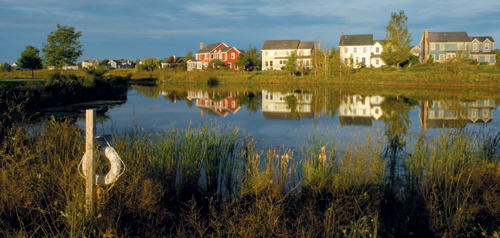 Theoretical foundations laid, the two hired site planners with expertise in natural resources, a marketer versed in civil rights and affordable housing, and an environmental manager with a doctorate in animal science. Imagining earth-toned houses with broad porches, generous windows, and a clapboard frankness, the Ranneys instructed architects to conjure 20-some "midwestern vernacular" blueprints. "We were unusual here, because we started with the land," Ranney says. "It was very prosaic—no trees except a few around the farmhouse and a row of Osage oranges that farmers planted as a fence line 100 years ago. We had to find people with the capacity to visualize."
Municipal officials and developers across the country, meanwhile, regarded Prairie Crossing as profoundly experimental. They wondered whether buyers would pay 30 percent above market rates for homes packed together on small lots. Would residents go for the idea of narrow roads and no sidewalks? Of mostly communal open space? Would they be willing to help steward the land? The subdivision's stormwater-treatment system was unheard of: after a rainfall, swales and prairie plants slowly filter runoff that ultimately makes its way, cleansed, to the 22-acre lake at the development's center. The system helps prevent flooding (the Des Plaines River flows—and frequently overflows—three miles to the east), and it keeps stormwater away from road salt and other pollutants it would otherwise encounter washing through culverts and into a retention pond.
Prairie Crossing locals work the land as well as preserve it: Chris Cubberly shows off a fistful of the organic farm's yield, while native grasses flourish beyond residents' doorsteps.
The rest of Prairie Crossing seemed equally untried. "We were told we'd never sell a single house because of the landfill next to us," recalls Ranney. Yet with its grounds landscaped and odors corked, the Countryside Landfill has proved a good neighbor, he says. "We were told we wouldn't be successful because we had our houses too close together," he continues, "that our stormwater-treatment system would fail, that people wouldn't like walking trails cutting between their homes. ... But we have been willing to take risks, and we've been able to take them. And it's worked out well."
In February 1994, two years after Donnelley died at age 81, Prairie Crossing's sales office opened, and the Ranneys posted their ten principles on the wall. Lured by curiosity, Sonnenschein stopped by. "There was just a trailer out by the road," she says. "There was nothing here but a cornfield—no lake, no wetlands, nothing." A Loyola University PhD candidate writing a dissertation on suburban sprawl's demographics, Sonnenschein hoped to see a few schematics. Her husband came along for the ride. "While I was busy interviewing the sales manager [for her research], he picked out a lot," she says. "We wrote a check that day." They were the first people to do so.
Not all buyers were so quickly convinced. "The first 40 sales were the most difficult," says Victoria Ranney. "People wanted to know who was behind it, whether they could trust the intentions." A Frederick Law Olmsted scholar who completed coursework toward a Chicago doctorate in history, Victoria Ranney has become Prairie Crossing's everyday overseer; her husband splits his workdays between Lake County and downtown, where since 2000 he has been president and CEO of Chicago Metropolis 2020, an organization advocating regional growth that limits congestion and improves schools and transportation. At first, Victoria Ranney says, Prairie Crossing's eco-friendliness "sounded like a utopia no developer had ever built before"—and that no developer ever would. Prospective buyers often made eight or ten trips out, waiting to see how the plans would unfold. Eventually they began putting down money: first empty-nesters, then young professionals and couples with children. "The first group of people had to have real courage," says Prairie Crossing marketer Eve Lee. "After that it got easier."
By 1995 residents had started moving in, occupying homes 50 percent more energy efficient than conventional houses. Prairie Holdings Corporation was running an organic farm—in 2004 it was turned over to leasehold farmers Matt and Peg Sheaffer of Sandhill Organics—that produced vegetables, cut flowers, eggs, and honey for each week's farmer's market. Horse owners managed a stable and paddocks, and a community garden sprang up a few dozen yards away. Later some residents started keeping pens of goats and potbellied pigs. Prairie Crossing homeowners also salvaged a century-old dairy barn overlooking the Des Plaines River in Libertyville. Firefighters had planned to burn it for practice. "We took it down timber by timber" in 1996, Victoria Ranney says, "and brought it to Prairie Crossing for a barn-raising." Now a community center with treadmills and elliptical trainers installed where tractors once parked, the Byron Colby Barn—named for the farmer who built it—hosts wedding receptions, homeowner's meetings, lectures, workshops, school assemblies, and an annual series of early-music concerts.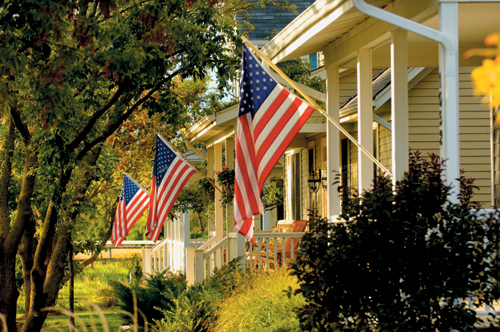 In 1999 a group of parents launched the Prairie Crossing Charter School with 59 kindergartners through second-graders, relocating an empty one-room schoolhouse from its Libertyville perch. Since then the school has erected two energy-efficient, skylit buildings and converted the pitched-roof schoolhouse into a library. "The curriculum is oriented to the outdoor environment," and students—one-third from Prairie Crossing, the rest from nearby neighborhoods—get out on the farm to help collect eggs, pick vegetables, or learn about fieldwork, says Victoria Ranney. "Kids learn really well when they can see and feel and hear what they're learning about."
As much as it is an environmental haven, Prairie Crossing has also become a neighborhood. Residents commune with nature and with each other, holding potlucks, launching book clubs, forming sewing circles, and organizing holiday parties. Some help feed chickens and harvest crops on the farm. Others, like Sonnenschein (who works with Ranney as Chicago Metropolis 2020's information-technology director), volunteer with the Liberty Prairie Conservancy, headquartered onsite. Each summer sees a father-and-son campout at the lakeside, and every fall a group of locals meets up with environmental manager Mike Sands for a controlled burn of the prairie's oceanic grasses. The fire restores and rejuvenates the landscape, and "lately a lot of people want to burn their home lots too, not just the common areas," says Victoria Ranney. The subdivision's farmer's market, stretching into October, routinely swarms with customers, and many residents support the 90-acre farm with a yearly fee in exchange for weekly rations of its yield.
Prairie Crossing's physical design helps create its sense of community. Clustered homes, open porches, and vast common spaces ensure interaction, and streets named for native plants and early settlers keep residents "connected to the history," she says. "A very Olmstedian idea." Olmsted—a pioneering landscape architect whose résumé included New York's Central Park, North Carolina's Biltmore Estate, Chicago's Jackson and Washington parks, west suburban Riverside, and the University's Midway Plaisance—would have recognized Prairie Crossing's mixture of order and wilderness. He "took great care in naming things," says Victoria Ranney, who edited a volume of his papers and wrote Olmsted in Chicago (Field Museum, 1998). Following his example, the Ranneys worked to integrate residents' needs with the existing environment. "Olmsted believed that landscape architecture had great power to establish and foster community. It allows people to connect to each other in an environment where they're not the only thing, where they're only part of the whole."
The Ranneys also foster those connections in more overt ways. In January 2002, a year before Prairie Crossing's homeowner's association "had a legal life," George Ranney says, the development team convened "the equivalent of a shareholders' meeting." Eighty percent of residents turned out, and for months afterward small-group task forces met to discuss environmental stewardship, energy consumption, education, architecture, and finances. Homeowners drew up recommendations that have helped shape the charter school's evolution, the annual prairie burn, and Prairie Crossing's multitude of concerts, clubs, and community events. "So as opposed to people getting upset when their assessment goes up $15, we had people coming in saying that we should have closer stewardship of the prairies and offering a well-researched list of ideas on how to do it," says Sands. "It's that kind of engagement—people here are active."
Yet at least one community-minded guiding principle has so far proved elusive. Although the Ranneys have had some luck attracting buyers from countries like Japan, China, and Russia—and although several residents have adopted African American or overseas children—Prairie Crossing is less racially and economically diverse than the Ranneys intended. "It's hard to get that diversity," Victoria Ranney says, in part because of the subdivision's far-flung location in a suburb that's 90 percent white. "We're at least as racially diverse as Lake County," whose population, according to the 2000 U.S. census, is 80 percent white, 7 percent African American, and 3 percent Asian. Green construction, meanwhile, drives up home prices. Early plans had called for less-expensive rental units, George Ranney says, but those failed to win approval from Grayslake officials. "You just have to be open to different types of people coming out," Victoria Ranney says, "and be patient."
Some potential buyers who passed up single-family homes at Prairie Crossing—the Ranneys sold the last one in 2004—now are showing up for tours of its 36 new condominiums. Grouped near a Metra station in the subdivision's southwest corner, the two- and three-story units represent the final phase of sales and construction. They'll be accompanied by several ground-floor retailers; a coffee shop, an international fair-trade gift store, and a children's bookstore run by a Prairie Crossing homeowner opened on the site this past fall. Before departing in October for a downtown consulting job, daughter Alison Ranney, JD'96, MBA'96, spent the past two years marketing the condos, priced between $329,000 and $500,000. She sold more than one to buyers with a years-long interest in the development. "It's easier now for people to get their arms around what Prairie Crossing is," she says. "The open space, the environmental conservation, the close community—people are hungry for that."
George Ranney doesn't expect that hunger to abate anytime soon. In the coming decades, he predicts, the rest of suburbia may begin to resemble Prairie Crossing more closely. Already a handful of other developments have replicated its stormwater-treatment system—"people from all over the country have been out here to look at it," he says—and a few subdivision planners have made more room for common open space. Across the country, 20 or so communities with similar ecological sympathies have found financial success. In California's Central Valley, Village Homes plants houses among fruit trees, vineyards, and a garden. Agritopia, a development just off the freeway in Arizona, combines a working farm with cottages, bungalows, a restaurant, a produce market, and a retail nursery. In Michigan City, Indiana, Tryon Farm groups houses into walkable "settlements" tailored to the landscape, leaving 70 percent of the property untouched. Without sewers, Tryon Farm—built on 170 acres of farmland, forest, meadow, and wetlands—uses marshes to filter wastewater and stormwater. So does the Fields of St. Croix, a development combining farmland and restored prairie with 125 homes just outside St. Paul, Minnesota. These projects' developers have figured out something Gaylord Donnelley understood long ago: "A house looking out over open fields is more valuable than a house that looks into somebody's backyard," George Ranney says. "And people want to feel connected to the outdoors."