Brave old world
In an unusual partnership, Argonne computer scientists and Oriental Institute archaeologists are running a pilot study of Bronze Age Mesopotamian settlement systems. Using OI archaeological data and Argonne's ENKIMDU simulation framework—software that models social and environmental processes—the program was funded in 2002 with a five-year, $1.2 million National Science Foundation grant. Researchers on the Modeling Ancient Settlement Systems (MASS) project run simulations detailing 100 years of daily life in ancient farming communities in the rain-fed northern and irrigated southern regions of the Fertile Crescent.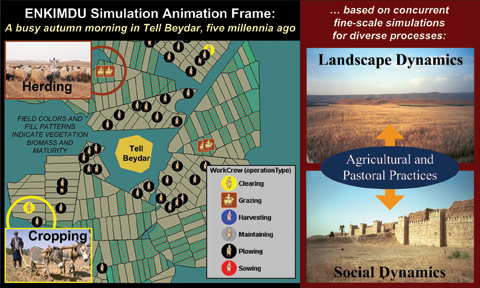 Each simulation integrates hundreds of events, including births, deaths, plowing, harvesting, daily weather patterns, crop dynamics, disease, and warfare. Researchers use the simulations to test hypotheses about what factors affect a settlement's sustainability. "We are finding that the overall behavior and sustainability of a settlement is not driven by the mean properties, but by the outliers—the most stressed households," says John Christiansen, deputy director of Argonne's Advanced Simulation Technologies Center and one of the MASS project's principal investigators. In other words, it's the households struggling to subsist on grain loans who most influence the community's prosperity.
The MASS project is the first test of the ENKIMDU program, created by Christiansen. Though similar modeling programs exist, he says, "our system seems to do things that others can't." Named for the ancient Sumerian god of agriculture and irrigation, ENKIMDU can more extensively integrate separate dynamic processes, such as human behavior and crop success. Relying on Argonne's Dynamic Information Architecture System, the program runs complex, detailed scenarios, conducting social and historical experiments that would otherwise be impossible.
Ancient settlement systems are only the beginning of the program's applications. Jokes Christiansen: "I'm on record as saying there's like 10,000 doctoral dissertations in this project." Possible future investigations include ancient and modern Thailand, health-care simulations in third-world countries, and asteroid-belt mining colonies on Mars.