Sandra Hindman takes medieval treasures to market.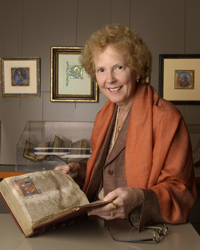 Hindman leafs through a 14th-century illuminated manuscript of the Roman de la Rose in her Paris gallery.
More than 350 years ago, off the coast of Havana, Spanish galleon Nuestra Señora de Las Maravillas collided with its flotilla's lead ship. The Nuestra, en route to Florida and laden with silver, gold, and precious jewels, sank. Discovered by diver and historian Robert Marx in 1972, the vessel's remnants were not retrieved until 1986, when treasure hunter Herbert Humphreys Jr. acquired salvage rights.
Among the finds: a gold and three-diamond ring, circa 1650. An antique dealer bought the band, now one of some 200 medieval and Renaissance rings that Sandra Hindman, AB'66, has on display in her Paris gallery, Les Enluminures. French for "illuminations," the name reflects the gallery's specialty: illuminated manuscripts, text manuscripts, sculptures, and miniatures (hand-painted images found in hand-written books), all from the 4th through 17th centuries.
A professor emeritus of art history at Northwestern University, Hindman has authored, coauthored, and edited nine books on medieval-manuscript illumination, including Pen to Press: Illustrated Manuscripts and Printed Books in the First Century of Printing (University of Maryland Press, 1977) and a text on 15th-century illustrated Dutch bibles. Yet it wasn't until 1984, when she got a call from an Ohio bookdealer looking for an art historian to assess some 13th-century Bible leaves for a New York book fair, that she got personally involved with the art market.
"I was hooked," Hindman says, recalling the thrill of handling the books "on my kitchen table" instead of in a library carrel. She continued to assist the dealer, first describing the manuscripts for buyers, then selecting new ones at auctions, and eventually finding new clients for him. In 1991 she established Les Enluminures with headquarters in Chicago and a gallery in Paris. After a rough start—her first show set her back $15,000 and not a single piece sold—Hindman is now one of only four dealers in the world dedicated to medieval and Renaissance manuscripts. She is also the leading source for rings from those periods, and the company's clientele list includes the Louvre, the Metropolitan Museum of Art, the British Museum, several academic libraries worldwide, and private art collectors. Out of its manuscript offerings, whoses prices range from less than $10,000 to more than $100,000, most text-only manuscripts sell to research libraries while illuminated manuscripts and miniatures attract museums and collectors.
Though Hindman's academic background allows her to "buy by nose" rather than hire researchers to detail potential purchases, acquiring new holdings can be difficult. In the manuscript niche, fewer than 200 items change hands each year, mainly through biannual public auctions. Rings, on the other hand, are a pocket-to-pocket market. Private collectors also buy and sell regularly as their tastes evolve. Best, though, says Hindman, are the surprise finds: In 1994, for example, she received a letter from a man from Switzerland who had attended her initial art show "failure" two years earlier; three miniatures had been in his family for generations and he was now thinking of selling them. Hindman bought all three, including a 13th-century image of St. Catherine from a French Book of Psalms. It now sits in the Cleveland Museum of Art.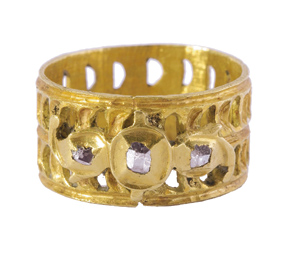 Buried in a 1656 shipwreck, this gold ring now graces Hindman's collection.
Aside from finding sellers with material, identifying new clients can also be challenging, says Hindman, "because the material is so unusual." To interest potential buyers she holds exhibitions and details Les Enluminures' holdings on two Web sites, textmanuscripts.com and medieval-rings.com. Currently in her collection are: a Book of Job manuscript produced in a 13th-century Parisian workshop and originally part of a multivolume set once located in Germany's Monastery of Klausen; a 15th-century manuscript of rare commentaries on Aristotle's Metaphysics, Praedicamenta, and Physics; and a third-century Roman signet ring bearing the name of owner Aurelius Surianus, a soldier in the Roman army.
Provenance—identifying where an item was originally purchased and making sure it was not illegally acquired—is another key concern. One safeguard with miniatures, says Hindman, is to look for "sister leaves," or matching pieces of the original manuscript. If a sister piece has been sitting in the British Museum since the 1840s, for example, it means the book was broken long ago and its pages are now considered "museum quality." Rings can be more difficult to trace, though catalogs of dispersed collections may verify a piece's original seller.
Once she makes the purchase, says Hindman, "what you see is what you get." Her rings, ranging from signet bands carrying an individual's personalized seal to "love gifts" inscribed with professions of undying devotion, must be in good condition upon purchase because Les Enluminures does no restoration or extensive cleaning. About 90 percent of the collection is "really wearable," says Hindman, who wears a 15th-century English iconographic band every day. Purchased at the 1993 Tefaf Maastricht art and antiques fair in the Netherlands, it portrays Anne, the Virgin Mary's mother, teaching her daughter to read, and bears the phrase si bien uni ("so well united").
Hindman sees a direct connection between the past on her finger and the history of the manuscripts she studies and sells. Trained under L. M. J. Delaisse, a medievalist scholar who pioneered what he called the "archaelogy of the book," she "learned to uncover all the various people who worked on a book: the scribe, the artist, the person who did the doodle at the end of the line. It was like finding a whole world of long-gone living people." Whether a simple metal band from a brigadier to his beloved or a gold treasure once lost at sea, rings offer a similar connection. "Wearable medieval art," says Hindman. "How magical is that?"