Novelist and blogger John Scalzi offers would-be writers some down-to-earth advice.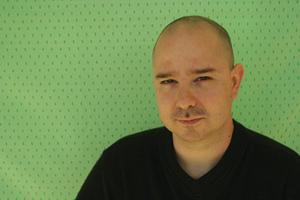 "You don't want to have page after page of people geeking out," says Scalzi.
John Scalzi, AB'91, has two words for people who write at Starbucks: go home. The award-winning science-fiction novelist, professional blogger, and author of You're Not Fooling Anyone When You Take Your Laptop to a Coffee Shop: Scalzi on Writing (Subterranean Press, 2006) says coffee-shop scribes hardly plan on scribing. "Look at me. I'm a writer," he mocks. "Isn't that cool? Shouldn't you date me?" More reality check than instruction manual ("God knows there are people who are far more competent to teach people how to write," says Scalzi), the book offers plenty of other admonitions for aspiring writers, including: until you're published, don't yammer to colleagues about the publishing industry; don't be jealous of others' success; and don't ever slight an editor or publisher.
Scalzi's advice, first posted on his blog (scalzi.com/whatever) in 2004, merits attention. This August he won the World Science Fiction Society's 2006 Campbell Award for Best New Writer, and his first novel, Old Man's War (Tor Books, 2005), was a finalist for the organization's Hugo Award. The only author in 22 years to be nominated for both honors, he has been compared to Robert A. Heinlein, one of the first science-fiction novelists published in general-interest periodicals.
"It's always been the literature of geeks and engineers," says Scalzi from his home office in Bradford, Ohio. A longtime fan of the genre—he first got into it in fourth grade, when he read Heinlein's 1950 young-adult novel Farmer in the Sky—Scalzi wants his books to be accessible, even to those leery of science fiction. He wrote Old Man's War, a tale about senior citizens physiologically refurbished and shipped into outer space for intergalatic battle, "in part for my mother-in-law." Going light on scientific complexity was a matter of family loyalty: "I knew she was going to want to read the book. ... I didn't want her to get lost."
Inspired by Carl Sagan's (AB'54, SB'55, SM'56, PhD'60) method of popularizing science in his writing, Scalzi works to present scientific concepts that flow naturally into the plotline. In Old Man's War, for example, a "skip drive" enables interplanetary travelers to pop between galaxies with a minimal sense of movement. Though his transit mode is derived from the multiverse theory of physics—the idea that more than one universe exists—he was careful not to go overboard on technical details. "You don't want to have page after page of people geeking out about how you're moving from one spot to another in the universe," he says.
The approach worked. Posting one chapter of the unpublished manuscript each day on his blog, Scalzi built a fan base—and struck a book deal with science-fiction and fantasy publisher Tor Books. He's since written a sequel, The Ghost Brigades, and plans to release a third installment, The Last Colony, in 2007. Also in his portfolio: music and film reviews (his first professional writing gig was as a movie critic for the Fresno Bee), corporate brochures for companies such as Oppenheimer Funds and Zagat Survey, and nonfiction books including The Rough Guide to the Universe (an astronomy primer) and the Book of the Dumb series, a compendium of people doing stupid things. His favorite project so far is his latest novel, The Android's Dream, the story of a diplomat who must save the world by unearthing a lost sheep. Scalzi calls it his "popcorn-movie book"—fun, but not deep—and hopes to write more like it.
Meanwhile he blogs daily about his pursuits and ponderings. Started in 1998 to keep his skills sharp after being laid off as an America Online in-house writer, his site, the Whatever, averages 22,000 hits per day and doesn't shy away from serious topics. Take his September 3, 2005, post, "Being Poor," addressing why many Hurricane Katrina victims didn't evacuate. "Being poor is seeing how few options you have," wrote Scalzi, who grew up poor in Southern California. "Being poor is running in place. Being poor is people wondering why you didn't leave." The piece, reprinted in the Chicago Tribune, became one of the year's most linked-to blog entries.
Not all his posts are so poignant. In the September 13, 2006, entry, he listed ten things he planned to do that day. His errands included: answer e-mail, enjoy some cheese, and the infamous No. 9: "Tape bacon to the cat." Comments from skeptical readers filtered in, but within hours Scalzi had gotten permission from his wife, affixed a bacon strip to his unsuspecting feline, snapped a photo, and posted the evidence on his site. ("Yes, the cat is fine," he reassured animal lovers.) Two days later, it was the Web's second-highest blog post. And, Scalzi might point out, not something that could have been accomplished at Starbucks.