Amadou Cisse was a young man with a sense of history, family, and faith.
On November 19 Amadou Cisse, a 29-year-old PhD student from Senegal, died violently and too soon—in a shooting death outside his apartment at 61st and South Ellis, only a few weeks after he had successfully defended his dissertation (see "Chicago Journal"). Cisse, who lived for five years at International House, had been walking home after spending the evening with friends there when he was shot during an attempted robbery. Stung by shock and grief, the University community sought solace in remembering and celebrating Cisse's life.
At a November 30 memorial service in Bond Chapel, President Robert J. Zimmer expressed multiple levels of loss: "As a president, I mourn him as a valued member of our community whose death has left a palpable absence for all of us, and I thank the Muslim and Senegalese communities of Chicago for sharing our communities'common grief. As a faculty member, I mourn him as an emerging and accomplished scientist and colleague. And as a father, here today with my wife, Terese, I mourn him as all of us with children mourn in profound sympathy with his family in Senegal."
"Tell us about Amadou," Kimberly Goff-Crews, vice president and dean of students in the University, invited Cisse's friends and colleagues. "Paint us a picture, and we will see it with you."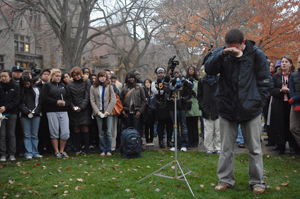 At a November 20 candle-light vigil on the Main Quadrangle, students, faculty, and staff gathered to mark the death of Amadou Cisse.
The picture his friends painted was of a young man devoted to family (managing, on his stipend as a general-chemistry TA, to save enough to pay for his siblings'education and to take his mother to Mecca), faith, and country. "He was rooted in the history of Senegal," said Czerny Brasuell, director of multicultural affairs at Bates College, Cisse's undergraduate alma mater, "and was part of its modern life. He resisted assimilation, and he always seemed to have just arrived from Senegal."
Mohsin Ali, '08, president of the Muslim Students Association, talked about his friend's faith. He told how Cisse would declare Assalamu Alaikum ("May peace be upon you"), giving the traditional Muslim greeting his full attention: "When Amadou would look at us and say it, you could sense he meant it because of his sincerity." The way to honor Cisse's life, Ali said, is to emulate it.
What's where
Close readers will note that there is no "Arts & Letters" in this issue's "Peer Review." The department will return, but in the meantime readers can find the "Center Stage" campus-events listing on page 10 and our "On the Shelf" selection of recent books by alumni on page 51.