---
1940s | 1950s | 1960s | 1970s | 1980s | 1990s | 2000s
---
I met the love of my life at a physics department party as a blind date in December 1940. We were married at the Hyde Park Presbyterian Church in June 1942, and enjoyed 47 years of married bliss until her death in 1990.
—Bill Frye, PhD'41, and Betty Sayler Frye, AB'35
I spent eight years on campus at Chicago—four years earning a BS in the sciences, three years in the Army with WW II combat action in Europe, two years back on campus earning an MBA, away two years teaching in the School of Business at Lehigh University, then back to Chicago in the fall of 1949, using my remaining two years under the GI Bill to find a wife. I lived at International House and in September 1950 attended a "Friday Frolic" dance, where I met my future wife Mary Alice Burchfield, a Valparaiso University graduate, working on a master's in social studies. Mary Alice was a daughter of famous artist Charles Burchfield, but she never told me about him, wanted a husband who appreciated her for her own self, not who her father was. We were both tennis players and spent time on the International House courts.
Mary Alice and I were married in June 1951 by the pastor to Lutheran students. We had two sons and a daughter, and, after 37 years of marriage, I lost her to breast cancer in 1988. Now 85, I retired in 1981, after 27 years in corporate finance at Rockwell International, Aircraft Group.
I first entered Chicago in the fall of 1939 on a football/academic scholarship, played football and was Captain of the wrestling team.
—Robert D. Mustain, SB'43, MBA'47, and Mary Alice Burchfield, X'49
Bill Oostenbrug and I met as undergraduates in 1940. I was dating his best friend, Neil Johnston, who lived in Beverly Hills, as I did. "Oostie" seemed like a nice guy with a great sense of humor—just a friend. In December 1942, after working briefly under the West Stands on the Manhattan Project, physically building the pile of graphite block (he didn't know what he was doing—they sent him out of the room a lot), he joined the U.S. Army Air Corps and served in World War II. I graduated and moved into Hyde Park and found a job with Time, Inc., in Chicago.
In December 1945 Bill, back again in Hyde Park, called to ask me for a date. Neil had decided we weren't a couple anymore (I was crushed) and suggested Bill call me. Although decidedly unenthusiastic, I said "yes" and one year later we were married in Bond Chapel with Dean Gilkey of Rockefeller Chapel officiating.
As we planned the wedding, my father, Dr. Paul Headland, who played the piano by ear, and I spent hours carefully selecting favorite music for the beginning of the service—while guests were assembling. However, the organist appeared in a rush, saying he'd been in an accident, just as the bride was to walk down the aisle on her father's arm. So the only music heard was the Wedding March. I remember the Chapel looked so beautiful and when the ceremony was over, we were driven to the Sherry Hotel for a lovely reception. December 28, 2008 will be our 62nd wedding anniversary.
Years later we learned a contemporary's story—that the same organist had been late for his wedding also. He'd had an accident. Think of the romantic music he avoided playing with this gambit.
—Betty Headland Oostenbrug, AB'44, and William R. Oostenbrug, SB'47
In the fall of 1946 I returned to the University of Chicago to work towards a master's degree in meteorology. I had attended the wartime meteorology program there. I did not have a girl friend and wanted one. I figured that if I got tickets to something, it might stimulate me to get a date. So, one October weekend I got tickets to Lohengrin at the Chicago opera for the following Saturday. Looking for someone to ask, I went to some sort of barn dance on Saturday, but didn't meet anyone whom I wanted to date. On Sunday I went to an open house and dance at Gates Hall, a girls' dormitory. There I met Ann Hamilton. She had graduated with a BS in chemistry in 1945 and was taking some graduate classes in bacteriology (now called microbiology). She was working as a lab technician at Billings Hospital and was the assistant head of Gates Hall.
I found her attractive and after a dance or two asked if she would like to go to the opera Lohengrin the next Saturday. Although surprised and wondering what she was getting into, she agreed. Neither of us ever dated anyone else after that. So, in the fall of 1947 I got a wife and a master's degree from Chicago—in that order. We're still married after 60-plus years.
—Kenneth M Nagler SM'47, and Ann Hamilton Nagler, SB'45
It seems like such a short time since Jay and I met while taking Quantitative Analysis at Kent Laboratory. As I recall, it was during the summer of 1946. During the lab portion of the course, we frequently found ourselves together in the quiet of the Weighing Room, carefully selecting and adding brass weights to those quaint balances, now collector's items, to obtain amounts of samples weighed to the fourth decimal place.
When we became engaged in December 1946, neither of our parents favored the idea of a Dutch boy marrying an Irish girl. Jay's family did not want him be the first in his clan to marry outside of his Netherlands cultural group, and it was reasoned that he would be happier marrying a nice Dutch Reformed girl.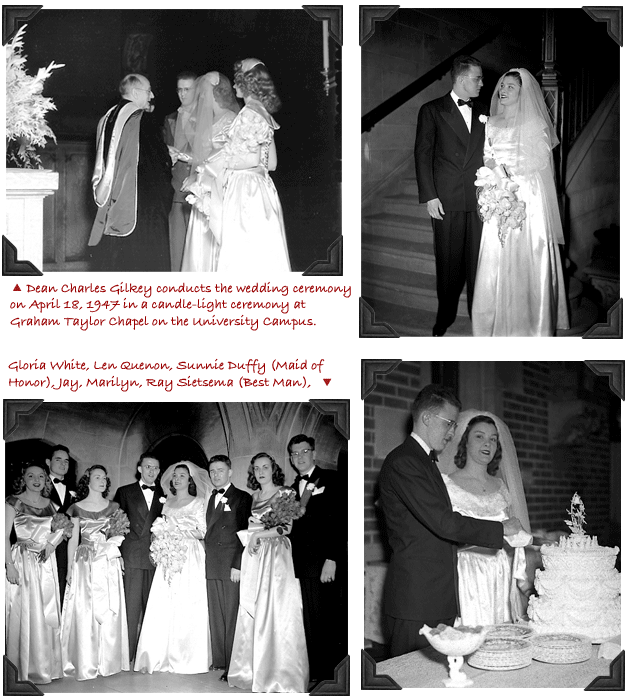 Fortunately, I belonged to a group sponsored by Dean Charles Gilkey, then dean of the Rockefeller Memorial Chapel and associate dean of the Divinity School. He and his lovely wife Geraldine held student meetings at their home. We met as a social group Sunday evenings to discover the real meaning of Christianity and discuss differences between current faiths. He, I understand, was the force behind turning the Rockefeller Chapel into a multi-denominational place of worship.
Jay and I took our problem to Dean Gilkey for advice, and, somewhat to our surprise, he favored our marriage. He thought our union would be a good one. We were pleased when our mentor offered to marry us in Graham Taylor Chapel April 18, 1947. Our candlelight ceremony was beautiful. Following the service, refreshments were served in the Cloisters.
—Marilyn Lafferty Sietsema, PhB'45, and Jacob "Jay" Sietsema, SB'48, SM'50
My wife and I met on a blind date arranged by a Pi Lam fraternity brother. She was 15; I was 16. We were students of the Hutchins era. One of her mother's precepts was that you don't break a date, even if something better comes along. This was the first and only time she ever did that. Shortly thereafter we went to the Washington Ball, where I asked her to go steady. Three- and one-half years later we were married at Graham-Taylor Chapel with a reception at the Quadrangle Club. Walking to the club was a problem, with slush on the ground. We celebrated our 58th (!!) anniversary this March 26. Not only did I receive the best education in the world, but I also received the best wife.
—Arnold L. Tanis, PhB'47, BS'49, MD'51, and Maxine Kroman Tanis, PhB'48
Met at piano, Foster Hall; I played, he sang, 1945. Wrote gossip column, Maroon, together, 1946. Married, Thorndike Hilton Chapel, 1948: Dan Burton, SM'40, PhD'47, Phi Delt, best man; Charlotte "Tavvy" Kornitzer, xx'S46, bridesmaid. Spent 25 years in Arab world: three children/three continents.
—Madeline "Peach" Grove, PhB'48, and A. Keith Williams, AM'50 (died 1996)
It was 1946, just after the end of World War II. Myra Kagen had previously dropped out of college to go to work for the war effort. Dick Gable had been in the army for five years. They had both decided to go back to school and finish what they had started, years ago. Winter quarter, 1946, they both enrolled and met in Jerome Kerwin's Theory of Democracy class. Myra was on the St. Thomas Aquinas committee. Dick was on the Rousseau committee. After six weeks of seeing each other, every day, they decided to marry. The lounge in the political-science department, where tea and cookies were served at 3:00 was a big help. They married the weekend of the end of the quarter. Myra even had a term paper to mail in the day of the wedding for a class she was taking with Professor Grodzins. Professor Kerwin gave them a present inscribed, "To a relationship that began in theory and ended in fact." This year will be 62 years of marriage and still going strong.
—Myra Kagen Gable, X'48, and Dick Gable, AM'48, PhD'50
---
A University of Chicago wedding. Ours has worked for 54 years—so far. It began when Vivian and I began our studies in the Social Sciences Division in 1948. We did not know each other, I being from the South Side, a Navy veteran, and a commuting student and Vivian from the West Side and living at Gates Hall. However, as those things happen, we met in 1950 in a class taught by Earl Johnson, head of the dvisional master's -rogram.
We got to know each other when we were both assigned by Earl to practice teach at Wright Junior College. Long bus rides back to campus and a shared love of theater helped. We had just begun dating when, under the duress of the Korean war, I moved to Washington to work for the Navy Department. But we kept in touch and, after a few trips back to Chicago, we decided to marry.
Where to hold the ceremony and who would preside? Big questions for a mixed marriage. She was Greek. I was Jewish. Of course, the University held the answer. On December 20, 1953, we were married in Thorndyke Hilton Chapel (a memorial to a relative of a good friend of ours, George Hilton, AM'50, PhD'56). Maid of honor was Rae Brodsky Winokur, PHB'49, SB'50. Presiding over the ceremony was Professor Kermit Eby, AM'63, Vivian's thesis advisor and an ordained Brethren minister.
A truly University of Chicago event: a Greek Orthodox and Jewish couple married by a Brethren minister at a (nominally) Baptist University.
Every year when we make our contribution to the alumni fund, we are thankful for the University for bringing us together.
—Arthur Kallen, AM'57, and Vivian Margaris Kallen, AM'51
When I entered the University of Chicago in 1948 as a 16-yearold, I immediately discovered that I was not only a college student but also eligible to play basketball for University High School. Wearing my cute little uniform for our first game I caught the eye of another new student, Jackie Larks. This led to our first date, a Washington Prom, engagement, and marriage December 19, 1954, at the Graham-Taylor Chapel. We had 44 wonderful years of marriage until she passed away in 1999. One of our four children, Jeffrey Kuhn, MD'85, graduated from the Pritzker School of Medicine.
—Paul R. Kuhn, AB'52, BS'54, MD'56, and Jacki Larks Kuhn, AB'52
My husband and I met on campus while walking along 58th Street in the spring of 1958. We were married in Bond Chapel on Valentine's Day, 1959. Our marriage has been blessed with five children, including Kristin H. Leck, X'81, and Derek C. Leck, X'84, MBA'89. While we were courting in Chicago, several things about our future life together were revealed to us in dreams, or by some type of foreknowledge, which I've written about this in this poem.
Sonnet to Love
Fifty years later we still contemplate
Each detail of that day, crystal clear.
We met in the spring in the year fifty eight
On a street numbered same as the year.
On Valentine's Day our marriage was sealed.
Future events some wellspring foretold,
Home, children, birth order, all were revealed;
Through the years we have watched them unfold.
Now, toward their ends, lives accelerate;
New challenges each day we must face.
Through diminishing days we will celebrate
The sweetness of our lives in love's embrace.
It seems certain the stars have been aligned
For two souls born under Aquarius' sign.
—Esther McCandless, X'60, and Richard C. Leck, AB'52, SB'55, MD'59
We met at the initial meeting for the 1953–54 year of the Methodist Student Fellowship, University of Chicago, the Rev. Virgil A. Kraft, Advisor. The date was Sunday, October 04, 1953.
Wayne was a graduate student in physical chemistry and I in mathematics education.
We were married Saturday, June 5, 1954, at four o'clock in the afternoon in a Chancel wedding in Rockefeller Chapel. The Rev. Mr. Kraft performed the ceremony. Professor Heinrich Fleischer, University Organist, provided the music. As a surprise, the Rev. John B. Thompson, Dean of the Chapel, had the carillon rung for us. The reception following the ceremony was held at Chapel House. Except for family, guests were mostly U of C faculty and students.
Dean Thompson did some research on prior Chapel weddings and found no record of an earlier student wedding. He concluded that our wedding was probably the first student wedding held in Rockefeller Chapel.
For the recessional, Dr. Fleischer had planned to use music by Handel. When the time came, Dr. Fleischer could not find the music amid his pile accumulated from an afternoon of teaching. Therefore, he improvised the recessional Handel-style music. We learned of this through a mutual faculty friend, as Dr. Fleischer was too embarrassed to tell us. We were delighted to hear of this original composition, as Mr. Kraft had tape-recorded the entire wedding—an innovation at the time.
In 1974, my wedding dress and accessories were accepted for the permanent study collection of the Department of Cultural History, National Museum of History and Technology, Smithsonian Institution, Washington, D.C.
Wayne passed away in 2001. We had a happy 47 years together.
—Hazel Mason Hadley, X'54, and Wayne Bassett Hadley, PhD'54
In July of 2007 Dick and Livia Rosman celebrated their 50th wedding anniversary.
We met in Chicago in November 1954, when Dick came to the U of C after Air Force service to begin a PhD program with the Committee on Human Development. A friend of Dick's roommate set him up on a blind movie date: Tales of Hoffmann at the Hyde Park Theater, and a beer afterwards at Jimmy's. But the roommate couldn't go because he had an exam next day. Dick couldn't substitute; he also had an exam. Good manners required that the poor girl not be stood up. They decided to flip a coin. The loser would have to go. Dick lost. We both know, of course, that he was the big winner of that coin toss.
We were married in July 1957 in Bond Chapel with the families from California and New York attending.
After a honeymoon in Door County, Wisconsin, we lived in Hyde Park until January 1961 when our first daughter (born in Lying-In Hospital) saw her Dad "march down the island" (sic) to get his degree in Rockefeller Chapel.
After five years in Madison, Wisconsin, we settled in Berkeley, California where we still live.
A few Chicago friends remain, and we have many fond memories of swimming off the Point in summer, walking on the Quads in spring and fall, and ice-skating on the Midway in winter.
—Livia and Dick Rosman, AM'57, PhD'61
Alerted by Winifred Titus Hall, AB'48, AM'50, our maid of honor, we (Bob and Grace Swigart Malakoff )are writing to reminisce a bit on our wedding of July 27, 1950, in Rockefeller Chapel. It was a an event with Unitarian minister presiding (James Luther Adams), best man Don Weinstein, AB'48, AM'50, and Bob's niece as flower girl, Muffie Meyer, age 4, in formal attendance.
A festive reception was hosted by Muffie's parents, Leonard Meyer, PhD'54, professor of music at the University, and his wife Lee, at their home on Blackstone. The bond of the wedding occasion has often been renewed, with students who were there: with our lifelong friend, Jerry Mark, AM'57, in Washington where we have lived most of our married life; with Win, who provided a European base for visits from us and our children at her Foreign Service assignments; Jim Meyers who kept in touch from Hawaii; Ralph Goldman, AM'48, PhD'51, of political party research renown; and in Washington work under Sebastian de Grazia, AB'44, PhD'48, who kept Grace in touch with academics through research aid on "The Errors of Psychotherapy" and "brainwashing" research. She also worked on Social Indicators, authored by another Chicago graduate, the late Al Biderman, AM'52, PhD'64.
In Little Rock, Arkansas, during the segregation crisis created by the closing of the high school, they joined activists in protest, including the Women's Emergency Committee to Open Our Schools. Returning to Washington, they were active in local civic life, home rule efforts, and the Democratic Party. Bob worked for 20. years for the Committee on Banking, Housing and Urban Affairs of the U. S. Senate. Grace was thrice elected president of the DC League of Women Voters, and continues work on transportation issues as a member of the citizens advisory committee of the Transportation Planning Board of the Metropolitan Washington Council of Governments.
Meanwhile, they parented three children who have four of their own. They all attended the DC public schools. David lives nearby in Alexandria, VA with his family, including three children, all of whom are enthusiastic ice hockey players and stellar students, he a writer and editor for National Public Radio; Mart, a biochemistry graduate of Brown University; and Mara, who graduated in Russian studies and mathematics from Knox College in Galesburg, IL, and with an MBA from Chicago, has been with the Bank of America in Charlotte, NC, for some time. Her daughter will be in Washington this week for a national competition on city planning as part of the team that won the Charlotte competition.
—Grace Swigart Malakoff, AM'58, and Bob Malakoff
---
It was the summer of 1962 and I had literally met a tall, dark, handsome stranger. Home on leave from the army, just returning from an assignment in Turkey, he was coming back to Chicago to see his parents and also to meet this University of Chicago graduate whom both mothers were trying to match up. Everything seemed to click after our first meeting (when he knocked on my door there was an immediate attraction) and we spent the following month getting acquainted and falling in love. A new assignment to Vint Hill Farms in Virginia was rapidly approaching, and something had to be done quickly or we would be separated by an army that, we were told, did not "issue a soldier a wife." A wedding date was set for August 18, but we were perplexed as to where we could find a place to hold the ceremony in just a few weeks? The Quadrangle Club on campus was available and seemed like a perfect choice. (My husband-to-be had worked at LaRabida and I was a graduate of the College, so we both had connections to the campus.) It was such short notice that there was no time for printed invitations. Guests had to be called and the wedding planned. Forty-five years later we are still together and happily married with two children and four grandchildren.
—Judith Katz Jaffe, AB'61, and Lawrence C. Jaffe
I understand you'd like to know what made our wedding a Chicago experience. So here is the love story.
I met my wife when we were both in the College in 1962—I a senior and she a second-year. I saw her at the Harper Library Reading Room waking up another male student and told my roommate I just saw the girl I was going to marry. This is really true. I then proceeded to find out who she was by going to those places I might meet and talk with her. At that time there was a girls' dorm in the New Dorms, and they served tea at 4 p.m. on Fridays. She was serving tea, but other than saying hello, I was too shy to really know how to engage her. I then went to Hillel where I thought she might be on a Friday night, though I wasn't a regular then, and there she was again serving tea, and again I tried, but she had this proper way about her, and again I was too shy to find a way past her exterior properness.
Well, it happened that this was the time of the Cuban missile crisis and my marriage plans might be marred by an atomic war. People might hear about this as just an historical moment, but not appreciate we were very worried about the real thing happening. So my love quest took a breather for a few days, and I saw her again as the entire College seemed to go to hear Hans Morgenthau talk of the crisis. Then I didn't approach her again. But I got my big break when our small College community went to Ida Noyes to watch the election returns (no TVs in the dorm rooms then) to see Nixon being defeated for Governor of California. We did that sort of thing for recreation/entertainment. There she was again and this time I found my lines.
I wondered what might work to get her to speak with me, so I said that I had met her at Hillel and would she like to have coffee with me right then and there at Ida Noyes. Religion (she) and politics (me) connected. She never recalled meeting me at Hillel just weeks previous, but she figured if I was at Hillel she could spend a few minutes with me at Ida Noyes. I became a frequent visitor to Hillel where she usually was on Friday nights and she would "allow" me to walk her home to New Dorms where the "girls" had to be in before a midnight curfew. It all sounds so quaint now. So we walked and talked, but never dated until Thanksgiving break. It very much reminds me of how people courted in the days of a chaperon. Raye had some sort of inner chaperon.
That period begins within the culture, the institutions, and the faculty of the College, which we heavily identified with. The College was its own culture within the University. After Thanksgiving we were seeing each other a lot: the big kiss in front of Cobb Hall, the romantic times in the garden of the Chicago Theological Seminary (which she introduced me to), having her climb out the windows of her dorm or into them past curfew (she wasn't that proper after all), times in my first apartment on Drexel when my roommate, Al Levy, and I had some signal system if we had a girl over; ice skating on the Midway; "expensive" meals at Tropical Hut; trailing Bob Dylan around campus during the Folk Festival and he wasn't yet known to even be on the program. It all was within and, I think, because of the University. Because it was there and we each individually had chosen to be there instead of someplace else. Of course, when I graduated, Raye was there and she met my family there are the regulation photos in front of Rockefeller Chapel. Have I left any landmarks out?
A year and some months later, in September 1964 (we were secretly married in June so I wouldn't be shipped to Vietnam—another story) we were religiously married at the Quad Club, another venerable Chicago institution. We were really quite limited in our funds for a place to have the wedding and Karl Weintraub, my history professor, put in the request because it wasn't necessarily open to lowly students like ourselves. The Hillel rabbi, Max Tickin, married us.
We then were married, lived in Hyde Park, Raye in the College and I returned to go to SAA. Hillel became our synagogue, graduate students our friends into the early 1970s. There was marching for the grape pickers in California, against the Willis wagons in Chicago, listening to Elie Wiesel who had just published Night, the beginnings of the Women's movement U of C style, and, of course, the assasinations, and 1968 convention when we thought our country was coming apart at the seams. The University of Chicago, the culture around it, was the matrix we had to view what was happening in our world of that special time in the history and culture of our country. I think matrix might be the best word. We had chosen to come to the College because of the shared values we didn't yet realize we had, we received a very similar education, read the same books, talked to the same kinds of people, and tended to come to the same kinds of conclusions about what was right and wrong with our country and the world. Without the University of Chicago as both background and foreground of our lives I don't think we would have come together in the same way or maybe at all.
We're still married. Note the "still." Another story.
—Sheldon Isenberg, AB'63, AM'67, and Raye Havens Isenberg, AB'67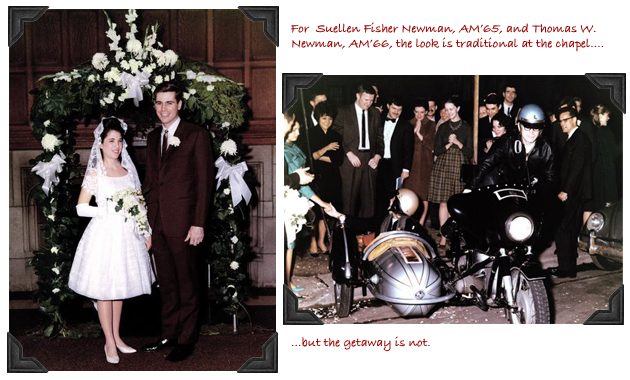 —Suellen Fisher Newman, AM'65, and Thomas W. Newman, AM'66
In the late 1960s I was a perennial graduate student at the University, having entered the Department of Economics after taking a master's degree from the Graduate School of Business and previously spending three years in the College. Some colleagues said I was the only student at the University who had ever been granted tenure. The intellectual environment was exciting and almost all consuming. However, these long years at the University and an increasing age had caused me to deeply discount ever finding the love of my life within the Quads. In addition, being somewhat a parochial Texan, that person being from New York was even a lower, minuscule probability.
Early one summer Saturday afternoon after a friend and I took a colleague to the airport, we stopped in the Mad Hatter Restaurant in Hyde Park for a late lunch. The place was packed and the service slow. However, our waitress was an extremely attractive svelte young lady with long blond hair. Aside from her appearance, I was also attracted by her numerous sincere apologies for the slow kitchen, obviously concerned about us being inconvenienced. After lunch, thoughts of the young lady passed as there is a wide gap between a waitress on 53rd Street and the Quadrangles.
Later that fall, I made my usual afternoon visit to "Soc Tea" (a daily tea in the second-floor lounge of the Social Sciences Building for faculty and graduate students) for a cup of coffee. Lo and behold, the waitress from 53rd Street had made her way to Soc Tea. After mustering up enough courage to enter the group she was with and introduce myself, I came to find out that she was a graduate student in political science—having previously graduated from the College, something I had not been able to accomplish.
Early the next week I called and invited her to join me for dinner, which she accepted. As this was, from my point of view, a very important first step, I went to great lengths to secure dinner reservations at The Bakery Restaurant on the North Side. Reservations at this then extremely popular and "in" restaurant usually had to be made three weeks in advance. However, after personally calling on the maître d' and telling him my story along with a little extra encouragement, I was able to obtain a reservation for the coming Saturday night. We arrived at the restaurant, and the maître d' and all the staff were obviously primed and supportive of my story and request. The service was impeccable and the food excellent. In fact no water glass ever dropped below one inch from the top before an attentive waiter filled it. However, my date was quiet and somewhat irritated. On the long, somewhat silent drive back to Hyde Park, I asked her what was wrong. She indicated she did not like people hovering over her when she ate. I was later to find out that this was her first experience at a fancy restaurant. I, of course, was extremely disappointed, and after several more tries on much cheaper dates, our mutual desire to see each other fizzled out.
For the next year and a half I continued to focus on my academic work and outside interests when I became involved in a campus political issue. A student political group publicly and to the press claimed to speak for the entire student body concerning their views. Since this was a great distortion of the truth, several like-minded students and I circulated a petition among the student body to counter the political group's public position, the results of which would be distributed to the press. I, of course, as one of the organizers, signed the petition and provided my telephone numbers should anyone want to discuss the issue. After several days I received an early evening call from the waitress on 53rd Street. She was interested in my position. I invited her to have a beer with me that evening to continue our discussions. After a lengthy pause and some hesitancy she said yes, and we met later that evening at a bar near the Co-Op as Jimmy's would be too loud to have a quiet conservation. Since we both had a good time, particularly since the service was not that good, we continued to see each other thereafter. We would mostly "run into" each other at Regenstein Library, as she was a diligent conscientious student. I would give her a ride home at the end of the study session. It was only several years afterwards that I learned about her hesitancy on my invitation to go out for a beer. She was studying hard for a Russian test to be given the next morning. For the first time in her life she made a decision that put her academic work second to a social engagement.
Our relationship continued to deepen for the next several years. She finished her course work and moved to Wisconsin to work on and complete her thesis. I worked on various economics preliminary examinations toward the PhD. As I was nearing my 32nd birthday she said that I had to make a "decision" as she was not getting any younger and had other things to do. I made The Decision with the proviso that I had to find a 20-hour a week job as a security analyst at $1,000 per month that would support us as students and an apartment in a safe Chicago neighborhood for less than $100 a month in rent. I soon found the apartment (lower rent due to the hand-fired, coal-burning furnace), but the jobs for part-time security analysts were nonexistent. As I continued to job search she patiently waited. However, after about six months she began to have thoughts that I was leading her on with questionable intentions. After nine months I found a 20-hour per week job as a security analyst in Chicago starting on April 1, 1973. The job turned into a 40-hour a week the second week and a 60-hour a week the next as my analytical work was well received by my employer.
As I was now self-supporting, we set our marriage date for May 25, 1973. Initially, we were going to elope, but decided that would be unfair to our parents. Since we had spent all this time at the University of Chicago, we want to have our marriage venue at the University, but wanted to do something different from being married in the beautiful Bond Chapel. Instead, we were married in Rockefeller Chapel with the doors locked and only ourselves, our parents and the dean conducting the marriage in attendance. What a special memorable occasion that is always there when we return to visit.
Well, for my valentine and I, almost 35 years have passed since that date through which there have been hardships and many blessings, which include two wonderful children and daughter-in-law and our first grandchild. So for current students, as you are immersed in the intense academic stimulation the University provides, always consider, on occasion, placing your academic work second to " having a beer" with someone who you might not have gotten along with several years back. Also, do not form any preconceived notions that the University of Chicago will not be the place you will meet the love of your life. As it has been for the last 116 years, The University is fully of all sorts of pleasant surprises.
—Conway G. Ivy, X'63, MBA'69, AM'72, and Diane Cole Ivy, AB'68, AM'74
My husband and I had our first date—a blind date—in April of 1966. We met for the first time in Woodward Commons. We married at the University of Chicago Disciples of Christ Church on June 10, 1967. The best man was Thomas Heberlein, AB'67, and the maid of honor was Judy Lester Schavrien, AB'68. The organist was Rachel Williams Wade, AB'68. Our wedding reception was held at the Phi Kappa Psi fraternity house immediately following the wedding. Our immediate families and our closest friends from the Class of 1967 and the Class of 1968 were guests. It was a fairly busy day, because Ed graduated in Rockefeller Chapel that morning
—Mary Lankford Novak, AB'68, AM'74, and Ed Novak, AB'67
Our wedding was held at the Quadrangle Club on June 18, 1966. We were both in our third year in the College. At that time, most people we knew held weddings at places such as the Drake Hotel, the Palmer House, or the Shoreland Hotel, but it never occurred to us to look anywhere other than the University campus. We had both grown up in Hyde Park, and we both had strong personal and family ties to the University. The setting seemed just right. I recall that you had to have a "University connection" to reserve the Quadrangle Club for an event, and our connections were myriad.
My mother, perhaps sensing the dawning of the Age of Aquarius and its impact on wedding ceremonies—not to mention the institution of marriage itself—took great care to ensure a traditional evening. With the enthusiastic backing of the manager of the Quadrangle Club, a French gentleman whose name I have forgotten, she warned the members of the wedding party, the staff (many of whom were fellow students), and all guests between the ages of 18 and 25 that there were to be No Drugs. She laid in copious supplies of champagne to offset such temptations. A mere year later, the task might have been more daunting.
At the time, the interior of the Quadrangle Club was shopworn and had an unfortunate gothic feel. Our families lacked the resources to give the rooms and halls a much-needed facelift like the one the Percy family was able to bestow upon Ida Noyes Hall for the wedding of their daughter Sharon to Jay Rockefeller the next year. Still, by drawing back the heavy old curtains in the library of the Quadrangle Club to let in the light, placing flowers everywhere, and concentrating on the food, which was excellent, we made it work.
The six bridesmaids were resplendent in bright pink dresses and the six groomsmen wore tails. After the ceremony, held on a small stage on the east side of the dining room under a floral canopy called a chupah, the staff moved quickly to shoo everyone out so they could reconfigure the room for dinner.
The meal consisted of prime rib, preceded by a hearts-of-palm salad that everyone refused to touch because it was not iceberg lettuce. (Change was in the air in that area as well.) People were seated at long, narrow refectory tables covered in linens, china, and crystal. In those days, bands did not yet drown out conversation during the meal. The few pictures taken at dinner show our guests visiting happily with each other, although I am not exactly sure they were discussing "what knowledge is most worth having."
The marriage lasted over 30 years, then drew to a close. The University of Chicago did not just offer a space to book for the wedding; it was part of our characters and our daily lives. The privilege of being married on campus was meaningful in every way.
—Lois Schwartz AB'67, AM'72, AM'90, and Larry B. Schwartz, AB'67
May 1 1968. A love-in called on the quads. Clear blue sky balloons and bikes. 2008 —Forty years since I married Bill Brownell in Bond. The best thing to discover at the U of C—a partner for life.
—Nancy Schulson Brownell, MFA'68, and Bill Brownell, SB'68, PhD'73
My husband and I were married in Bond Chapel March 21, 1970. The date fell conveniently during the break between winter and spring quarters, and was a Saturday that year (as well as the first day of spring). When I graduated the previous June, I was not planning a campus wedding—in fact, I was not planning on getting married at all in the near future. A whirlwind summer romance and a fall semester at the University of Pennsylvania away from my fiancé, who was still studying at the U of C, convinced me otherwise, however.
January 1970 found me back on campus, working in the Oriental Institute Museum. Despite the short lead time we were able to secure Bond Chapel for March 21 as well as the services of Edward Mondello to play the organ. The chapel's architecture and setting were perfect for a wedding, and it was small enough that it looked reasonably full with our professors, friends, and family; a short walk to the altar is not a bad thing, either.
I would have liked to have had the reception at the Quadrangle Club, but I come from a long line of Chicago North Siders, and it was a stretch for them all to come down to the South Side for a wedding and then to be sent home in mid-afternoon with just a glass of champagne and piece of wedding cake, so a dinner reception was held on the North Side.
Though we ultimately moved away from Chicago in 1978, we usually return to campus every year or so to visit with colleagues at the OI. Somehow, however, we have never managed to get back to Bond Chapel.
—Susan J. Otto Allen, AB'69, AM'77, and James P. Allen, PhD'81
I met my wife in the back of the Quantitative Methods class at the GSB on campus. It was an 8 a.m. course: I slipped in late, she followed a little later (one of the approximately eight female students in our entire class). Working on FORTRAN programs together—I desperately needed her to type as one bad keystroke on a punch card could be fatal—led to a Halloween date, and, as they say, "The rest is history." Although she was from upstate New York and I from St. Louis we both had family in Chicago so we opted for the full Maroon wedding. We were married at Bond Chapel, which at the time was virtually in the B School quad with a reception at the University Club. We spent our first night at the Knickerbocker Hotel (subsequently the Playboy) because we would always get a beer there when we had a class at 190 East Delaware. The bar had free hors d'oeuvres—a beer got you dinner before class.
Of course, as it turns out, our Maroon wedding was hardly unique. My grandparents met at the U of C. It wasn't totally Maroon, the wedding was in Mount Vernon, IL, her hometown. My wife's parents [Millard G. Roberts, DB'42, PhD'47, and Louise Acker Robers, AB'37, AM'38, PhD'46) met at the U of C; she had completed her PhD there at age 22 and was teaching, he was working on his PhD in history. My sister -in-law met and first dated her husband at the U of C. Theirs was not storybook Maroon—both married other people, divorced, and got back together almost 15 years later.
I'm trying to get my son (30 and single) to apply to the B School. We really want more grandchildren.
—Ed Sumner, MBA'70, and Mary Roberts Sumner, AM'69
---
I met my future wife at the Law School. At that time, the Law School held a weekly "wine mess" on Friday afternoons. I attended them because it was a fun, relaxing social event that provided an interesting opportunity for graduate students across the campus to meet. I joke with my wife about this first meeting, and suggest that she was expecting to meet a potentially wealthy lawyer, and ended up falling for a fellow social work student. I also briefly had access to a very nice new car. On our second or third date, I informed her that I was in the same program as she was. We married on the same day we were to graduate from SSA, and spent our honeymoon driving to Pine Ridge, South Dakota, where we spent our first three years of marriage on the Sioux reservation. We will soon celebrate 37 years of marriage, thanks to both the Law School and SSA.
—Lambert Maguire, and Barbara Magnusson Maguire, both AM'71
In 1979, after many years of dating, a nice Jewish boy and a nice Catholic girl (Rosanne McCarthy) finally decided to get married. They wanted to have both a rabbi and a priest perform the ceremony, which would encompass some of both religious traditions. After some investigating, they quickly discovered that this wasn't going to be as easy as they thought. Notwithstanding the many reluctant rabbis (priests were actually a bit more flexible), we finally secured the agreement of two clergymen to perform the ceremony. Being North Siders at the time, we started to look for nearby synagogues, churches, hotels, etc. to have the wedding ceremony, but were told by our two clergymen that none of them would be acceptable. For this type of interfaith ceremony, they both wanted a neutral, yet religious, setting. As we started to panic a bit, the rabbi mentioned that he had attended some functions at Bond Chapel on the U of C campus, and he thought that it would be a fine place for the wedding. The priest agreed, but both mentioned that they weren't sure who was allowed to reserve the chapel for weddings. Needless to say, U of C alums fall into one of the acceptable groups for reserving Bond Chapel, and so on November 4, 1979, a beautiful wedding took place at Bond, uniting Bernard and Rosanne in holy matrimony. Patrick White, AB'71, was one of the groomsmen.
—Bernard Sawyer, AB'71, and Rosanne McCarthy Sawyer
The first date with Jane was an "arranged" lunch at Hutchinson Commons. The first meeting went very well, but I forgot to ask her for her telephone number, requiring an embarrassing call to the "arranger." My nurse's aide work at a Chicago hospital financed our courtship. We were engaged by graduation the following June. Many friendships from that one brief year are still alive today. A postscript: Our oldest son, John, AM'00, PhD'07, a postgraduate fellow at the Committee on International Relations, is officed in Judd Hall where his mother was a student 36 years ago. It still looks the same.
—Terence Schuessler, MBA'72, and Jane Engel Schuessler, MST'72
Both my sister, Karen Kersch Quinn, AM'72, and I received our master's degrees from the University of Chicago—Karen's from the School of Social Service Administration and mine from the Department of Education. Within a few years, Karen married Jim Quinn, a Chicago Tribune photographer, at Bond Chapel. I followed with my wedding in 1975, also in Bond Chapel. And just six years ago, Karen and Jim's daughter Robin married in Bond Chapel. Jim Quinn photographed the latter two University weddings.
One of my favorite memories was preparing for the wedding. I changed into my wedding dress in one of the divinity classrooms. The desks in the room were useful for draping clothing; I had to wipe chalk off my dress. In spite of the informality, the wedding is a memory of gothic beauty.
—Kay Kersch Kirkpatrick, MAT'72
My husband and I met at the U of C, took several English classes together (we were both English majors), and shared a lot of coffee and chocolate cookies, as well as conversation, at the coffee shop on the fourth floor of Classics (which Carl says is the Nonesuch, but I really don't remember). We fell in love. We pursued our lives outside of Hyde Park, then I ended up back at the U of C business school, and when I finished my degree I sort of walked into a job there. So, when we decided to get married, we decided to have the wedding at Bond Chapel, which I have always loved. We invited 12 guests, the organist played for us, and we had our wedding dinner at l'Escargot on the Gold Coast, which has since become defunct.
—Vicky Slater, AB'73, MBA'81, and Carl Wartman, AB'74
I was a doctoral student in the history department in 1975, when Harold Wechsler, a "new" PhD from Columbia University interviewed for a job in the Department of Education. Because I was interested in the history of higher education, I went to hear him speak. He discussed quotas imposed on Jewish and Catholic applicants to American colleges and universities in the 20th century. It was an oppressively hot July day, and Judd Hall was not air-conditioned. Harold was wearing a blue-wool interview suit, and as the hour progressed, he began to sweat, all the while delivering an articulate, witty, and relaxed talk. I developed a huge crush on him, and six years later, outside Judd Hall, we were married in Blaine Courtyard. Given where we first met, it seemed the ideal place for a wedding.
Professors Bloom, Dreeben, Bidwell, Getzels, Lortie, Ussiskin, Goldin-Meadow, Stodolsky, Katznelson, and Hedges attended our wedding, as well as my adviser from the history department, Professor Arthur Mann and his wife Sylvia. My fellow doctoral students Sally Gordon; Frank Ninkovich, PhD'78; Martin Hardeman, AM'73, PhD'82; Peter Sampson; Stephen Sellers, AM'74, MAT'77; and others were also there.
June 21, 1981 was an overcast day. A tent would have been prohibitively expensive, so we took our chances. If it rained, we would have had to be married in the Lab Schools cafeteria. As it was, we made it through the ceremony, reception, and dancing before the heavens opened!
We have been married almost 27 years. For Valentine's Day this year I had the cassette tape of our wedding ceremony made into a CD for Harold...complete with the noise of jets overhead and the bells of Rockefeller Chapel ringing.
—Lynn D. Gordon, AM'74, PhD'80, and Harold Wechsler
Back in the day, like most students at Chicago, I would occasionally settle back into the blue-collar ease of Jimmy's. It was always a great place for a mug of beer and a burger with friends. It was a pleasure I always indulged in, knowing full well that I would really miss it when my all too short stay at the University came to its expected bittersweet end and real life started. We did a lot of guessing back in those days as to what life had in store for us. While none of us knew for sure, most of us laid out our hopeful and tentative plans for the future.
One conversation in particular is as clear in my mind as the day it happened. While at Jimmy's one evening, my friends and I were dreaming about the riches our MBAs would help us attain in life and how we were going to spend it. Trips, vacations, cloths, cars, boats, success—you name it and we dreamed it. It was in that context that I remember hearing myself say something to the effect that just as we were coming into our own, we should enjoy life to the full. In large part, that meant being footloose and fancy-free. For me, I said, marriage was something that I would take on (perhaps like a new suit) in my mid-30s. That felt right. Life looked structured and ordered just like our lives to date—high school leading on to college, leading on to graduate school, leading on the jobs. Computer programming had just come into its own, and our future felt as ordered, rational and predictable as computer code.
I don't remember the date of that conversation exactly, or how much time went by, but shortly afterwards I was passing time around the front desk of I-House, trying to forget the looming grind of the rapidly approaching academic year. It was the late summer of 1974 and we were giving serious study to the rumors of the fresh crop of female graduate students about to move in. Roy, the rotund and jolly security cop at the front desk, was laughing with (or probably at) us when my friend David came walking in with this innocent, sweet-looking beauty at his side. This was a most incongruous picture as Dave was your typical Chicago PhD candidate, hardly a lady's man and the picture looked like an accident of nature. Dave politely parted the scene leaving this young beauty to attend to her business at the front desk. Opportunity was knocking!
I had actually heard about her from another friend named Bob in the building. Bob being the likable scoundrel he was, described her as "very clean." Coming from him, I knew that was not meant as a compliment. We talked a bit, and a bit more and then moved to the well of the I-House lounge area. Hours passed and the conversation flowed. Two days later, on a Saturday morning, I was walking out and there she was, sitting in the hallway reading. The dialogue picked up once again. This time we went for a walk—a walk that lasted four hours. There was so much to talk about and discuss. It turned out that we had twice before lived within two blocks of each other, and we shared a deep interest in many of the same subjects: history, politics, travel, New York, Chicago, Washington. It was the summer of Watergate and that added fuel to the mix. She was having trouble with her math courses and I lent some much-needed tutorial help.
My friends remarked that I suddenly seemed to disappear. Indeed, I had. We were having too much fun to let any one else in. We quietly disappeared into the seclusion of I-House.
On our second weekend I drove her around to show her Hyde Park and Chicago. On our way back we stopped at the Planetarium facing the Chicago skyline. It was a most beautiful vista of lights, water, boats and the cool evening breeze. It was then that I really screwed up.
It's funny how some moments in time burn themselves into your mind forever. Looking back, I felt somehow detached from myself. Suddenly, I heard the strangest thing pass out of my lips. "I want to marry you!" I heard myself blurt out. Where that came from I had no idea, but I was sure I'd really messed up bad. How would she ever take me seriously again? We had known each other for only two weeks and here was, this fool asking the ultimate question in life!
She must have seen the shock on my face. But, to my surprise she was calm and cool. "Ask me again in three days" she said. "If you do, after you've thought about it, I'll know you mean it." Three days later I said it again: "I want to marry you!" I said. "And I want to marry you to." I heard back. Just like that, we were engaged. Four months later, over the Christmas break we were married. As her mother owned a wonderfully historic (1768) house on the coast of Maine we celebrated our honeymoon and a fresh snowfall on Christmas Eve in front of a crackling fire.
Thirty-four years later our talking still goes on. A lot of time has passed and with it a whole life's worth of experiences. We have raised two kids (alas, both Harvard graduates) owned five houses, moved numerous times, traveled the world, worked in presidential and other political campaigns, served in Washington, seen and done it all.
After all these years, I hope Dave has forgiven me. But, to this day, there is still so much for us to talk about!
—Robert Bestani, MBA'75, and Marion Woodworth Bestani
---
Jim Read and I (both Class of 1980, though I had incompletes and didn't actually graduate until 1986) had our first date at Jimmy's in fall 1978. We married on campus in 1988—in Bond Chapel with reception at Ida Noyes (on the top floor with the beautiful murals) and post-reception at Delta Upsilon. Clare Ginger, AB'81, and Bob Marshman (Class of 1980, though he actually graduated in 1981) were maid of honor and best man. Lots of U of C friends attended.
This year we turn 50 and celebrate our 20th wedding anniversary.
—Pia Lopez & Jim Read, both AB'80
Here's a pretty intensive U of C story. Patricia John, the daughter of Richard John, AB'49, and niece of Jean Allard, JD'53, (a University vice president in the 1970s) met Kenneth Northcott, professor emeritus of Germanic languages and literatures, in 1993, and they were married in the Thorndike Hilton Chapel, where her mother and father had been married, in 1998.
—Patricia John, AB'81, MBA'89, and Kenneth Northcott
Mark and I first "met" in a Self, Culture and Society class in January 1979. He was a second-year, and I was an early entrant in my first quarter, but somehow we got sorted into the same course and section. Mark has always claimed that he spotted me right away across the big classroom table and immediately decided, "She's going to be my wife!" Curiously, he never let me know about his plans. In fact, he never said anything at all to me. I was the one who accidentally wound up breaking the ice with him about a year later, when I asked him to be a research subject for a brain laterality study. I don't remember even seeing Mark in our first class together, so I sometimes wonder if he was just hallucinating about this?
That summer, my back-home sweetheart popped the question while he was on leave from the Air Force. I was in heaven. I went back to school very happily as a "taken woman" (or so I thought). We'd agreed to wait until I had graduated and he had finished his tour of duty before we got married. Mark had other plans.
By February, I had grown disillusioned with my long-distance engagement. One rainy, dreary evening I crawled into the pay-phone booth in Breckenridge Hall, called my fiancé at his barracks, wept over the phone, and called the wedding off.
Fate must have been waiting, because three days later Mark was sitting directly across from me at the small-group discussion table for Far East Asian Civ. Again, the two of us had been sorted into the same course, same section, and same study group. But I still didn't "see" him—until I noticed that he was writing with his right hand inverted. Bingo! I needed several subjects with this rare trait for a brain laterality study in Professor Jerre Levy's lab.
I casually asked this young man with the strange handwriting if he would be a research subject for me. Mark eagerly bubbled, "Sure," then followed me, unbidden, across the quads to the lab. I thought he was just excited about the study, until he insisted on waiting while I worked and then walking me all the way back to Breckenridge. He lived in Thompson House, so we both knew that he was going well out of his way. I finally suggested that it was time to go home when he casually tried to follow me all the way upstairs to my room.
For the next two years, through his graduation and master's program, Mark persistently followed me everywhere, though I never made a commitment to him. He went to the library with me. He walked me back to my dorm from work. He saved me seats in class, and saved me from going hungry by sneaking me into the cafeteria line when I had no cash to buy dinner. I'll admit that, on one occasion early on, I might have encouraged him by spending my last $5 on a package of Pepperidge Farm Mint Milano cookies and a carton of hot chocolate to feed him when he came over to study. But I didn't mean for him to stay!
Our relationship probably got cemented when Mark insisted that he "needed" me to help him run his master's project. For more than 300 consecutive nights he picked me up and drove us to the Behavior Analysis Research Lab, located in a musty old converted storage wing at the Museum of Science and Industry. I served as his rat wrangler and Skinner box control assistant. What gal could say "No" to her man after spending nearly a year of continuous, bleary nights helping him count rats pressing levers, and trying to prevent the funky old electronic circuit boards that served as a power source for the whole sorry contraption from self-destructing?
Despite such ongoing fun and romance, Mark eventually won me over. I decided to go into a terminal master's program in behavioral science while he went to med school. He finally popped the question, on bended knee, during his third year, in the lovely stone passageway next to Bond Chapel. We held the May 10, 1986, ceremony at Bond, with about 70 family and friends in attendance. A talented group of Lab Schools students supplied the beautiful musical accompaniment. (Fortunately they were willing to work for free, which was just about as much as we could afford to pay them on student salaries!) Thanks to the generous sponsorship of Physics professor Albert Crewe, we held an exquisite seated dinner reception at the Quadrangle Club, while a friend from another lab and several of his buddies supplied live classical and swing music. We heard for years that ours was the nicest wedding any of our guests had ever attended.
It's been almost 22 years since our wedding day, and I'm convinced it's largely due to the powers of endurance we learned as Chicago students that we have been able to stay the course and overcome the challenges marriage brings. And it's largely our shared sense of intellectual adventure, also developed at the U of C, which has kept us growing together. Oh—and about the inverted handwriting—I've never seen Mark write that way since. Makes you seriously wonder, doesn't it?
—Jennifer Christiano-Michaud, AB'82, AM'86, and Mark Michaud, AB'81, AM'82
My husband and I had a Wisconsin courtship and engagement, but our wedding was all Chicago. He was entering his first year as an MBA student when we got engaged in Oshkosh, the site of our first date. With Kevin a Chicago native and because of the beauty of the campus, it seemed a natural choice for the location for our wedding.
We picked Joseph Bond Chapel, across from the B-school (how appropriate!) for the ceremony. It was a beautiful day in early September when we exchanged our vows. I'll never forget arriving at Bond Chapel and seeing Kevin, deep in thought, pacing in the small courtyard. The Gothic architecture of the chapel made it a special and intimate ceremony for our family and friends. It was followed by a wonderful reception at the Quadrangle Club and a getaway to the Ritz on Michigan Avenue that night. The year that followed our wedding was pretty lean, financially, as we struggled to get Kevin through school, so that one elegant day was very special.
Whenever we are visiting the Windy City, we make the trip to Hyde Park to relive the memories of our Chicago wedding, even dragging our four kids along with us. We now live in Salt Lake City, Utah, where Kevin is the CEO of Alphagraphics, and we will celebrate our 27th anniversary this September 12.
—Jill Cushing and Kevin Cushing, MBA'82
There is possibly no wedding on earth that was more of a "Chicago experience" than ours. My husband, John Cochrane, is the son of the late Eric Cochrane, a University professor of history, and Lydia Cochrane, AM'61, a former French teacher at the Laboratory Schools. My father, Eugene Fama, MBA'63, PhD'64, is a professor in the Graduate School of Business. John and I were both born in what was then called Lying-In Hospital (7.5 years apart). John and I met for the first time at a dinner party given by two faculty members (Renee Menegaz-Bock, AM'56, PhD'68, and Darrell Bock, AM'50, PhD'52), on the very day in August 1985 that John arrived back in Chicago from graduate school (somewhere on the West Coast, but that's not important) to begin his job as an assistant professor in the U of C economics department. I was about to begin my first year in the PhD program at the GSB, having just graduated from the College. We were married in Bond Chapel ten months later, and we walked from the chapel to our reception at the Quadrangle Club. (Our four children were all born at the U of C Hospitals, but you asked about weddings and not births, so I'll stop there.)
—Elizabeth Fama, U-High'81, AB'85, MBA'91, PhD'96 and John Cochrane, U-High'75
My husband and I met the first day of orientation at the business school in September 1983.
He sat next to me at the first session in Wheeler Hall and left his umbrella on the floor next to me. I ran after him as he departed the room.
We dated through business school and married the day after graduation.
We chose to marry at the University of Chicago because it was the halfway point between my family in California and Bob's family in New York. We also wanted our close friends from the GSB to be able to attend our wedding before everyone dispersed around the country to their new careers.
When we met, I had just moved from San Francisco and lived in a tiny single room in the International House. Bob lived in far more spacious accommodations: a studio apartment in University housing on Greenwood.
We graduated from the GSB on June 14, 1985. Before the ceremony at Rockefeller Chapel, we held our wedding rehearsal at Bond Chapel. After graduation, Bob's parents hosted a lively rehearsal dinner for us at the Italian Village downtown. The next morning at 10 o'clock we were married at Bond Chapel in a ceremony officiated by Father Edward Braxton, then the priest in residence at Calvert House. Hollis Harootonian, who worked in fundraising at the University, played the flute during our ceremony. It rained the morning of our wedding, but the rain stopped after the ceremony and we were able to greet our friends in the lovely courtyard near Bond Chapel. The gothic architecture was a beautiful backdrop to our wedding photos.
We will celebrate our 23rd anniversary on June 15, 2008. We are still friends with many of our fellow GSB grads who attended our wedding, including David Marcus, MBA'85; David Bebbington, MBA'85; and Rich Sussman, MBA'85.
—Carol Meylan Kelly and Bob Kelly, both MBA'85
We met my third day on campus in the Pierce Tower cafeteria. Philip's friend John wanted to date my roommate Wendy, so we all went out. Wendy and John never dated again, and Philip and I will celebrate our 20th wedding anniversary this summer.
—Lauren Murphy Siegel, AB'88, and Philip Siegel, AB'85, AM'88
In true Chicago fashion, I find it difficult to characterize ours as a "love story." But meet at Chicago we did; and marry as soon as we were both safely college graduates we did.
I came from the "joyful elite," as Newsweek dubbed students at Hunter College High School in NYC. The child of immigrants who regarded the Big Apple as the center of the universe, I never dreamed that I would end up settling down in Chicago. Lukass was the son of a Lutheran minister and a Latvian grammarian/refugee; his family lived in Joliet, favored stomping grounds of the Blues Brothers. Lukass was a year ahead of me, and I think I first met him during my O Week—and I found him highly annoying. I mostly ignored him all year.
But he was good friends with one of my freshman roommates, Patty Butter, X'88. And the following fall, we connected at a back to the quads party at Patty's place. We've been together ever since. This Valentine's Day marks the 22nd year since our engagement and our 20th year of marriage. The wedding day was the day after my graduation—a story in itself. Remarkable what you find on the quads.
—Mari Hoashi Franklin, AB'88, and Lukass R. Franklin, AB'87
Not only did we meet on the Quads, we got married there. Heather and I were only passing acquaintances when we were at the College. We became better acquainted while working for Lexecon (with its strong U of C connection) after graduation. After an extended and sometimes long-distance relationship spanning Chicago, New York, and San Francisco, we were married on campus at Bond Chapel September 27, 1997. In attendance were eight other members of the Class of 1987—Beth Fulkerson, Josh Kellmann, Alison Inafuku, Sandra Carpenter, Howard Wax, Janice Moy, Eva Vyas, and Christine Haenchen—and Bill Harlan, MBA'94. We live in Park Ridge, IL with our three children (Michael, 8; Triona, 6; and Ronan, 3).
—Ciaran O'Broin and Heather Harlan, both AB'87
---
I'm not sure it is all that "Chicago" but it almost was.
It's interesting that the deadline for submissions is February 14 as that was my deadline 15 years ago. I had to make it from Dayton, Ohio, where I was stationed with the US Air Force, to Norwell, Massachusetts, for my wedding on February 14th, 1993. Now, 15 wonderful years later, the details escape me, but the plan was to depart after duty on Friday (the 13th), meet friends coming in from out of town at the airport, have a quick bachelor party, sleep in late on Saturday, and be ready to get married on Sunday morning. The reality went something like this, though, as I said, the details escape me.
Chris was already in Massachusetts, doing everything it takes to make a wedding happen. I was a young lieutenant defending our country in Dayton. So naturally, that Friday, prior to heading to the airport, I played basketball with a few other defenders of democracy. Down by a wide margin, Lt. Tim Townsend rifled me a pass. Thinking nothing of my own safety, I made a diving catch and broke a finger. Not just any finger, the ring finger on my left hand. With little time to address the finger, I grabbed my military mess dress and my shoulder bag packed with everything needed for a winter wedding in a Massachusetts and a honeymoon in Puerto Rico. I arrived at Dayton International Airport in plenty of time for my flight to Chicago and then on to Boston.
The flight to Chicago arrived a bit late due to a snowstorm. I worried I might miss that bachelor party. Without the ubiquitous cell phone, it was a bit of a chore to get the groomsmen, most of whom had never met, to find each other at the airport and head in to town without me. All reports were that O'Hare would resume flights early the next morning, which they did. Unfortunately, by that time the storm had reached Boston. Logan airport was shut down and I was low on the list to get a standby flight when it opened up. All the rental cars were gone—not that I really thought a 1,200-mile drive in the wake of a snowstorm was a good idea. Calling up a friend in Chicago to borrow a car seemed a bit awkward. "Hi Joe, can I borrow your car to drive to Boston for my wedding?" "Anton, I'm a grad student in Chicago, why would I own a car? And why wasn't I invited to the wedding?" Fortunately, a young officer in uniform trying to make it across the country to meet his waiting bride brings out the charity in people. I got bumped up on the standby list and arrived in time for the wedding. I'm glad I didn't need to check a bag.
None of this did much to bring down the swelling in my finger. As Chris and I stood facing one another at the altar, she slipped the ring over my first knuckle and whispered, "You better get this on." I did. As sometimes happens, the knuckle healed a little bigger than it started. I have not had my wedding ring off since. This Valentine's Day marks 15 years that the ring has remained happily in place.
—Anton Nielsen, AB'90, and Chris Kelly Nielsen, AB'90, AM'90
On March 18, 1995, we were married in Bond Chapel, the same spot where Elisabeth's grandparents, Mary Harvey, X'28, and Tom Kindel, were married in June 1930. Our reception was at the Quadrangle Club, a slight departure from our grandparents' reception at Ida Noyes Hall.
Sam graduated from GSB in 1994. Elisabeth has long family ties with U of C. Her great-grandfather, Basil Harvey, was professor of anatomy and dean of students of the medical school from 1901 until 1940, and her grandmother, Mary Harvey Kindel, graduated from U-High in 1923. On her father's side, her great-grandfather, Howard T. Ricketts, was a professor at the medical school from 1902 until his death in 1910. His daughter, Elisabeth Ricketts Palmer, graduated from U-High. In 1926 she married Walter Palmer, one of the eight original members of the medical school faculty, where he taught until his retirement in 1962. Finally, Elisabeth's father, aunt, and uncle all graduated from U-High and her uncle, Henry Ricketts Palmer, was on the faculty of the medical school from 1959 until1973.
—Elisabeth Palmer Norwood and Sam Norwood, MBA'94
Suzanne and I met during Orientation Week in the Shoreland. I heard violin music coming from a room, and I went to investigate. There was a beautiful woman playing violin. And then her newly minted boyfriend popped out from another room to introduce us. He introduced me as "the funniest guy I've ever met," which was nice, because Suzanne says that endorsement stuck with her. With no mutual friends or interests, however, we did not speak until second quarter of senior year.
In the early months of 1995, Suzanne was working at the Medici delivery window, and Ben Collins-Sussman, AB'94, and I wanted her to audition for our new musical that we were working on with Andre Pluess, AB'96, based on Dante's Inferno. Ben and I were arguing over who knew her the least, because we were both intimidated by this beautiful and talented woman. I "lost" and approached her to ask her to audition. I did not know that she had resolved to audition for the spring musical, no matter what it was.
A few days later, we held a cast and crew meet-and-greet party, and we proceeded to invite the entire cast to go with us on a spring-break road trip to Florida. Suzanne and a few others accepted. And that's when we really got to know each other. We started dating that spring.
When it came time to plan our wedding, we knew we wanted it to be at Chicago. With the exception of my future brother-in-law, all of my groomsmen are Chicago graduates I met through University Theater—Rich Murray, AB'94; John McCorry, AB'96; Dan Goldstein, AM'94, PhD'97; and Bill Michel, AB'92. We realized that our guest list included more people than would fit in Bond Chapel. So Rockefeller it was! The day before the wedding, we had a cookout in the Ida Noyes courtyard. It was then that we realized that the entire Midway was set up for the Chicago-wide 3-on-3 basketball tournament. There was loud music, there were whistles, and it was going to be happening right in the middle of our wedding. We were dismayed.
The wedding day came, and with it what no bride and groom want: a rainy day. Except for us, because the 3-on-3 basketball tournament was rained out. There were so many Chicago connections that they are difficult to count—from Dean Alison Boden authorizing the use of the Rockefeller organ by a special friend of Suzanne's family to Dean Edward Turkington offering his umbrella to Suzanne as she approached the Chapel without one. It was a truly special day, imbued with the spirit of Chicago and all that is special about our great alma mater.
The coda to the story: we took our 2-year-old son, Jack, to Hyde Park last summer. He had recently been to a wedding in Minneapolis (Tom Perron, AB'95, who, coincidentally, was also in Inferno), and we pointed out Rockefeller Chapel as the place where mommy and daddy got married. It was a beautiful summer day, and his response was what we should have expected: "Mommy! Mommy! Look! A lawnmower!" The grounds team was cutting the lawn, and he knew what was most important of all.
That's our story. Thank God Suzanne turned down Yale, Harvard, and Oberlin Conservatory to come to the University of Chicago.
—John W. Bourdeaux, AB'95, and Suzanne Taylor AB'95, SM'00
On a gorgeous fall day in 1992, I was a brand-new graduate student in sociology. Our first meeting with the other students in the cohort was at a massive wood table in the Albion Small Room. One of the professors, I think it was Andy Abbott, AM'75, PhD'82, asked us to go around the room and introduce ourselves and our research interests. (Research and self-presentation are one in the same at the U of C after all.) There was a skinny, Irish guy, wearing Doc Martens and sporting a Mohawk who introduced himself as "Pat Carr, and my work is in youth subcultures and deviance." Later that day, I met my dad for lunch—he had driven up in my Honda Civic to help me move into my apartment in Bridgeport. He asked me about my first day of school, and I said, "Well, the other students were all the standard sort of nerds you'd expect, but I did meet this Irish guy, and I think he might be the most interesting person I meet at the University of Chicago." By October, the Irish guy and I were, as one friend recalls, "the worst kept secret in the department." And in June 1994, we celebrated our own version of the big fat Greek wedding back in my hometown in Boston. We came back from our honeymoon and moved into the 10th floor of the Shoreland, where we served as Resident Heads for four years.
—Maria Kefalas, AM'95, PhD'98, and Patrick Carr, PhD'98
My husband and I met briefly in December 1997, my third year in the College. Joe had graduated the spring before but was still hanging around Hyde Park, where he worked with my roommate at Bonjour Bakery Cafe while attending culinary school on the North Side. After winter break I enrolled in a swing dance class and, to my surprise, Joe was teaching it. He was one of the founders of the Chicago Swing Dance Society and taught lessons to help fund his culinary education. Especially early on we tended to emphasize that we met at the bakery and downplay the whole swing dance part-it's just too cheesy to say he taught me how to dance. Eventually we moved further south, to Chicago's Beverly neighborhood, but we still miss living upstairs from 57th Street Books, waking up on Saturday morning and getting a coffee and chocolate croissant from the Med, and having a Hans' Favorite from University Market always within reach.
We were married July 20, 2002, at Bond Chapel, where I had envisioned my wedding since my first visit seven years before. Our wedding party and guests were made up of classmates and my soccer teammates, many of whom had been or would soon be married in the chapel. The music was performed by a recorder group recommended by a graduate student from whom I had sublet an apartment two years earlier. Our reception followed at the Quad Club, where Joe's music connections hooked us up. He had been president of the Folklore Society and met many outstanding roots musicians. We were privileged to have one of the bands he knew, an old-time band called the Volo Bogtrotters, play during our cocktail hour. Our guests got a kick out of the folksy tunes, but I wish we could have heard more—Joe and I were recovering upstairs after a ceremony that started an hour late in 95 degree heat! It was only fitting that we have a swing band for dinner and dancing, and Yoko Noge and the Jazz Me Blues had been favorites of ours while we were dating. They lent the perfect atmosphere.
Afterward, we hit Jimmy's. Really, where else could we have gone? Relaxing with our closest friends and a couple of pints was the perfect way to remember our time at the U of C, and to look forward to the opportunities our time there would give us.
—Jeni Everly Banks, AB'99, and Joe Banks, AB'97
During the 1998–98 school year, I diligently worked on completing a master's degree from the MAPSS program while simultaneously suffering a crushing breakup with a fellow student. Upon taking a job in Washington, D.C., I vowed to leave Chicago behind in mind and heart. Only six months after leaving the city, I found myself with a 24-hour business trip layover in Chicago, despite my hesitation about returning to the scene of so much angst.
To my surprise during my layover in Hyde Park, I met a tall, dark (and handsome!) GSB student named Ken Taylor among the small congregation meeting at local Church of Jesus Christ of Latter-day Saints. Under the guise of seeking a business-school internship in D.C., Ken secured my email address and sent me on my business trip with a friendly goodbye.
That same day, I received an enthusiastic e-mail from Ken, to which I responded casually. Yet only three weeks later, we began a rapid-fire electronic correspondence that soon led to my flying out for the annual GSB ball, held at a downtown museum. After a long-distance relationship of six months, I moved back to Hyde Park to date this man "seriously."
One year from our first meeting, Ken and I were married in the Salt Lake Temple. Following our honeymoon, we celebrated our nuptials at Ida Noyes Hall with our many friends from the U of C and the surrounding community. You never know how (and where) your paths may cross and how the timing of love may be ever so important.
—Emily de Schweinitz Taylor, AM'99, and Kenneth Gordon Taylor, MBA'02
---
My husband and I met in fall quarter 2002 when my roommates and I, in a silly mood, decided to place personal ads on U of C's marketplace.uchicago.edu one Saturday night. Jenn's ( AB'05) read something like, "Wanted: One skinny emo boy to write me songs and play the guitar" while mine read, "Wanted: One Portly Jew—to date and to love." I went on to explain, in my first-ever Internet personal ad, that although I was indeed only half serious about it, I wasn't Jewish but members of my family were and that I would like to date someone different from myself. As you can imagine, I got exactly zero serious responses, although it made for a great party trick. I found myself at house parties, overhearing, "Did you see that personal ad on marketplace!? A portly jew!?" followed by uncomfortable laughs, the teller not knowing whether to laugh at my half joke or find offense at what my parents later called a "bigoted statement" (I guess my parents just didn't realize how good U of C students are at laughing at themselves). When I overheard my friends and acquaintances telling of what they saw on marketplace, I would jump in and proudly announce, "That's my ad!" and they would laugh at how I'd used a fake name ("Olivia").
Several weeks went by, and my roommate decided to help me write another ad for marketplace. After several dates that had gone nowhere, along with a few misplaced crushes on fellow physci 121 classmates, I was ready for a boyfriend. So, we placed an ad that said something like, "Well. Apparently there aren't very many portly Jews out there so I'll open it up to the rest of you...." I went on to describe some likes and dislikes and other fairly normal personal ad fodder. Within the week I got an e-mail from Ambrose Cohen, X'97. Ambrose's response was that he'd seen my ad and thought it hilarious. But, he said, the funny part was that he actually met my initial description. He was, he claimed, "250 lbs, 6'1," and half Jewish" on his father's side. He asked if I'd like to meet for coffee. Immediately, my roommate and I did the math and realized that, at the time, he was 27! To a 19- and a 20-year-old, this was ancient, and although I did agree to meet for coffee (it was, after all, MY personal ad to which he was going out on a limb in response to), we were very skeptical.
Ambrose and I met at the Medici in early November. Years later, at our wedding reception, my former roommates who were my bridesmaids, would stand up in front of our 150 guests in the courtyard of the Smart Museum and relate our first impressions of each other, thoughts they'd pried out of us in the months prior to the wedding. "Chubby and immature," he'd said of me, and "Bald, flannel-wearing," I'd said of him. I think we both, to this day, agree that our first meeting at the Med was NOT love at first sight. However, two weeks later, after I asked him very frankly if he'd like to see me again, to which his answer was literally, "Hmmmm....I think so," we went on another date to a lovely fondue restaurant on the North Side, followed by a show at Second City. We followed that historic date with many samosa lunches in Cobb coffee shop—Ambrose on lunch break from his job as the manager of desktop support for the Social Sciences Division, me breaking from my studies as I finished my undergraduate degree in geophysical sciences. Approximately four years after our first meeting at the Med, in the summer of 2006, we said our vows in Bond Chapel in front of friends and family, many of them U of C alumni and staff. Despite construction in the Harper Quad, we followed our sweltering, but beautiful ceremony with a promenade through campus, with a stop-off for pictures on the bridge of Botany Pond, ending finally, at our wedding reception at the Smart Museum. We embraced our stereotypical U of C romance by using almost completely local and U of C–affiliated services for the wedding. Mary Mastricola, AB'93, from Le Petite Folie did the food for the reception, embracing my roots from the prairies of Wyoming and combining them with Ambrose's French and Jewish background. The flowers came from Plants Alive, in Harper Court, owned and operated by Bruce, whose cats and defunct computer monitor take up seats meant for customers in his jungle of a flower store.
We have been married for about a year and a half now. Newlyweds, you could say. We bought the second floor of a historic Chicago graystone in Woodlawn, between 61st and 62nd Streets on Kimbark Avenue. Ambrose still works for the U of C though I have gone on to grad school at a different university. I have to say, that hot day in August would just not have been the same without the beautiful architecture of the Quads and the familiar path through a campus that has firmly become our home.
—Erin Roosa Cohen, SB'04, and Ambrose Cohen X'97
What made my wedding a truly Chicago experience was where I met my groom—in a joint U of C undergraduate/graduate psychology class nearly two years before we were married. We were two of the most vocal people in class, and ended up sitting next to each other probably because we both wanted to be at the front of the room. While our only direct exchange during the class was me lending my future husband a pencil, which he promptly remembered to return to me the following week (much to my surprise), after class ended we began a relationship that is currently in its fifth year. While I loved my U of C educational experience, meeting my future spouse in class was the highlight of my College years.
— Kira Gole Wallisch, AB'04, and Pascal Wallisch, AM'04, PhD'07
I was coordinating orientation for the Law School Class of 2005, and on the first day handed out name tags to the S–Zs, which included Joel Whitley JD'05. At the time I thought he was cute, but I only remember giving him the name tag because he immediately proceeded to the breakfast buffet and managed to flip a jelly doughnut onto the floor where it landed with a red splatter.
On the third day of orientation, I led the new 1Ls to the Pub, where I directed the pitchers of beer to three huge tables. When I finished my duties, I looked for a seat, but there was none to be found—other than at a booth with room for one more. I slid into the empty seat, and there on my right was Joel. We chatted throughout the evening and got along really well. I invited him and his 1L friends to join me at Improv Olympic later that week, where a Law School friend of mine, Laura Personick, JD'04, would be performing. He was the only one who showed, though I later learned that his friends had asked him if he really wanted them to come too, and he said, "No."
A few days later we had our first real date: a trip to Leona's and then to see Barbershop. We never made it to the movie since we had so much fun talking with one another at Leona's, and to this day we have yet to see Barbershop.
That summer he proposed, and the following spring break we were married. My maid of honor, Tacy Flint, JD'04, gave a speech at our reception on why our marriage would be a success. Its title was, "Efficiency."
We celebrate four years of marriage this March and are expecting our first child in June.
—uang Ming Whitley, JD'04, and Joel Whitley, JD'05
Last August 4, I married Robert Jones, AB'06. My maid of honor was one of my closest friends, Leila Sales, AB'06, with whom I was in Off-Off Campus, and the best man was Robert's roommate from our first year with whom we both worked at the Reg (Tim Fisk, AB'06). In addition, one of the readers was Jose Portuondo, AB'06, and other members of the wedding party were also U of C alumni—Amy Steelman, AB'06, and Charles Goodwin, AB'04—not to mention a number of guests, including people for whom I babysat years ago, as well as my cousin's godmother, who also taught Hum while she was a grad student years ago.
Many of the things we shared are very typical of the U of C: we both worked at the Reg, we lived in Pierce for our first two years, and then we moved to 54th and Woodlawn. We used to go to Salonica every Wednesday, and Robert is still trying to convince me that his Hum and Soc classes were better than mine. We both continue to analyze things to the point of absurdity, and we both have very fond memories of the U of C. It was absolutely the right school for both of us, and in going there I found a number of people—including the man I married—for whom I have a great deal of respect personally as well as intellectual. Also, no one makes me laugh as much as Robert does.
—Lucy Wall and Robert Jones, both AB'06