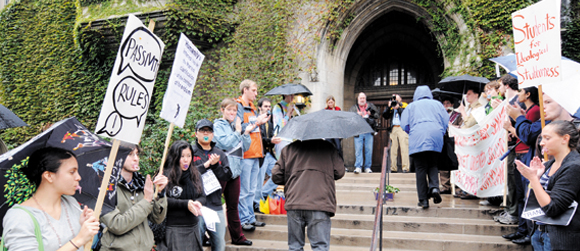 Although the campus often becomes a battleground for controversial issues, the University aspires to remain impartial.

During a discussion on free speech at the University in May, even the easy questions weren't easy. Almost from the moment they sat down, the three faculty panelists found themselves wading into what law professor Geoffrey Stone, JD'71, called "uncomfortable" issues for universities navigating the murky waters of academic freedom.
Wes Gray needed a break from Chicago Booth. Instead of backpacking around Europe, the "adrenaline junkie" joined the Marines.
The Hyde Park Jazz Festival helps connect musicians with audiences.

Talking points
Medical Center CEO James Madara discusses recent changes and budget cuts.


ALSO IN CHICAGO JOURNAL
---
COLLEGE REPORT
---
NEWS FROM THE UNIVERSITY
---
UCHI
BLOG

O
---
EDITOR'S PICKS