Act globally
The University's new Global Health Initiative aims to tackle "the biggest problems of our time."
By Jason Kelly
Photography by Colleen Denny
---
Peter Singer cut the rhetorical ribbon for the University's new Global Health Initiative (GHI) by reciting a daunting litany: each year 15–17 million people in the developing world die from infectious diseases—malaria, tuberculosis, and HIV/AIDS being "the big three." The "silent killers of children"—pneumonia and diarrhea—take a disproportionate toll in poor countries. "Behind that, lurking like Jack the Ripper in the alley," is the fatal threat of malnutrition in children from birth to age 2.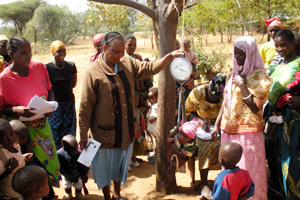 At a supply-strapped Tanzanian dispensary, a tree-rigged harness weighs babies.
So much suffering would seem to demand not only action but also an action hero. Enter Olufunmilayo Olopade, the GHI's director and the University's associate dean for global health. Or, as Singer called her, "the Arnold Schwarzenegger of global health."
Olopade has no special effects at her disposal—and the initiative's agenda makes California's budget issues seem trivial by comparison—but she and her colleagues do not lack for ambition. "We want to be working on the biggest problems of our time," said Donald Levy, vice president for research and national laboratories.
Under the sprawling umbrella of "global health," the problems are so big that the term itself remains open to interpretation. "There is no widely agreed-to definition," said Singer, director of the University of Toronto's McLaughlin-Rotman Centre for Global Health and a former fellow at Chicago's Center for Clinical Medical Ethics.
His September 30 lecture at the Knapp Center was a call to action on "the mother of all ethical challenges." The nature of that challenge struck him when he worked on end-of-life care. It might take "$100 to save a baby's life from cholera in Bangladesh," he said, "but we spend $100,000-plus to extend life a couple weeks in Toronto."
To Singer, such disparities reflect the mission at the heart of global health—fostering a sense of shared humanity across continents. "The more important value even than equity is the issue of solidarity," Singer said. "Until we feel a sense of moral linkage between my daughter in Canada and a farmer's daughter in Uganda, these inequities won't matter."
That is, they will not spark the sense of urgency necessary to match the depth of the need. Toward that end, the GHI's 15-member interdisciplinary steering committee is charged with developing solutions from more than just a medical perspective. The committee includes Susan Gzesh, AB'72, director of the Human Rights Program; anthropologist Kathleen D. Morrison; and Dali L. Yang, a political scientist who directs the Center for East Asian Studies.
Global health is not a discipline unto itself, Singer insisted, but a combination of many. "It's about leveraging existing strengths and knowledge to help a much larger group of people. I want you to imagine unleashing that power of discovery against the problems in the developing world."
Return to top
---
---
---
ALSO IN CHICAGO JOURNAL
---
COLLEGE REPORT
---
RELATED LINK
---
EDITOR'S PICKS