Plot twist
The University needs its land at 61st and Dorchester, but the neighborhood gardeners hate pulling up their roots.
By Lydialyle Gibson
Photography by Patricia Evans
---
On a warm Saturday morning shortly before the official end of summer, Shula Bien, AB'08, MAT'09, was picking over what remained of her garden. The kale and carrots already had been harvested, along with the parsley that sprouted back from last year's crop. A few tomatoes were still ripening on increasingly leggy plants, and Bien's pumpkins—her newest experiment—were starting to take shape. "Pumpkins are so cool," she said.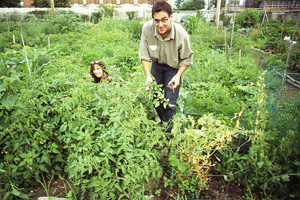 The 61st Street garden has evolved into a gathering place for neighborhood residents.
For the past two years Bien has done her planting at the 61st Street Community Garden, a collection of ten-by-ten-foot plots stretching across a rectangular swath of University-owned land at 61st Street and Dorchester Avenue. Ten years ago the Woodlawn lot was vacant, and administrators agreed to let community gardeners, led by Hyde Parker Jack Spicer, put the land to good use after condominium construction forced them from their previous space.
Since then the temporary garden has become a local gathering spot that hosts birthday parties, wedding receptions, family barbecues, and Sukkot celebrations. In warm weather Chicago students and neighborhood residents stop by to eat lunch, read, or simply sit at one of its picnic tables. The number of gardeners multiplied quickly from a handful to a hundred. This past summer, Spicer said, 135 families cultivated 143 plots.
But the community garden's arrangement was always understood to be temporary. And earlier this year the University announced it needed the lot back. When construction begins next spring on the Chicago Theological Seminary's new home directly north of the garden—part of an agreement the University made last year when it purchased the seminary buildings at 58th and University for the Milton Friedman Institute for Research in Economics—the garden will be transformed into a staging area. According to the University's senior project manager for facilities services, Desiree Dilucente, the site will store backhoes, cranes, and other equipment and materials. It will also serve as a place to deposit excavated dirt, wash off concrete trucks, and build mock-ups of masonry walls, curtain walls, and windows. The seminary building is slated to open in fall 2011.
In a March 11 letter Sonya Malunda, Chicago's associate vice president for civic engagement, wrote to Spicer, "Though the 2009 gardening season will be the last for the community garden in its current location, we look forward to working with you and the community to identify a new location." She praised the gardeners' contribution to the community and offered to help move their topsoil. A follow-up letter from Malunda in July informed Spicer that the garden would close October 30.
Dismay from gardeners was intense and immediate. Many wrote letters to the Hyde Park Herald. Some University students and staffers appealed to administrators. Hoping to negotiate an alternative plan, Spicer and fellow gardener Jamie Kalven, U-High'65, began a campaign to "articulate the value of this space," as Kalven put it in an interview, not only for the community but also for the U of C. "This space cannot be relocated," Kalven said under the garden's arbor one September afternoon. Evolving alongside next-door neighbors the Experimental Station and the Saturday-morning 61st Street farmer's market, the garden is part of an "ecology," he said, in which all three institutions feed each other.
As a site where Woodlawn, Hyde Park, and University community members come together, Spicer added, "this place has a cumulative effect on the University's relations with its neighbors." Although negotiations with University officials ended in early October, Kalven and Spicer continued pressing their case for what Kalven called an "elegant solution" to accommodate the seminary construction while sparing the garden. "The University has been very generous to let us use this space all these years," Spicer said. "There's no question that they own the land, and if they were putting a building here we wouldn't raise an issue. But what happens to this land after the construction is over?"
In a mid-September interview, Malunda said the site's ultimate fate was "still under discussion," but she explained why closing the garden was unavoidable. "This is a major construction project," she said. The seminary's footprint will be 17,000 square feet, and the site is hemmed in to the north by the Press building, to the east by a University steam plant, and to the west by Dorchester Avenue. Three schools—Carnegie School, Hyde Park Day School, and the Sonia Shankman Orthogenic School—sit within a couple of blocks. "We have a responsibility to make sure that everyone is safe, whether they're on site or nearby."
Malunda said she understood the disappointment over moving the garden. "We have faculty and students and staff who garden there," she said. "I've been in that garden—it's not some foreign plot of land that I'm unconnected to." Gardeners insisted that they "couldn't just pick this up and replicate it somewhere else," Malunda said. "And I get that. But you also have vacant lots in the neighborhood that need community-building. What about them?" Ilsa Flanagan, the University's director of sustainability, adapted a notion from Chicago geophysicist and sustainable-agriculture scholar Pamela Martin, AB'89, who writes about "movable" gardens. "The idea," Flanagan said, "is that these spaces occupy a lot for one to three years, beautify the area, get people working together and in touch with their food, and then when the block gets sold, they move on. It's an edible landscape of movable, thriving gardens that evolve with the neighborhood."
The University's offer to help find a new location stands. Meanwhile Kalven spent the early fall interviewing gardeners for an online "live documentary" to "learn what can be learned from the last days of the garden." The project began as a persuasion tool; in the end it became a tribute: "The garden has become an intimate part of many people's—and not just gardeners'—daily life and personal geography and sense of being at home in the world," Kalven said. "We are all searching for language to describe something that has been deeply, deeply healthy."
Return to top
---
---
---
ALSO IN CHICAGO JOURNAL
---
COLLEGE REPORT
---
RELATED LINKS
---
RELATED READING
---
EDITOR'S PICKS