Center Stage

---
Through February 14. Renaissance Society, 773/702-8670. Chicago-based photographer Shteynshleyger—who moved to the United States from Moscow at 16—shows 20 autobiographical photos from the past several years, tracing the evolution of her relationship to Orthodox Judaism.
January 14–February 14. Court Theatre, 773/753-4472. Charles Newell directs Joan Didion's stage adaptation of her memoir, an account of the year after her husband's sudden death, in its Chicago premiere.
Michael Walzer: Dewey Lecture in Law & Philosophy
January 20. 4 p.m., Weymouth Kirkland Courtroom, Law School, 773/702-9494. In his talk, "Trying Political Leaders," Walzer, professor emeritus at the Institute for Advanced Studies, discusses the political morality of putting former world leaders on trial, comparing the process in different national and international settings.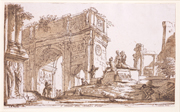 Sites to Behold: Travels in Eighteenth-Century Rome
Through April 11. Smart Museum of Art, 773/702-0200. Once limited to young aristocrats hoping to gain experience about the world, the Grand Tour of Europe—which consisted primarily of ancient "must-see" monuments such as the Colosseum in Rome—reached the wider public in the late 18th century. This exhibition shows etchings and drawings of the Italian sites that artists of the time sold to tourists eager for souvenirs. Several programs and movie screenings throughout the winter and early spring complement the exhibit.
Chicago Presents Jazz Series: The Bad Plus
February 5. 7:30 p.m. Mandel Hall, 773/702-8068. The Bad Plus, an acoustic jazz trio, plays original avant-garde compositions and reworks popular songs.
---
---
---
ALSO IN CHICAGO JOURNAL
---
EDITOR'S PICKS