The University of Chicago Magazine August 1995
---
Return to August 1995 Table of Contents
---
CHICAGO JOURNAL
---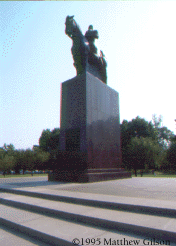 Horse of a different color: Harsh Chicago winters cracked its limestone base and turned its bronze finish to a mottled green. But now the Blanik Knight statue, located on the east end of the Midway and one of the world's largest equestrian statues, shines again, thanks to restoration efforts led by the Czechoslovak American Congress. A tribute to Thomas Masaryk-Czechoslovakia's first president and a visiting professor at the U of C in the early 1900s-the 46-year-old statue represents one of the legendary knights of Bohemia's Blanik Mountain, who stood ready to liberate his people in times of oppression.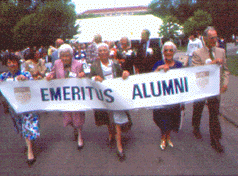 Stepping out: Emeritus alumni, those Chicago grads celebrating their 51st reunion and beyond, followed the cavalcade with a Saturday luncheon and a late-afternoon reception held in the Kersten Physics Teaching Center-named for one of their number, Samuel Kersten, AB'35.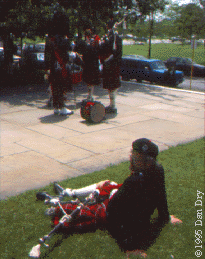 Take five: After leading returning grads into Rockefeller Chapel for the Alumni Assembly, bagpipers have time to enjoy the June sunshine. More than 1,100 alumni returned to the quads for Reunion '95.
---
Also in this department: A new dean for the Division of Biological Sciences. A humanities MA program in Tokyo. University signs Department of Energy contract to manage Argonne National Laboratory. The Campaign for the Next Century tops $500-million.
Plus items For the Record.
---
Go to: Return to August 1995 Table of Contents