The University of Chicago Magazine August 1995
---
Return to August 1995 Table of Contents
---
CHICAGO JOURNAL
---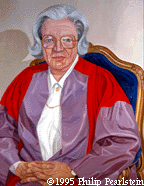 Portrait of a Lady: It's been a source of speculation around campus watercoolers ever since Hanna Gray retired as University president in 1993: When would her portrait take its rightful place among the painted pantheon of U of C notables who grace the walls of Hutchinson Commons? The Philip Pearlstein painting, above, quietly made its appearance over a Hutch Commons mantel this summer.

Physics boon: Samuel and Elaine Kersten-who ten years ago made the gift that named the Kersten Physics Teaching Center-have pledged $2 million to endow a professorship and fund two undergraduate scholarships in the physical sciences. Samuel Kersten, AB'35, is president of the Water Saver Faucet Company Inc., one of the nation's largest suppliers of laboratory fixtures.

Top titles: Several faculty books won awards this year. The Academy of Criminal Justice Sciences honored Robert Sampson's Crime in the Making: Pathways and Turning Points through Life. Anne Walters Robertson won the John Nicholas Brown prize for The Service-Books of the Royal Abbey of Saint-Denis: Images of Ritual and Music in the Middle Ages. The Organization of American Historians gave its Frederick Jackson Turner award to George Chauncey's Gay New York: Gender, Urban Culture and the Making of the Gay Male World, and its Avery O. Craven prize to Julie Saville's The Work of Reconstruction: From Slave to Wage Laborer in South Carolina.

Fellows all: Five Chicago faculty members-anthropologists Jean Comaroff and John Comaroff, political scientist David Laitin, writer Richard G. Stern, and astrophysicist James Truran-have been elected fellows of the American Academy of Arts and Sciences. A total of 120 U of C professors are academy members.

Basic training: A program to formally train graduate students as teachers will be launched in the fall. The Apprenticeship Program in the Art of Teaching, supported by a grant from the Pew Charitable Trusts, will help advanced graduate students in the humanities and social sciences develop teaching skills, understand student psychology, and learn course planning and logistics.

Four Quantrells: The University's Quantrell awards-the nation's oldest prize for excellence in undergraduate teaching-went this year to Kathleen Neils Conzen, history; Herbert George, the Committee on Art & Design; Richard Kron, astronomy & astrophysics; and Stephen Pruett-Jones ecology & evolution.

Hall of famers: Two professors received Amoco Foundation Awards for long-term excellence in undergraduate teaching: Karl Weintraub, AB'49, AM'52, PhD'57; and Paul Sally. Weintraub- famed among undergrads for his introductory Western Civ courses-has won three other teaching awards, including two Quantrells. Sally, mathematics professor and director of undergraduate mathematics studies, has also won a Quantrell.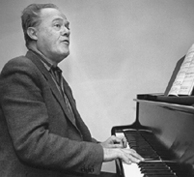 Music man: Internationally acclaimed pianist Charles W. Rosen (above) was elected a member of the American Philosophical Society, the oldest learned society in the U.S. A professor in the Committee on Social Thought and in music, Rosen is the author of numerous books on musicology, including The Romantic Generation, published this spring.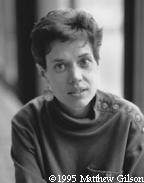 SSA's #1 teacher: Assistant professor Melissa Roderick received the School of Social Service Administration's first-ever faculty award for excellence in teaching. Roderick, who teaches statistical research, received her Ph.D. from Harvard in 1991 and joined the Chicago faculty that same year.
Head of the class: The University gave its 1995 faculty awards for excellence in graduate teaching to Sheila Fitzpatrick, the Bernadotte E. Schmitt professor in history; John A. Goldsmith, professor and chair of linguistics; George Haley, professor in Romance languages & literatures; and Robert Richards, PhD'78, professor in history, philosophy, and psychology.
O-fortnight: Orientation Week, the annual intro to University life for first-year College students, has been extended from eight to 11 days. The program of social activities, placement tests, and course registration will run September 20-October 1. Orientation director Jean Treese, AB'66, says the changes-including more interactive programming at a more relaxed and flexible pace-were suggested by past first-year students.
---
Also in this department: A new dean for the Division of Biological Sciences. A humanities MA program in Tokyo. University signs Department of Energy contract to manage Argonne National Laboratory. The Campaign for the Next Century tops $500-million.
Plus photographs from campus: Reunion '95. The Blanik Knight Statue restored.
---
Go to: Return to August 1995 Table of Contents