The University of Chicago Magazine December 1995
---
Return to December 1995 Table of Contents
---
Investigations
Students gain, says Gerald Graff, when critical conflicts over books like Huck Finn come into the classroom.
At an October symposium for the 50th anniversary of Chicago's Research Institutes, speakers consider the bond between the government and science and technology research.
Also in "Investigations": A new pin-up calendar features Studmuffins of Science. Research by Political Scientist Lynn Sanders suggests that African-Americans express different views of race and racial politics, depending upon the race of the interviewer. A vaccine against pneumococcus looks promising, according to Medical Center researchers. Physicist Woowon Kang awarded grant by David and Lucile Packard Foundation.
---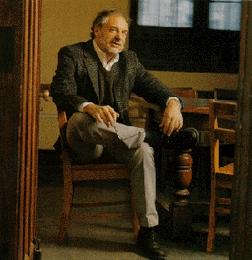 Open-door policy: Gerald Graff wants students to join the discussions of literary controversies.
Today he's the George M. Pullman professor of English language and literature, but from childhood even into college, Gerald Graff "disliked and feared books." In his gradual conversion, he recently wrote, a junior-year encounter with Adventures of Huckleberry Finn stands out. What grabbed Graff wasn't the book but the debate over its ending--when Tom Sawyer plays at freeing the runaway slave Jim, who's unaware that he has already been freed by his owner's will. Some critics have dismissed the final chapters as anticlimactic, racist, or, as Ernest Hemingway put it, plain "cheating" on Twain's part.
Coming full circle in his career, this year Graff, AB'59--with coeditor James Phelan, AM'73, PhD'77, a professor of English at Ohio State University--published a college edition of Huck Finn focused on its literary controversies. The work exemplifies what he preached in his 1992 book, Beyond the Culture Wars: How Teaching the Conflicts Can Revitalize American Education (W. W. Norton). Already in its second printing, Graff and Phelan's Huck Finn (Bedford Books) includes the text and selected illustrations from the 1885 first edition; an introduction on the pedagogical value of critical controversies; and 18 essays, from T. S. Eliot to current critics, on three major arguments over the novel: the ending, race, and gender and sexuality.
The editors' emphasis on conflict may seem at odds with their goals: to restore coherence and focus to humanities classrooms polarized by these very conflicts, and, in the case of Huck Finn--which to some readers satirizes racist beliefs and to others partakes in them--to rescue a work sometimes dropped and, at the high-school level, even banned, from curricula.
Graff doesn't see a contradiction. "The best debates create coherence," he says. "What really creates incoherence is when people don't argue. Then people are speaking past each other." To him, "teaching the debates" is a practical answer: Controversy sparks student interest; critical views become clearer in opposition; and students learn the language and issues that are the tools for reading and talking about books--like the skill of rational argument.
Feminism, deconstructionism, Marxism--the academic battles rage, but students, Graff points out, usually must try to reconstruct the issues from the teachings of separate courses. Bringing the debates into the classroom is like Adler and Hutchins's "notion of the curriculum as a great conversation," he explains--though in 1995, he adds, the guest list is more diverse and is itself a subject of discussion.
Yet not all students, even at the home of Mortimer Adler and Robert Maynard Hutchins, welcome debate. In part, Graff blames a cultural belief that "fundamental controversies are nonnegotiable," or as some reluctant students put it, "`I've got my interpretation, you've got yours.'" Other students think conflicts about a book--and with them, the intimidating world of "lit crit"--detract from studying the work itself. And some Chicago professors agree: Graff cites the late Allan Bloom, AB'49, AM'53, PhD'55, who once said students should "just read" books, "letting [the books] dictate what the questions are and the method of approaching them."
With "teaching the debates" a common approach in many other disciplines, Graff believes interdisciplinary study also offers students deep insight into current trends in the humanities. It's a view that fits well with his latest project: directing the University's new Master of Arts Program in the Humanities, a one-year degree emphasizing interdisciplinary study, writing, and critical thinking. Not restricted to those planning doctoral studies, the program, which starts next fall, includes a core course entitled The Humanities: Visions, Revisions, and Contested Issues--which Graff has volunteered to teach. He'd like to invite guest faculty and, perhaps, teach Huck Finn.
With James Phelan, he sees yet another use for the new edition: a second version adapted for high-school classrooms. Young people, Graff believes, can intelligently discuss the sensitive issues it raises. Dropping or banning the book is a poor alternative. "We have to start using disagreement," he says. "There's a lot of it around, you know."
---
While both celebration and concern marked the gathering in Max Palevsky Cinema, two statistics cited by Neal Lane, director of the National Science Foundation, clearly spoke to the second emotion: Today, only half of new science Ph.D.s find careers in research; by the year 2000, federal funding for non-defense research and development will likely drop by a third.
At an October symposium for the 50th anniversary of Chicago's Research Institutes, Lane wasn't the only speaker wondering how the bond between government and science and technology will weather the post-cold war era. The two-day conference on "Interdisciplinary Science and Technology: Past Experience and Prospects for the 21st Century" struck a more positive tone when looking back on the Enrico Fermi and James Franck institutes, founded, respectively, as the institutes for Nuclear Studies and for the Study of Metals. Outgrowths of the Manhattan Project, the institutes were praised for advances from astronomy to materials science.
Yet a roundtable on science infrastructure and technology could have been titled "Science under Siege"--if not at Chicago, then on campuses nationally. Harvey Drucker, an associate director at Argonne National Laboratory, likened current budget cuts in basic research to "eating your seed corn." As for applied efforts like the one to move new ideas from universities and national labs to industry, he added, "Congress still thinks it smells like corporate welfare."
The misconceptions, said Fermilab director John Peoples, start with infrastructure: Congress doesn't understand "the mechanisms of big science"--and the long-term funding it requires. Do citizens get the government they deserve? Despite science and technology's growing role, U of C emeritus physicist and Nobelist Leon Lederman noted a rising public ignorance and hostility.
Yet to John McTague, a vice president at Ford Motor Company, science's woes are part of a different issue--a lack of national common interests. Among research agencies, the National Institutes of Health managed one of the few budget increases this year, he said, because it surmounted that problem: Congress realized that "what is good for N.I.H. is in the national interest."
---
Citations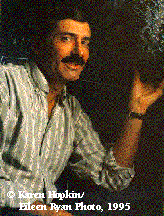 Banish thoughts of pocket protectors and pencil-necked physiques: These guys, to put it scientifically, are hot. In fact, they're Studmuffins of Science, the subjects of a 1996 pin-up calendar featuring 12 of the country's brightest and beefiest Ph.D.s. Posing as "Dr. December" is Chicago astrophysicist Edward "Rocky" Kolb, who, alongside a thumbnail summary of his work, offers admirers some never-before-revealed personal data ("I was the fifth Beatle."). The fun, says calendar creator Karen Hopkin, has a serious point: to show scientists as regular folks. With awesome pecs.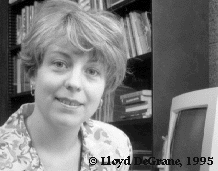 While Americans are "deeply devoted to a wish not to notice race," says U of C political scientist Lynn Sanders, our social antennae clearly are not--even in telephone conversations. African Americans responding to the National Black Politics Survey, conducted via phone by African-American interviewers, expressed less support for electing separate black candidates and less conviction about the extent of racial inequity when they believed that the interviewers were white, Sanders found. That shift, says the researcher, complements studies that show whites make similar adjustments--taking more centrist, less racially polarized views--when talking to blacks.

One very nasty bacterium causes it all: almost half of all ear infections--the primary reason for visits to pediatricians--and, in developing countries, up to a third of all deaths under age 5. Yet the tables may soon turn on pneumococcus. U of C Medical Center researchers are testing a vaccine that overcomes some limits of existing immunizations, which don't protect children under 2. The new weapon's efficacy is still unclear, says Robert Daum, who's leading the study with fellow pediatricians Gilbert Given and Joel Schwab and collaborators at Yale and Connaught Labs. The vaccine, though, looks promising: Daum calls it "very, very safe."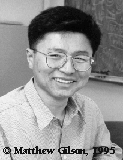 As a key to magnetic-levitation trains and other futuristic technologies, high-temperature superconductors--materials with near-zero electrical resistance--have stayed more great idea than practical reality. But U of C physicist Woowon Kang isn't alone in thinking his work on organic superconductors could succeed. The David and Lucile Packard Foundation has named him one of 20 promising young scientists and engineers to receive five-year, $500,000 unrestricted grants.
Written by Andrew Campbell.
---
Go to:Return to December 1995 Table of Contents