The University of Chicago Magazine December 1995
---
Return to December 1995 Table of Contents
---
Class News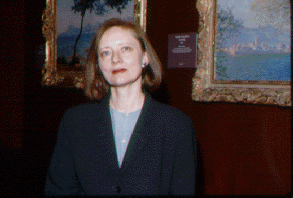 Organizing the Art Institute's Monet exhibit--the hottest ticket in Chicago this summer and fall, attracting nearly a million visitors from around the world--was no small matter. Exhibit coordinator Barbara Mirecki, AM'71, can testify to that and regularly has, giving talks about the "inside story" throughout the show's July-November run.
One of three members on the main exhibit team, Mirecki describes herself as its "point person," coordinating interdepartmental assignments and deadlines, tracing hard-to-find paintings and obscure research, and pursuing and confirming loans of art. Her partners included curator Charles Stuckey, the museum's head of 20th-century painting and sculpture, and curatorial assistant Audrey Weinstein Fosse, AM'92, who took over from Sophia Shaw, AM'94.
In the effort to create a rich retrospective of the artist's entire career, Mirecki was a part of most major decisions, from developing the gallery brochure to choosing from among Monet's more than 2,000 works. The result: 153 paintings and 6 works on paper, borrowed from individuals and museums in 15 countries.
It was Mirecki's first close encounter with impressionism outside of an art-history class and her first museum job. It also brought her career full circle, back to the "socially conscious" 1970s, when Mirecki hoped to turn her love of art into both a career and a means to benefit society.
After majoring in art history at the U of C, she traveled to Poland to study art conservation at the University of Krakow, purposely deciding not to choose an academic career. "Being locked up in a fusty museum was not the thinking in those days," she explains. "Conservation seemed like a hands-on area to go into."
During her year in Poland, Mirecki began to dabble in dealing. For the next 14 years, she first sold prints and drawings at American universities, then developed an interest in German expressionism and traveled throughout Europe to purchase art works, returning to New York to sell them. In 1985 she became director of the Donald Young Gallery in Chicago, a leading contemporary art gallery. When Young relocated in 1991, Mirecki stayed behind with her new husband, Ira G. Wool, MD'53, PhD'54, a professor in biochemistry and molecular biology at the U of C.
"After the '80s and early '90s, I was a little discouraged with the art market," Mirecki says. "Selling high-priced objects for private delectation wasn't relevant to society and how we perceive art. So I wanted to reenter the public arena."
Though Mirecki has enjoyed the last two years at the Art Institute, she intends to move on after closing down the Monet exhibit, returning the paintings, and archiving materials for future researchers. She plans to continue to organize exhibits at different museums and arts institutions, "bringing shows to the public and making art accessible, understandable--not a magical, sacrosanct thing."--K.S.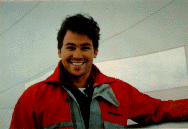 For a person whose life is based on the water, Ben Morgan spends an awful lot of time on the road. In his campaign to reach the 1996 Olym-pics, the lifelong sailor has been traversing North America for six months, driving from regatta to regatta with his two teammates in their van, boat trailing behind.
Morgan, AB'92, started sailing with his father at age 2 and began competing in Windsurfers and small dinghies at 13. An English literature student at Chicago, he met his teammates, Paul Wilson and Will Stevens, while teaching sailing during undergraduate summers. They'd been racing together for five years when, in November 1993, they began kicking around the idea of an Olympic campaign. A few months later they committed to it; training began in earnest this past July after all the team members had either finished school or given notice to their employers.
Since then the three (Greg Stevens replaced his brother in August) have competed in Soling--three-man keelboat--races from Canada to California to New England, their ranking rising steadily. At the Soling world championships in August, they placed 40th overall and were the tenth U.S. boat. At the North American championships in early October, they placed 12th and were the eighth U.S. boat; they expect to be ranked sixth in the nation by the end of the year.
But training for the Olympics encompasses much more than competition. It's a full-time job, including six- or seven-hour practices four or five days a week. Sometimes a friend will offer advice, but the three generally coach themselves, identifying weak spots, repeating maneuvers, and devising strategy. "Often you can find a training boat to sail with you for a week or two," Morgan explains, "but the majority of training is on your own, working it out."
Indeed, Morgan, Stevens, and Wilson are grounded in a DIY mentality. They do all their own boat repairs and whatever van maintenance they can handle. In addition, they have to come up with the thousands of dollars necessary to keep them and their boat afloat until the Olympics. Though friends have helped with food and shelter, much of the crew's time is spent writing proposals and giving presentations to potential corporate sponsors.
"I've come to admire those people who dare to be entrepreneurs," says Morgan, who has studied at the London School of Economics and worked in sales and marketing at two companies. "It's like running your own business. We didn't realize just how much time and effort it takes."
The trio have spent about $20,000 so far, much of it on new sails. Because they're hoping to charter or buy a lighter boat, Morgan estimates they'll need to raise another $30,000 to get to the Olympics, including the cost of shipping the boat to Italy for the world championships in March.
The sailors have made Savannah, Georgia, their base for the next few months, learning to predict the weather and the wind for the Olympic Trials there in May. Though Morgan expects that about 25 Solings will compete in the U.S. trials, and he knows that only one will go on to the Olympics, he's confident his team will have its shot.
"Without being cocky, we think we can do it. There wouldn't be a point to doing an Olympic campaign if you didn't think you could win," he says. "Olympians will tell you that it often takes two campaigns in order to get to the games. We shall see."--K.S.
---
Go to:
Within Class News:
---
Return to December 1995 Table of Contents