The University of Chicago Magazine December 1995
---
Return to December 1995 Table of Contents
---
BOOKS BY ALUMNI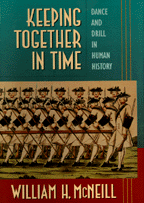 Shared motion (see History/Current Events)
ART AND ARCHITECTURE
J. Peter Burkholder, AM'80, PhD'83, All Made of Tunes: Charles Ives and the Uses of Musical Borrowing (Yale University Press). Burkholder identifies different kinds of "quotations" in Ives's music; explores the musical, aesthetic, and psychological motivations behind those borrowings; and shows the techniques and effects that characterize them.
Larry W. Smolucha, MFA'78, AM'92, The Visual Arts Companion (Prentice Hall). This handbook for beginning art students and non-art majors explains the principal art-making techniques, provides an illustrated historical outline of Western art, and introduces Native American, Asian, and African art.
BIOGRAPHY AND LETTERS
Sharon Sloan Fiffer and Steve Fiffer, JD'76, editors, Home: American Writers Remember Rooms of Their Own (Pantheon Books). Eighteen contemporary American writers, including Henry Louis Gates, Jr., and Jane Smiley, create a "home" built by essays--each about a different room, real or imagined. Together, they examine the ideals and realities of family, childhood, community, and shelter.
Norman L. Macht, PhB'47, Clarence Thomas: Supreme Court Justice (Chelsea House Publishers). Macht describes Thomas's life and the evolution of his philosophy.
Sam Meyer, AM'49, Paradoxes of Fame: The Francis Scott Key Story (Eastwind Publishing). Meyer's history of the man who wrote the words to "The Star-spangled Banner" also explores his roles as a lawyer, Episcopalian, and diplomat.
CHILDREN'S LITERATURE
Megan Whalen Turner, AB'87, Instead of Three Wishes (Greenwillow Books). Turner's story collection reveals the magic in everyday life: a small town overrun with tourists after a leprechaun sighting, a hooligan forced to see himself through others' eyes, and, in the title story, a girl who isn't interested in wishes granted by an elf prince in a business suit.
CRITICISM
Don H. Bialostosky, AB'69, AM'73, PhD'77, and Lawrence D. Needham, editors, Rhetorical Traditions and British Romantic Literature (Indiana University Press). These essays argue that although the status of classical rhetoric declined during the 19th century, Romantic writers nevertheless drew upon sophistic, classical, biblical, and Enlightenment rhetorical traditions.
Thomas E. Connolly, AM'47, PhD'51, A Neo-Aristotelian and Joycean Theory of Poetric Forms (The Edwin Mellen Press). Dedicated to the memory of Ronald S. Crane, former U of C English department chair, this book advances a theory of poetic forms encompassing poetry's six modes: lyric, narrative, dramatic, expository, descriptive, and argumentative. Connolly's theory combines Artistotle's four-part method of describing classical tragedy with Joyce's aesthetic theory as expressed in A Portrait of the Artist as a Young Man.
Daniel Tiffany, AM'84, PhD'90, Radio Corpse: Imagism and the Cryptaesthetic of Ezra Pound (Harvard University Press). Offering a fundamental revision of Imagism, Tiffany establishes a continuum between what Pound called the "corpse language" of late Victorian poetry and a conception of the image that borrows "radioactive" qualities from the discovery of radium and the development of radiography. Tiffany argues that the cadaverous and radiological properties of the image culminate in Pound's fascist radio broadcasts during WWII.
EDUCATION
Robert T. Blackburn, SB'47, SM'48, PhD'53, and Janet H. Lawrence, Faculty at Work: Motivation, Expectation, Satisfaction (Johns Hopkins University Press). Analyzing how faculty spend their time and why, the authors examine the crucial ways in which faculty and administrative views of the academic workplace differ--and what these differing views imply.
David T. Hansen, AB'76, PhD'90, The Call to Teach (Teachers College Press). Based on research in middle- and high-school classrooms, Hansen's book shows how a sense of calling helps teachers to combine personal fulfillment with public service.
Deborah W. Meier, AM'55, The Power of Their Ideas: Lessons for America from a Small School in Harlem (Beacon Press). Meier recounts her work in creating a network of small, successful schools in Harlem, arguing that a public educational system that aims high for all its citizens is an essential ingredient, not a utopian ideal, in a democratic polity.
Clara Orban, AB'81, PhD'90, Au travail! (McGraw-Hill). This workbook of reading, speaking, writing, and listening exercises allows advanced French students to simulate the experiences of the French business world.
Willie Pearson, Jr., and Alan E. Fechter, AM'62, editors, Who Will Do Science? Educating the Next Generation (Johns Hopkins University Press). As fewer students choose to study math, science, and engineering, this book describes the current demographic situation, analyzes the effectiveness of existing recruitment and retainment programs, and examines policies to improve the education of tomorrow's scientists and engineers.
FICTION AND POETRY
Irving Benig, AM'66, The Messiah Stones: A Novel for the Millennium (Villard Books). Part thriller, part spiritual journey, Benig's novel tells of Professor John McGowan's quest to uncover the secret of the Messiah Stones--bequeathed to him by his long-missing father--which serve as a beacon to announce the coming of the world's savior at the end of the millennium.
Gaye Follmer, PhB'45, AB'56, The Second Best Bed (Adelphi Press). Follmer's novel follows Beryl Vredenberg, an American on sabbatical in London, as she seeks to answer the question, Who wrote the Shakespeare plays? As she pursues the answer, her amorous ex-husband and a lonely economics professor pursue her.
Tony Miksanek, AB'77, Murmurs (Illusions Press). A collection of short stories narrated by a stethoscope.
Ron Offen, AM'67, Instead of Gifts: Poems for Poets (Pudding House Publications). Offen's free verse and formal poems are dedicated to individual poets, both living and dead.
James L. Weil, AB'50, Bill's Shaker Chair, (Kelly/Winterton Press). A book of new poems.
HISTORY/CURRENT EVENTS
Leo Bogart, AM'48, PhD'50, Cool Words, Cold War: A New Look at USIA's Premises for Propaganda, Revised Edition (American University Press). Bogart examines the principles and beliefs that guided American propaganda operations during the Cold War and relates them to dilemmas now facing U.S. information policy.
Jack J. Himelblau, AB'58, AM'59, The Indian in Spanish America: Centuries of Removal, Survival, and Integration, Volumes I and II (Labyrinthos). This two-volume anthology contains documents and critical essays by peninsular and Spanish-American authors on the social, economic, and cultural problems arising from the clash between European and indigenous worldviews in Spanish America.
Fred A. Lazin, AM'68, PhD'73, Politics and Policy Implementation: Project Renewal in Israel (State University of New York Press). Lazin shows how coalition politics, party-dominated ministries, an independent and fragmented Jewish Agency, diaspora Jewish communities, and powerful mayors influenced the implementation of Project Renewal, a late-1970s hybrid of the American War on Poverty, Urban Renewal, and Model Cities.
William H. McNeill, AB'38, AM'39, U of C history professor emeritus, Keeping Together in Time: Dance and Drill in Human History (Harvard University Press). Incorporating festival village dances, the dance-trances of shamans and dervishes, and the morning exercises of factory workers in Japan, McNeill pursues the possibility that coordinated rhythmic movements and the shared feelings they evoke have been a powerful force in holding human groups together.
Armando Petrucci, author, and Charles M. Radding, AB'67, editor and translator, Writers and Readers in Medieval Italy (Yale University Press). Redding provides the first English translation of these essays on topics central to paleography and cultural history, including how medieval Italians learned to write, what they wrote and read, and how scribes were trained.
Dante A. Puzzo, AB'40, AM'45, PhD'56, Myth and the Cold War (Randatamp Press). Puzzo argues that the Cold War was a decades-long counterrevolution that successfully parried the threat to the established social order posed by the 1917 triumph of Bolshevism--a threat potentially as great as that posed by the Protestant Reformation to the influence of the Roman Catholic Church four centuries earlier.
Jonathan Stevenson, AB'78, Losing Mogadishu: Testing U.S. Policy in Somalia (Naval Institute Press). Part reportage, part analysis, this book examines U.S. involvement in Somalia from the Cold War to the present, focusing on Operation Restore Hope. Stevenson suggests how American efforts might have been more effective, discusses U.S. and U.N. responsibilities and limits in aiding countries in turmoil, and formulates an intervention policy to guide future action.
MATHEMATICS
Robert Bix, AB'73, Topics in Geometry (Academic Press). Designed for junior-level college geometry courses--especially for prospective secondary teachers and other mathematics majors--this text provides a survey of topics in Euclidean and non-Euclidean geometry.
MEDICINE AND HEALTH
Howard S. Frazier, PhB'47, and Frederick Mosteller, editors, Medicine Worth Paying For (Harvard University Press). Writing for a nontechnical audience, the editors call attention to the role of technology assessment in medicine--the rigorous evaluation of the effects of medical treatments. By studying successful medical innovations, they identify important implications for health policy.
Hal B. Jenson and Robert S. Baltimore, AB'64, CLA'71, editors, Pediatric Infectious Diseases: Principles and Practice (Appleton and Lange). Emphasizing diseases occurring frequently in North America, this text organizes pediatric infectious diseases by syndrome, including microbiologic data in each entry.
John Laszlo, CLA'56, The Cure of Childhood Leukemia: Into the Age of Miracles (Rutgers University Press). Fifty years ago, childhood leukemia was fatal; today, over 75 percent of such cases can be cured. Laszlo, senior vice president for research at the American Cancer Society, tells the story of this success through the voices of doctors, researchers, patients, and parents.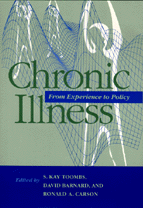 S. Kay Toombs; David Barnard, AB'70; and Ronald A. Carson, editors, Chronic Illness: From Experience to Policy (Indiana University Press). Drawing on first-person accounts and perspectives from several disciplines, this book explores what it means to live with chronic illness--American society's main cause of disease and death--on an everyday basis, then considers the implications for social policy, health care, bioethics, and the professions.
Robert E. Yahnke and Richard M. Eastman, AM'49, PhD'52, Literature and Gerontology: A Research Guide (Greenwood Press). Aimed at educators and health-care professionals, this book outlines the ways literary works can illuminate the problems and potentials of older people. More than 40 brief essays address topics such as ageism, elder abuse, and Alzheimer's disease. The essays include cross-references to some 300 literary works, summarized and critiqued in the book's second half.
POLITICAL SCIENCE AND LAW
Charles H. Kennedy, JD'76, and Veronica Pastor, An Introduction to International Telecommunications Law (Artech House). This companion to Kennedy's earlier Introduction to U.S. Telecommunications Law surveys the regulation of electronic communications within and among nations.
Ted Rueter, AM'84, editor, The Politics of Race: African Americans and the Political System (M.E. Sharpe). Among the issues in black politics discussed in this anthology are black mayors, the urban underclass, black conservatives, the Clinton administration, and African-American leaders such as Louis Farrakhan, Jesse Jackson, and Clarence Thomas.
Stephen R. Weissman, AM'65, PhD'69, A Culture of Deference: Congress's Failure of Leadership in Foreign Policy (Basic Books). Having spent 12 years with the House of Representatives' Foreign Affairs Committee, Weissman traces the development of a set of norms and beliefs that has, he argues, confined Congress to the margins of power and hurt American global interests. The author suggests how Congress and the public might restore democratic leadership in foreign affairs.
PSYCHIATRY/PSYCHOLOGY
Laura W. Martin, AB'68; Katherine Nelson; and Ethel Tobach, editors, Sociocultural Psychology: Theory and Practice of Doing and Knowing (Cambridge University Press). These essays by leaders in sociocultural, cognitive, developmental, and educational psychology honor the memory of Sylvia Scribner and her conviction that science holds a responsibility to human welfare and understanding. Themes include the relationship between history and culture, the importance of context to thinking, and cognition in school and in the workplace.
RECREATION
Ted Rueter, AM'84, The Newt Gingrich Quiz Book (Andrews and McMeel). A followup to Reuter's Rush Limbaugh Quiz Book, this collection of 175 satirical multiple-choice questions covers everything from how Gingrich met his first wife ("she was his high school math teacher") to what he once called Bob Dole ("the tax collector for the welfare state").
RELIGION AND PHILOSOPHY
Carl Bangs, PhD'58, Phineas F. Bresee: His Life in Methodism, the Holiness Movement, and the Church of the Nazarene (Beacon Hill Press). After a career as a Methodist minister in Iowa and California, Bresee (1838-1915) became attracted to the religiously alienated "simple believers" of the Holiness Movement. In 1895 he founded the Church of the Nazarene, a "holiness church" that now claims one million members worldwide.
Seymour Cain, PhD'56, Gabriel Marcel's Theory of Religious Experience (Peter Lang Publishing). In discussing Marcel, a founder of 20th-century dialogical philosophy, Cain focuses on Marcel's examination of religious experience as rooted in the human condition. Marcel's early work, Metaphysical Journal, is examined.
John Dylong, AM'83, The Spirituality of Work: Visual Artists (ACTA Publications). The seventh in a series, this booklet reflects on the spirituality of visual art and explores, through a series of interviews, what motivates artists to create. The booklet includes illustrations by the interviewed artists.
Chad F. Emmett, PhD'91, Beyond the Basilica: Christians and Muslims in Nazareth (University of Chicago Press). Examining interactions between Christian and Muslim Arabs in the Israeli city of Nazareth, this study reveals residential shifts from religious segregation to mixed quarters; cooperation through education, friendships, and unity in their minority status as Israeli Arabs; and occasional areas of conflict, most recently related to the rise of an Islamic party in municipal politics.
Joel S. Kaminsky, AM'84, PhD'93, Corporate Responsibility in the Hebrew Bible (Sheffield Academic Press). Kaminsky explores the relationship between the individual and the community in ancient Israel by focusing on cases in which God punishes apparently innocent people along with those who actually did wrong. The author then compares biblical ideas of communal responsibility to more modern views, arguing that recent calls for individual responsibility to the larger community have a solid basis in biblical theology.
SCIENCE AND TECHNOLOGY
Andrew Busey; Larry Colker, AB'70, AM'71; and Hank Weghorst, New Riders' Official World Wide Web Yellow Pages (New Riders Publishing). This annotated directory of more than 4,000 World Wide Web sites and resources comes in both an electronic and a print version.
Mitchell O. Locks, AM'49, PhD'53, Reliability, Maintainability, and Availability Assessment (Quality Press). Focusing on quantitative methods for assessing a component or system that provide a numerical probability of its success, Locks describes techniques for obtaining the confidence levels for desired reliability values. The book also features instructions on plotting and interpreting graphs and examples based on industrial experience.
William Sheehan, AM'78, The Immortal Fire Within: The Life and Work of Edward Emerson Barnard (Cambridge University Press). Sheehan's biography of Barnard, a leading astronomer of the late 19th and early 20th centuries, includes many of Barnard's wide-field photographs of the Milky Way and provides insight into the astronomers and observatories of his time--including the U of C's Yerkes, where Barnard spent the last years of his life.
Michael Zimmerman, AB'74, Science, Nonscience, and Nonsense: Approaching Environmental Literacy (Johns Hopkins University Press). Pointing out how false claims may contain truth and valid scientific findings may be distorted or selectively quoted to serve the ends of certain groups, Zimmerman works to give readers the scientific background needed to evaluate environmental and other current issues.
SOCIAL SCIENCES
Ellen B. Basso, AM'65, PhD'69, The Last Cannibals (University of Texas Press). Basso's narrative follows a group of central Brazilian Indians, the Kalapalo of the Upper Xingu River Basin, tracing the emergence of their ideology of peaceful, generous coexistence from an earlier time of violent, cannibalistic feuding.
Daniel Glaser, AB'39, AM'47, PhD'54, Preparing Convicts for Law-Abiding Lives: The Pioneering Penology of Richard A. McGee (State University of New York Press). Glaser relates McGee's work in convict reform and control--including improved inmate education, expanded treatment for drug addiction, and intensfied supervision and assistance for parolees and probationers--to current possibilities and problems in crime control.
Robert A. Hall, Jr., AM'35, The Kensington Rune-Stone: Authentic and Important (Jupiter Press). Hall's monograph on the rune-stone, its text, and its history incorporates his recent research that helps validate the text's authenticity and places the inscription in the broader context of North American and Scandinavian history.
Donald N. Levine, AB'50, AM'54, PhD'57, U of C sociology professor, Visions of the Sociological Tradition (University of Chicago Press). Levine's triptych represents the sequence in which sociologists have constructed their collective autobiographies; the emergence of modern sociology from interactions among Hellenic, British, French, German, Marxian, Italian, and American philosophical traditions; and a diagnosis of the imputed crises of contemporary social science.
Raymond Tatalovich, AM'68, PhD'71, Nativism Reborn? The Official English Language Movement in the United States (University Press of Kentucky). The author's study of the official English language movement in the U.S. seeks to answer two questions: What causes underlie the agitation for making English the official language? and Does the movement originate at the grassroots level or is it driven by elites? Tatalovich suggests five possible motivations: race, ethnicity, class, politics, and culture.
Vernon R. Wiehe, AM'61, and Ann Richards, Intimate Betrayal: Understanding and Responding to the Trauma of Acquaintance Rape (Sage Publications). Written for persons working with survivors and at potential victims of acquaintance rape, this book analyzes a study of 278 women who were raped by acquaintances.
For inclusion in "Books by Alumni," please send the name of the book, its author, its publisher, its field, and a short synopsis to the Books Editor, University of Chicago Magazine, 5757 Woodlawn Ave., Chicago, IL 60637, or by E-mail: uchicago-magazine@uchicago.edu.
---
Within Class News:
---
Go to:Return to December 1995 Table of Contents