The University of Chicago Magazine April 1996
---
Return to April 1996 Table of Contents
---

---
Career connections for students past and present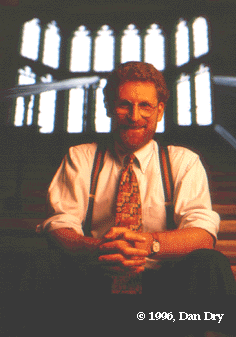 "U of C students have skills that employers value. They tend to beanalytic in their approach, self-starters, excellent writers, and are very goodat coming up with creative alternatives."
Continuing a series of interviews with campus figures, the Magazine's actingeditor talks with Robert Riesman, AM'88, who was named director of Career &Placement Services (CAPS) this past November.
A Harvard graduate and SSA alumnus, Riesman previously worked as Staff Benefitsdirector in the U of C's Human Resources Management office. His new appointmentcoincides with Chicago's increased commitment to career services for itsstudents and alumni--underscored in autumn when CAPS moved from the ReynoldsClub to spacious new quarters on the second and third floors of Ida NoyesHall.
Say I'm a student visiting CAPS for the first time. I'm not quite sure why I'mhere, except that I'm worried about life after graduation. How would you helpme?
Our goal is for you to learn how to think about what you might want to do, andhow to find the resources that will equip you to make a wise decision. If you'dlike to meet with a career counselor, that person can help you look at yourexperiences both inside and outside the classroom to determine your interestsand skills. We'll then direct you to resources such as on-campus programs andworkshops, listings of internships and jobs, and materials available throughour library, including on-line services.
One important thing for us to do is to give you encouragement. U of C studentshave skills that employers value highly. They tend to be analytic in theirapproach to projects, self-starters, excellent writers, willing to workextremely hard, and are very good at coming up with creative alternatives. Wecan help you identify these kinds of strengths, and give you the confidence topresent yourself forthrightly.
Don't most College graduates here seek advanced degrees rather than immediateemployment?
It's true that 95 percent of our graduating seniors expect to apply to graduateor professional school within five years of graduation, but only one-third doso immediately. This means that we have an important role to play in helpingthem find jobs for this period after graduation--especially given that whatthey do in that time may influence which type of graduate program they'll applyto later on.
And those students do take advantage of our services. For example, about athird of College seniors participate in the on-campus recruiting program, inwhich over 140 employers come here each year to interview students.
Do any of your services specifically cater to the career needs of graduatestudents?
We're dedicating considerable energy to figuring out how we can help graduatestudents identify and explore the full range of career opportunities. Forexample, we're creating a new position of assistant director for GraduateServices. That person will give us the capacity to coordinate with thedepartments and divisions to provide guidance to students as they pursue alltypes of career options, including teaching jobs.
One indication of graduate students' interest in this question was the turnoutwe had for a recent session where we gathered a panel of alumni with graduatedegrees who described how they had found jobs and careers in a variety offields. Over 130 graduate students attended--and their level of interestdemonstrated that we need to offer more such programs.
Is more being done to get alumni involved in CAPS?
I think our alumni have been very willing to provide guidance and assistance toour students. Graduates of both the College and the graduate programs have aterrific track record of participating on our panels and in our mentoringprograms. Alumni are in a unique position to help students, because they knowthe quality of the education the students are getting. Where we can do more isto promote these programs to students, to heighten their awareness of the valueof talking with alumni, and to encourage them to contact alumni who have agreedto serve as mentors.
We'll be looking more to alumni as we expand the number and types of employerswho interview and hire for jobs and internships. A graduate can be an extremelyimportant point of contact for us, especially as we try to engage small andmedium-sized for-profit firms, and non-profits of all sizes. That'sparticularly true as we work to promote internship opportunities for bothCollege and graduate students.
What about after graduation? Is there anything your office does to helpalumni in their own careers?
I think it's vitally important that the University demonstrate that itscommitment to its students extends beyond the awarding of a diploma. Also, inthe job market of the late 1990s, there's a low probability that a recentgraduate will continue to work in the same job, firm, or even industry for morethan several years, and CAPS needs to be a place where alumni are welcomed asthey look for assistance.
We currently offer our alumni access to all our information resources,including on-line job and internship postings. Alumni are also welcome toattend our programs and workshops, and the sooner we can get this sort ofinformation out on the World Wide Web so alumni can find out about it, thebetter. Ideally, I'd like for us to have a counselor available to talk withalumni, although that may not happen immediately. Another longer-range goal isto have our database of alumni contacts available on-line to both students andalumni.
What do you find most satisfying about your job here?
We have the opportunity at CAPS to really make a difference in the lives of ourstudents and our graduates. We can help them translate the extraordinaryacademic experiences they've had at the University into meaningful andfulfilling jobs and careers. That's aiming high, but if we do our work well, wecan have that kind of impact.--T.A.O.
In this department:
Photographs from campus:
Plus items For the Record.
---
---
Go to:Return to April 1996 Table of Contents