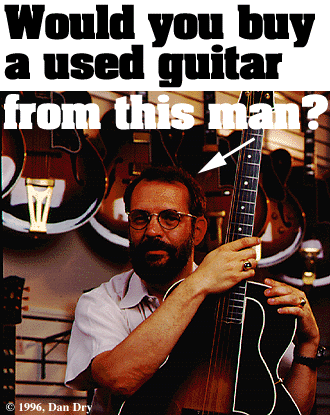 Continued
---
at a southern folk-festival scene he had initially explored while a College student. In Knoxville, Gruhn made his first big connection. "I got a call from Hank Williams, Jr., who had heard of me from the festival circuit," Gruhn says. "He drove from Nashville in a Jaguar E and bought some guitars. He told me that Nashville didn't have any good vintage stores, and that if I came to town he would set me up in business. So I quit school."
Williams supported Gruhn for more than a year, until the two had a falling out over the planned store. "Hank basically supported me the first year I was in Nashville by buying my guitars," Gruhn says. "We remain friends, but let's just say that he and I did not have the right mix of personalities to run a successful vintage store." So, in January of 1970, Gruhn set up shop in the then rundown Broadway section of Nashville, a few doors from his current store.
Over the years, a parade of customers have found their way to the shop--"Folkies, rockers, bluesmen, jazz players, country singers, and bluegrass pickers," Gruhn says, adding, "But we don't get many punk rockers."
Inevitably asked for a star story, Gruhn obliges with the tale of an early sale that helped put him on the map in the world of vintage guitars.
"Eric Clapton came to the store in 1970 or '71," Gruhn says. "He had been a Gibson player but had become a big fan of Fender Stratocasters--which were not as popular or expensive as they are today--and he bought a number of them to give to friends, including ex-Beatle George Harrison. But he bought a number of '50s and '60s models from my store and a lot of Strat parts from another store down the street, taking the best parts from all the guitars to assemble his beloved 'Blackie,'" Clapton's main guitar until his brief retirement from music in the late 1980s.
"Clapton loved that guitar so much and told in interviews the story of how he got it so often that the first thing people I would meet would say to me was, 'Hey, you're the guy that sold Clapton his Blackie.'"
Over the years, as sale followed sale and book followed book (the latest is Electric Guitars and Basses: A Photographic History, written with Walter Carter), Gruhn has achieved cult status. He's even had 15 seconds of more widespread fame: "When you come to Nashville…," a Visa commercial intones, giving notice to viewers that Gruhn's shop is a must-see site.
Indeed, Gruhn has become such a Nashville fixture that when he pondered relocating a few years ago because of problems in his neighborhood, the city not only invited him to stay as the cornerstone of a downtown renovation, it also underwrote his move to a new building.
"I did some trading," he laughs. "I took my old building down the street and 'traded' for this new one. And now, the downtown area is thriving." So is Gruhn's business.
"Vintage instruments are better than gold, silver, diamonds, postage stamps, vintage autos, or whatever. You can take a look at any of those markets--they are hurting big time. Guitars have remained fairly stable. But," he worries, "Baby Boomers have been the core of my market. What happens when they stop investing money in instruments? Last month we sold $600,000 of instruments, so it's not indicative of a slow market. Still, I want to rise above and be different from our competition."
Many so-called vintage stores, Gruhn explains, take a narrow approach, caring only "about the most popular rock instruments--primarily electric Gibsons and Fenders from the 1ate 1950s and early 1960s. Civil War-era banjos? Depression-era acoustics and mandolins? Hawaiian lap steel guitars? Forget it--most dealers have neither the knowledge nor the inclination to know the range of fretted instruments made in America long before Elvis Presley."
"Maybe it's my zoological background, but I'm interested in all the evolutionary links in the history of the guitar and related instruments. To understand the archtop acoustic guitar, for example, you must understand the mandolin--the way guitars are made today has a lot to do with the innovations that Gibson brought to mandolin design at the turn of the century.
"From my earliest days at the University of Chicago, it has paid to have a diversity of guitar knowledge, whether I liked an instrument or not. In the future at our store, it won't matter what the latest musical trend will be--we will be ready to provide a range of instruments that can be, and that have been, appropriate to any style of music.
"Here is one of my mottos," says Gruhn, mixing the ecology professor and the stockbroker in a unifying phrase, "Understanding the evolution and taxonomy of what you are doing translates into good business."
Return to opening of "Would you buy a used guitar from this man?"


George Gruhn looks at guitars as "specimens," and his Nashville store presents row after row of gleaming beauties, "evolutionary links in the history of the guitar and related instruments."
---
Go to:
Return to August 1996 Table of Contents