Centers for race and poverty launched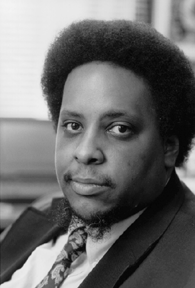 Race Matters: Michael Dawson, associate professor in political science and director of the Center for Race, Politics & Culture
Two new research centers have been established by the University of Chicago--one in collaboration with Northwestern University--to contribute insights on some of America's most urgent social issues.
The Northwestern University/ U of C Joint Center for Poverty Research opened this spring to examine not only the causes of poverty in America but also the effectiveness of current policies designed to diminish it.
A second center, based exclusively at the U of C and focused primarily on race issues, also opened this spring. The Center for Race, Politics & Culture will draw from faculty in the humanities, social sciences, and professional schools to consider ways in which race divides Americans, says Michael Dawson, associate professor in political science and director of the center.
"Race continues to provide the critical line of cleavage in U.S. society," says Dawson, who is considered one of the nation's foremost scholars on the subject. "This area of research is also exploding within the academy. It is an area of invigorating intellectual debate about the future of society."
While Dawson and his colleagues look at race in America, associates of the Northwestern/ U of C Joint Center for Poverty Research will attempt to untangle the web of often contradictory conclusions about poverty in America through the tools of enhanced statistical methods, experimental data, and critical insight.
The project "affirms that Northwestern and the University of Chicago are the places to be for new approaches to research and policy discussion on poverty, work, and family," says Northwestern economist Rebecca Blank, who will direct the new center. Joining her as its first deputy director will be Robert T. Michael, the Eliakim Hastings Moore distinguished service professor in Chicago's Irving B. Harris Graduate School of Public Policy Studies.
Much of the center's scholarly work will be organized around the ongoing debate on the causes of poverty. "Immediately following Lyndon Johnson's War on Poverty," says Blank, "the conventional wisdom held that poverty was a cause of educational failure, family breakdown, and crime." However, "by the end of the 1980s, many believed just the opposite, that the growth of a new underclass--which rejected traditional American values and dropped out of school, refused to marry, or engaged in crime--was the main cause of persistent poverty."
It is a debate, adds Michael, that "highlights the importance of understanding the differences between correlation and causation and of building a body of solid empirical evidence about the impact of different social phenomena on one another.
"To be useful," he says, "such a body of evidence needs to provide a sense of how much additional family income would reduce various social problems and how much reducing these social problems would raise income."
The center will be supported by a $7.5-million, five-year federal grant. The grant provides for the training of graduate students at both universities in poverty-related research and will fund regular policy briefings around the country to help cultivate a network of leading scholars and government policymakers interested in finding solutions to the problems of poverty.
A national conference to assess new state-level initiatives in combating poverty through welfare reform is also planned.
---
In this department:
Plus items For the Record.
---
---
Go to:
Return to August 1996 Table of Contents