Good service: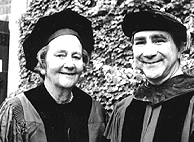 Katharine Graham, AB'38, chair of the executive committee of the Washington Post Company and a University trustee, received the U of C's Benton medal for distinguished public service at the June 8 College convocation. One of America's most influential women, Graham is credited with leading the Washington Post to its current stature among the nation's most respected newspapers.
On board:
Jon S. Corzine, MBA'73; Eric J. Gleacher, MBA'67; Peter W. May, AB'64, MBA'65; and Andrew M. Rosenfield, JD'78, are now trustees. Corzine is senior partner and chair of the executive committee of Goldman, Sachs. Gleacher, who chairs Gleacher NatWest, recently made a $15-million gift to the U of C--the downtown center was named in his honor. May is president and COO of Triarc Companies. Rosenfield, a senior Law School lecturer, is president of the law and economics consulting firm Lexecon.
Stage lights: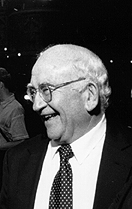 Actor Edward Asner, X'48 (above), and William J. Michel, AB'92, director of the Reynolds Club and University Theater, were honored at UT's alumni reunion in June. Asner--best known for his role as Lou Grant on the Mary Tyler Moore Show--received the Glorious Gargoyle award, and Michel was recognized for his work with student theater at Chicago over the past seven years.
Winner's circle:
For the second consecutive year, Chicago won an award from the Council for the Advancement and Support of Education for its Campaign for the Next Century (see story, left). Stan- ford and Harvard also received the award, given to private research universities for overall success in fund raising.
College try:
In recognition of their academic promise and scholarly pursuits, 48 College students and recent graduates, as well as 56 graduate students, won prestigious scholarships, fellowships, and grants this past academic year. Undergraduate awards include both Marshall and Rhodes scholarships; eight graduate students received Fulbright- Hays doctoral dissertation research abroad fellowships, making Chicago the national leader in Fulbrights received for nine of the past ten years.
Lab leader:


Dean E. Eastman, former vice-president of technical strategy and development engineering for IBM Server Group and world-renowned expert on spectroscopy and the electronic properties of materials, has been named director of Argonne National Laboratory, succeeding Alan Schriesheim. Founded in 1946 to study peaceful uses of atomic power, Argonne is managed by the U of C for the U.S. Department of Energy.
Human touch:
J. Paul Hunter, the Chester D. Tripp professor in the humanities, has been named director of the Chicago Humanities Institute, succeeding Arjun Appadurai, AM'73, PhD'76, the CHI's first director. Founded in 1991, the institute is a center for humanities work on campus and facilitates interdisciplinary projects campuswide.
Free reign:
The U of C Free Press won first prize for opinion writing in the first annual national Campus Alternative Journalism awards. The paper, which premiered last fall, also won honorable mention for best publication, reporting, anti-sexist reporting, and design. Available on the World Wide Web at http://student-www.uchicago.edu/orgs/free-press, the paper is edited by John K. Wilson, a graduate student in the Committee on Social Thought.
Any volunteers?: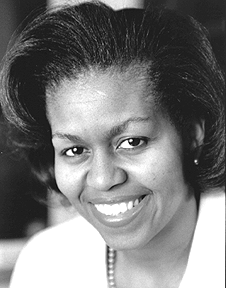 This fall, Michelle Obama, executive director of Public Allies Chicago, will begin work in the new position of associate dean of student services and director of the University Community Service Center. Building on a tradition of volunteer work begun by the student-run U of C Community Service Center, Obama will coordinate campus efforts to make available to students a wide range of service opportunities in surrounding neighborhoods and throughout the city.
Fair and fowl:
As their class gift to the University, the 1996 Senior Class Committee chose to fund a refuge for mallard ducks that migrate through campus each spring. Plans include construction of a small island in the pond's center, and placing three limestone benches along the peninsula. So far, 263 seniors have pledged a total of $6,331 for the project.
Ben's club:
Wendy Doniger, the Mircea Eliade professor in the Divinity School, and John Simpson, the Arthur Holly Compton distinguished service professor emeritus in physics, were elected members of the American Philosophical Society at its annual meeting. The society, founded by Benjamin Franklin in 1743, is the oldest learned society in the United States.
---
In this department:
Plus items For the Record.
---
---
Go to:
Return to August 1996 Table of Contents