Illustrations by Mark McMahon
---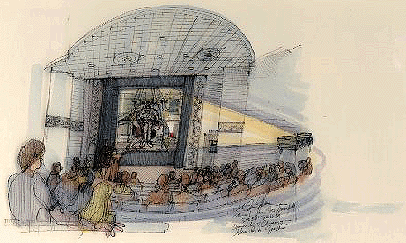 First in space:
John Mace Grunsfeld, SM'84, PhD'88 (above), the U of C's first astronaut, shared the ups and downs of space travel ("You become the Michelin man, so any time you want to bend, you're working against the pressure") during a Saturday-morning lecture in Max Palevsky Cinema. In the afternoon, alumni took part in a series of class-sponsored events. The emeritus classes weighed "Prospects for Peace in the Middle East," the classes of '51 and '56 rethought Western tradition, and the class of '71 discussed "Growing Up after College." The classes of '76 and '86 had planned on softball and ultimate Frisbee tourneys, but ran into rain.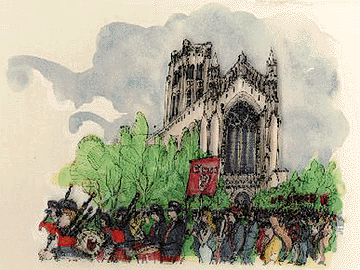 Parade dress:
Led by the U of C Alumni Association Bagpipe Band, reunion-goers parade from Rockefeller Chapel to an All-Campus picnic on the quads. In step with the pipers are the 20 University alumni who were honored for special contributions to their professions, public service, and the University. College alumni marched by class, and identifying T-shirts, baseball caps, and even a class sash (the class of '66 donned blue strips of cloth emblazoned in gold with a retro injunction to "Twist and Shout") were the order of the day.

Continue Reading "Scenes from a Reunion"
---
Go to:
Return to August 1996 Table of Contents