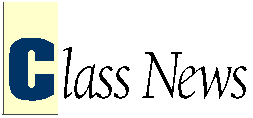 ---
W is for Writer
Lots of people write fiction in their spare time; but relatively few get published. Even fewer reap any rewards other than personal satisfaction. For John Wessel, AB'76, luck and talent brought his efforts national attention and a nice contract. His second book, Pretty Ballerina, due out next year from Simon & Schuster, follows on the heels of his first mystery, This Far, No Further, released this past October.
Both books feature a pair of U of C alumni: Harding, a private investigator who's unlicensed, thanks to "this picky rule about convicted felons"; and Alison, his quick-witted sidekick, who's clever with a camera. Like their creator, both sleuths graduated from the U of C in the mid-1970s.
Wessel, who now lives in Lincolnshire, IL, has long been familiar with the novel's Hyde Park setting. For ten years during college and beyond, Wessel worked at the campus bookstore, which, he recalls, was "a lot funkier then." Meanwhile he wrote for the Chicago Reader and reviewed books for the Chicago Sun-Times. But what he really wanted to do was write fiction.
After graduation, Wessel took intermittent leaves from the bookstore, writing fiction until money and confidence ran low. By the late 1970s, "I just didn't think what I was doing was any good," he says, "and so I stopped."
In those days, Wessel didn't submit his work for publication, nor did he dare take a writing course. Recent events suggest that Wessel didn't need a class. He just needed the right person to read his material. In 1994, he found her: Sue Grafton. Wessel met the author of the Kelsey Milhone alphabet mysteries (A is for Alibi, and so on) when he won a fiction contest she was judging.
After quitting his job in a Cincinnati bookstore to try his hand at writing fiction once again, he'd seen an ad in Cincinnati magazine that read: "Would you like Sue Grafton to read your short story?" Sure, thought Wessel.
His first fiction submission won him $300, a trip to the Santa Barbara Writers' Conference, and some hope. "I think if I had not won that contest," Wessel says, "I probably would have stopped writing. Because that would have been like a sign to me that, 'No, you're not really any good.'" Even after the contest, he had his doubts. "I have sort of a negative attitude about things," he chuckles. "Winning a Cincinnati contest didn't confirm to me that I could be a writer."
In Santa Barbara, Grafton asked Wessel what he'd been working on lately. He handed her the first 100 pages of a novel. The next day she returned the manuscript--which she'd taken time to edit, line by line. Grafton's agent encouraged Wessel to finish the work, and, says Wessel, "That was the first time I really realized that yes, I could write a novel, and yes, it would get published...It was amazing." Amid bids from 22 publishing houses, Wessel accepted a contract with Simon & Schuster: $900,000 for two novels.
Wessel asserts that none of this has changed his life very much. "I'm just one of about ten zillion writers...you [still] have to get up and work every day." But one thing is different. "For the first time in my life," says the author, "I really feel like I'm doing what I'm supposed to be doing."--C.M.
---
Within Class News:
---
Go to:
Return to April 1997 Table of Contents