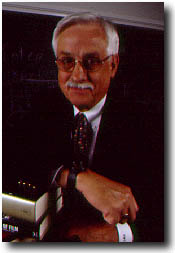 Learning for a lifetime at the Graham School
Continuing education has long been an important part of the U of C's intellectual life. Today, the William B. and Catherine V. Graham School of General Studies, formerly the Center for Continuing Studies, has a full-time staff of 27 and annually attracts more than 10,000 students to credit and noncredit courses in the arts and sciences, business, and the pro- fessions. Holding most classes in the downtown Gleacher Center, the school offers the Basic Program of Liberal Education for Adults-four years of Great Books study culminating in a certificate-and has just introduced three new professional certificate programs. Besides serving as the administrative home of the University's summer session, the school grants master's degrees through the six-year-old Master of Liberal Arts Program. Faculty members include distinguished professors and practicing professionals.
Graham School Dean Daniel W. Shannon joined the University in January 1997, bringing to the school 30 years' experience in continuing education and educational technology, most recently as dean of outreach and continuing education at the University of Wisconsin-Milwaukee. He earned his M.A. and Ph.D. in political science from the University of Washington. Recently the Magazine discussed the Graham School with Shannon.
How does the Graham School fit into the U of C's tradition?
Along with the College and the Press, "extension" was among the principal functions of the University in President Harper's plan. So, for nearly 107 years, we've connected the faculty and the community in a number of innovative ways: lecture and correspondence study, part-time degree programs, and liberal studies. It's waxed and waned over the years in its importance in the institution, but in a world in which continuous learning is increasingly important for the nation, for business, for government, and for the enhancement of people's lives, the University is repositioning itself with reference to the adult learner. The half-life of knowledge in many disciplines is relatively short, and I believe we have a responsibility to our alumni and the educated public to provide access to new knowledge, skills, and technology produced by the University.
It is gratifying to see such an active interest in continuing education on the part of the faculty and administration. I've seen a lot of imagination in regard to what we could be doing, the responsibility the University has to the larger community.
What are the Graham School's most popular courses?
Our largest concentration of courses is in the arts and sciences, including our Basic Program. For many years, these courses and programs have been the core of our offerings. In more recent times, the need for specialized programs in such areas as publishing, fund-raising, and education have added new enrollees.
The Master of Liberal Arts Program is the Graham School's only degree-granting program-who enrolls in it?
The Master of Liberal Arts student is a special student, able to balance life, family, work, and academic pursuits in a very rigorous program. When the program started in autumn 1992, there were 23 students. This fall, there are approximately 125. The program is evenly split between men and women, with an average age of 40. Less than five percent are alumni of the University. These students are midcareer adults who have returned to school to pursue either a course of study that they pursued before but now wish to analyze in more depth or that they didn't pursue by virtue of the professional track they were on as undergraduates. For example, two of our summer graduates are successful lawyers who earned an M.L.A. largely because they wanted to read literature in the sciences and social sciences.
Like the Evening M.B.A. Program, it's a demanding course of study with top-notch faculty from the main campus, but it's taken on a more extended calendar.
What programming have you planned since becoming dean?
Among a number of new initiatives, we've undertaken several new professional certificate programs this fall. The Environmental Risk Assessment and Man- agement Program is targeted for those in business and government who need to understand the environmental regulatory situation. It will be taught at Argonne National Laboratory, the first in what we hope will be a series of collaborations. We've also created two new certificate programs in our 25-year-old publishing series: one on medical editing and writing, and the other on interactive media and online publishing.
During the past summer, we began a new high-school program, Precollegiate Scholars, which focused on various forms of writing. We'll be repeating this next summer and adding an array of programs for high-school students on campus and overseas.
To increase the accessibility of our programs, we are expanding into the northern suburbs and are offering courses at Lake Forest College. I hope that during the next few years we can establish centers in the western suburbs and in northern Indiana.
If you could enroll in any course, what would you choose?
I would be torn between our oldest, the Basic Program-in its 51st year-and our newest certificate program, in interactive media and on-line publishing. The Basic Program would be a wonderful discipline for revisiting texts I read as an undergraduate, but would more fully appreciate now, as well as having the excitement of discovering new works and ideas I've had little time to explore because of professional demands. In the latter case, as an amateur weaver and photographer, the challenge of considering design questions in another medium is intriguing. I am, as well, fascinated by the possibilities of the Web for education, including publishing.
Interview by Betsy Rossen Elliot.