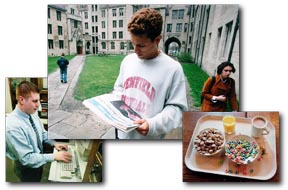 By Charlotte Snow
Photography by Lloyd DeGrane
On Wednesday, April 21, 1999, a writer and a photographer from the Magazine took a 12-hour stroll around campus. Before heading out to visit undergraduate classes and hangouts, they checked the local weather forecast: scattered showers and a high of 55 degrees. The rest of the day they left mostly to chance. Here's what they found:
It's not quite 8 a.m. at Burton-Judson Courts, where the slightest snap of a twig would easily disturb the overcast morning's sleepy tranquility. Fourth-year psychology concentrator John Carey begins the day by checking his messages at the front desk's computer e-mail station. A three-time letter-winning offensive lineman for the Maroons, he's preparing to interview for a football coaching position at Greenville College in downstate Illinois. From a nearby stack of newspapers, Chris Noto, a second-year geophysical sciences concentrator, picks up the copy of the Chicago Tribune he shares with some Mathews House dormmates. It's the day after students were shot at Colorado's Columbine High School, and he reads the front-page story—"Massacre Shatters School"—while walking past racks of mountain bikes, across the courtyard, and into the dining hall.
There, Gwen McCoy, who's worked at B-J for more than 20 years, serves up pancakes, waffles, omelets, French toast, and a newer offering—soft-shell breakfast tacos stuffed with hash browns, pork sausage, refried beans, and cheese. She doesn't have too many takers this early, though. About a dozen students dot the dorm's two cavernous dining rooms, typically filled at lunch and dinner.
"The campus is more nocturnal," says Mathews resident head Paul Christofersen. "It's not uncommon for students to sleep till 11 a.m. and stay up till 2 a.m. studying."
At one table, third-year anthropology concentrator Jason Davis discourses on documentary filmmaking with first-year Jared Shurin. Davis gestures to his tray, scattered with Fruit Loops and Cookie Crisps, and notes with a smile: "They did this wondrous thing. They set the cereal out all day. This can easily turn into lunch or dinner for me. But a bowl full of cookies for breakfast—you can't beat that."

Around 8:30 a.m., just in time for General Chemistry 113, the sun burns off the early-morning fog and brightens lecture hall 107 in the Kent Chemical Laboratory building. Robert Clayton, the Enrico Fermi distinguished service professor in chemistry and geophysical sciences and the director of the Enrico Fermi Institute, fills eight blackboards with equations and graphs. On the far-right boards, under the heading "Recap," he lists four topics: Schrodinger equation, particle in a box, wave function, and probability distribution. Though a couple of the 180 students registered for the class trickle in around 9 a.m. and several in the back fight heavy eyelids, those packed into the front section diligently take notes on how to determine the probability of finding an electron at a particular distance from a nucleus. In contrast to the crisply attired Clayton—wearing a white button-down shirt; a red, striped tie; and dark, pressed slacks—the students, observes second-year pre-med student Porchia Rich, "just roll out of bed and go to class."
The opening of Kent's massive wooden doors after the 50-minute lecture spurs the pigeons cooing on the front steps skyward. By 9:30 a.m., the sun causes periodic squinting on the quads and takes the damp nip out of the air, making the smattering of sandals and rayon skirts seem less out of place. In a classroom on the third floor of Cobb Hall, lecturer Margaret E. Kern, AM'94, a humanities graduate student, begins Elementary Italian 103. Occasionally using an English phrase to clarify her instructions, she demonstrates the use of articles in Italian to her 13 students. Her throaty accent carries into the hallway, where it mixes with the intonations of neighboring German- and Japanese-speaking instructors.
In Cobb's lobby, Nicholas Nagle, a fourth-year public policy concentrator, leans over a table piled high with campus newspapers. He's reading an interview with Michael Behnke, the University's vice president and associate dean for enrollment, in the latest issue of the free press, a student-run monthly. Down in the basement, Cobb Hall Coffee Shop cashiers Jennifer Lohmann, a second-year economics concentrator, and Lars Jarkko, a third-year sociology concentrator, enjoy a lull in the line of students purchasing Snapple and yogurt on the way to their next classes.
Back upstairs at 10:30 a.m., the 21 students in Harper instructor Paul Seeley's social-sciences core class—Self, Culture, and Society 123—sit facing each other at tables arranged in a square. Referring to their copies of Sigmund Freud's Introductory Lectures on Psycho-Analysis, they respond to Seeley's questions about the meaning of transference in Freudian analysis. Following one woman's explanation, Seeley pushes a bit, asking for "someone else to take up the ball" and discuss Freud's recommended process for treating the behavior.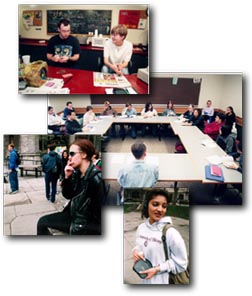 After classes end at 11:20 a.m., Rebecca Green, a third-year biology concentrator, perches on a picnic table outside Cobb and lights a cigarette. Wearing a black leather jacket and multiple earrings, Green says she hangs out at this popular gathering place every Monday, Wednesday, and Friday in between Western civ and her job in the U of C Hospitals' neurology administration office. Behind her, first-year Lydia Zacher talks quietly on the "C" bench with Keith Witham, a second-year concentrating in public policy and environmental studies. Receiving a sympathetic hug from Witham, Zacher holds up her bandaged right hand, accidentally caught in a Reg door the night before. She laments that she won't be able to play her guitar this evening at "The Flow"—the C-Shop's weekly band showcase.
Lunchtime fills the Reynolds Club with students eating and meeting. Walking past the Hutch Court fountain on her way in, Sameena Qureshi, a fourth-year psychology concentrator, listens to a CD of the group T.S. Sounds performing Indian music mixed with hip-hop rhythms. She bought it from a Devon Street shop on the city's North Side. At a table in Hutch Commons, three first-years—Haroula Spyropoulos, Sarah Ruzicka, and Luke Hajzl—spend lunch deciding how to present Lady Macbeth's sleepwalking scene to their 1:30 p.m. drama class.