Welcome to the NOVEMBER/07 issue of UCHICAGO.EDU, a monthly e-bulletin bringing you online news about the University of Chicago and its larger community of alumni and friends. The NOV-DEC/07 University of Chicago Magazine is almost in the mail-and it's also online at: http://magazine.uchicago.edu.
Here's a sampling from the issue:
* Girls Rock!
At a one-week, intensive rock 'n' roll summer camp, cartoonist Jessica Abel, AB'91, watches as preteen and teenaged girls learned to make their own kind of music:
http://magazine.uchicago.edu/0701/features/girls_rock.shtml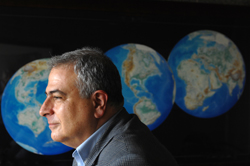 * Gained in Translation
Chicago's international students must navigate new terrain, from cultural mores to classroom debates:
http://magazine.uchicago.edu/0701/features/translation.shtml
* Hubble Handyman
John M. Grunsfeld, SM'84, PhD'88, feels right at home as the Hubble Space Telescope's repair and maintenance expert:
http://magazine.uchicago.edu/0701/features/glimpses.shtml
News from Chicago
* Scientific Americans: Trio of Scholars Named AAAS Fellows
Three University scholars-Raphael Lee, director of the Center for Research of Molecular Cell Repair; Ursula Storb, professor in Molecular Genetics & Cell Biology and the College; and President Robert J. Zimmer-have been awarded the distinction of fellow of the American Association for the Advancement of Science:
http://chronicle.uchicago.edu/071101/aaas-fellows.shtml
* Capital Day for Human Capital Theorist
Chicago economist Gary S. Becker, AM'53, PhD'55, a pioneer in applying the economic theory of human capital to show how individual and family decisions are made on the basis of economics, received the 2007 Presidential Medal of Freedom, the nation's highest civilian honor, at a White House ceremony November 5:
http://www-news.uchicago.edu/releases/07/071029.becker.shtml
To read about, or view a video of, the awards ceremony:
http://www.whitehouse.gov/news/releases/2007/11/20071105-1.html

To read more about Gary Becker's career:
http://www-news.uchicago.edu/releases/07/071030.becker.pmof.shtml
* Have Fulbrights, Will Travel
Seventeen Chicago students were named 2007-2008 Fulbright recipients-the highest number in College history and a number that gave Chicago an eighth-place national ranking:
http://chronicle.uchicago.edu/071101/fulbright-update.shtml
Research at Chicago
* Genetic Clues to Prostate Cancer in African American Men
Two tiny genetic variations may provide better ways to estimate prostate cancer risk and improve screening and early detection for men of African descent. Rick Kittles, associate professor of medicine at the University of Chicago Medical Center, is part of the team whose study appears in the December 2007 Genome Research, published early online. Prostate cancer, the second leading cause of cancer death in men, disproportionately affects African Americans:
http://www.uchospitals.edu/news/2007/20071101-prostate-cancer.html
* Shell Shock: Mollusks Reveal Human Impact on Ecosystems
Inventories of living and dead organisms could serve as a relatively fast, simple, and inexpensive preliminary means of assessing human impact on ecosystems. Using "death assemblages" of clams and snails, Chicago geophysicist Susan Kidwell explains how measuring the degree of live-dead mismatch could be used as an ecological tool:
http://www-news.uchicago.edu/releases/07/071029.kidwell.shtml
Today @ UChiBLOGo
* White Noise?
The Magazine's Web log hears from a classical-music critic:
http://uchiblogo.uchicago.edu
The Magazine Invites You...
* ... to Relive the Fun of Writing an Application Essay
Take one of the College's famously quirky application essay questions, add the Graduate School of Business's new requirement that applicants supplement their essays with a PowerPoint presentation, and what do you have? A contest for the Magazine's readers:
http://magazine.uchicago.edu/0701/every_issue/lite.shtml
From the University of Chicago Alumni Association
* Make a Difference: Seeking Alumni Leaders
The Alumni Board of Governors, your voice on campus, elects new members in April. The 30-member board is an action-oriented, dynamic group that sets policy for the University of Chicago Alumni Association and advises the University on matters of interest to the alumni community. Nominations (self-nominations are welcome) are due January 15, 2008. To learn more about board responsibilities and to submit a nomination, go to: http://www.alumni.uchicago.edu/bog.html
Questions? Contact Nominating Committee Chair Vincent Hillery, AB'81, JD'84: vhillery@mayerbrown.com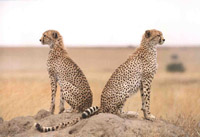 * Explore the Serengeti in February; China's Middle Kingdom in April
Discover some of the world's richest wildlife areas with Professor Michael LaBarbera on our Serengeti and Zanzibar Explorer, February 18-27. Go on safari in Serengeti and immerse yourself in the history of the exotic spice island of Zanzibar. If you're really game, come early and climb Mount Kilimanjaro. For more information read our online brochure. On April 7–18, East Asian expert Guy Alitto will lead our tour to China, Highlights of the Middle Kingdom and the Yangzi River. The Forbidden City, Great Wall, and Summer Palace are among the treasures of this journey. For details on these and other 2008 study trips:
http://www.alumni.uchicago.edu/study.html

* Do You Love Your Job?
Whatever your answer, the Alumni Careers Network is the site to visit. If you want to share insights and experiences with students and alumni curious about your profession, register to join the more than 15,000 alumni who have volunteered to be career contacts. It doesn't take much time and you can choose how you're contacted. Or, if you are thinking about changing jobs, take advantage of the searchable database to find alumni contacts in the professions that interest you. Either way, you win:
https://alumniservices.uchicago.edu/Careers/network_main.asp
Your Chicago Connections
Submit Your Alumni News: http://magazine.uchicago.edu/about/contact.html
Submit Your Alumni Book: http://magazine.uchicago.edu/books/submit.shtml
Alumni Home: http://www.alumni.uchicago.edu
Campus Calendar: http://events.uchicago.edu/campusevents/index.phtml
University of Chicago Magazine: http://magazine.uchicago.edu
UChiBLOGo Web log: http://uchiblogo.uchicago.edu
Chicago Home: http://www.uchicago.edu
Chicago Initiative: http://chicagoinitiative.uchicago.edu
Chicago Chronicle: http://chronicle.uchicago.edu
University News Service: http://www-news.uchicago.edu
Research at Chicago: http://research.uchicago.edu/highlights/
About Chicago: http://www.uchicago.edu/uchi/about
Maroon Athletics: http://athletics.uchicago.edu/index.html
The Chicago Maroon: http://maroon.uchicago.edu
Show Your School Colors: http://uchicago.bkstore.com
Make a Gift to Chicago: http://chicagoinitiative.uchicago.edu/makeagift/
*****
UCHICAGO.EDU is a joint project of the University of Chicago Magazine and the University of Chicago Alumni Association. Please send your comments and suggestions to uchicago-magazine@uchicago.edu.