Law-student-turned-producer James Ginsburg, AB'87, strikes a chord with local artists.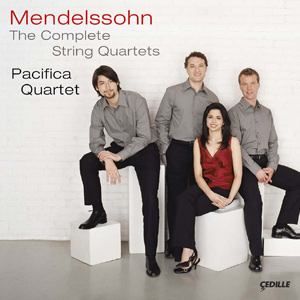 Pacifica Quartet released this three-CD set of Mendelssohn quartets last year to celebrate the ensemble's tenth anniversary.
Beware of dog," cautions a sign taped to the door of the Chicago Classical Recording Foundation. On a rainy Thursday in May the fearsome canine, a fuzzy American Eskimo named Mauja, sleeps peacefully under a desk inside the storefront office. Cubbies lining the far wall hold dozens of CDs—all from the organization's Cedille (pronounced say-DEE) Records label. A back storage room houses thousands more. Across the street, four chimes from a church bell tower mark the afternoon hour.
A minute later Jim Ginsburg, AB'87, bursts through the door. Wearing jeans, sneakers, and a gray T-shirt that proclaims, "Somewhere in Texas, a village is missing its idiot," he has spent most of the day in his home-editing studio a few blocks away. "We're trying to get this disc out by June," he says of Cedille's latest project, American Orchestral Works, a world-premiere collection of contemporary concertos performed by the Grant Park Orchestra. The recording comes on the heels of Portraits, a collaboration between the orchestra and violinist Jennifer Koh playing works by 20th-century composers Szymanowski, Martinu, and Bartók.
With a full-time staff of five, including chief engineer Bill Maylone, AB'84, Ginsburg knows it's a tight schedule. He may even have to miss Music at the Supreme Court, an annual mid-May classical concert in Washington. Sandra Day O'Connor, explains Ginsburg, used to be in charge of finding artists, but now his mother—yes, that Ginsburg—heads the selection committee. Label violinist Rachel Barton Pine, soprano Patrice Michaels, and University artists-in-residence Pacifica Quartet have all performed in the past. "She takes suggestions," he laughs when asked whether he has any pull with the justice.
Explaining how he strayed from the "family business," Ginsburg says, "I didn't particularly enjoy law school." (His father Martin teaches at Georgetown Law and his sister Jane, AB'76, AM'77, is on Columbia's law-school faculty.) Aiming to promote classical Chicago artists "who were being totally ignored by the record industry," Ginsburg, 40, launched Cedille—named after the diacritical mark that is part of the label's logo—from his home during his first year of law school at Chicago. The former classical format chief for U of C's WHPK-FM 88.5 had trained his ear working at New York's Nonesuch Records and writing reviews for American Record Guide. When Cedille's inaugural recording, Russian piano music played by Dmitry Paperno, met positive reviews, Ginsburg skipped the traditional litigation-firm summer gig to produce more albums. He then took a leave of absence to complete a few others.
Seventeen years later, Cedille has produced 90 recordings and Ginsburg is still on extended law-school sabbatical. Home to several big-name classical artists, including University of Chicago pianist-composer and professor emeritus Easley Blackwood and the Pacifica Quartet, the two-time Grammy-nominated label continues to promote local artists overlooked by major studios. "The way you really do that," says Ginsburg, a member of the music department's visiting committee, "is through recordings that stand out, not the umpteenth recording of the 'Moonlight Sonata.'" Barton Pine's 2003 rendition of Brahms' Violin Concerto in D Major, op. 77, for example, coupled the well-known piece with a composition by Joseph Joachim, the violinist and friend for whom Brahms' concerto was written. "Even though it's a magnificent concerto," says Ginsburg of the Joachim selection, "it's impossibly hard. Because it's not a repertoire piece, most violinists think it's not worth their time to learn."
Ginsburg thought otherwise. "Every project has to have its own raison d'être, something that makes it unique to the catalog," he explains. To ease the financial pressures of recording lesser-known works, Ginsburg transformed Cedille into a nonprofit venture in 1994. Album sales cover less than 20 percent of its expenses, while donations and grants from the National Endowment for the Arts, the Illinois Arts Council, other foundations, and private corporations make up the rest. Operating under the umbrella of the Chicago Classical Recording Foundation, the label produces eight to ten recordings annually—far fewer than the 30-plus recordings of a large commercial studio.
At a time when many classical musicians choose to start their own labels rather than risk losing creative control, artists find Cedille's nonprofit approach allows them to pursue unique projects instead of being pigeonholed. "The record industry has become so corrupt," says pianist Lisa Kaplan, whose ensemble, eighth blackbird, scrapped plans to self-produce three CDs after hearing Cedille's pitch in 2002. Other musicians have been similarly swayed by Ginsburg's openness to ideas. Under Cedille's direction, Patrice Michaels researched and performed a collection of never-recorded Viennese classical arias—all favorites of Mozart during his last decade of life. Choral ensemble Chicago a cappella, directed by Jonathan Miller, AB'85, harmonized on Shakespearean texts.
"Jim kept many, many pieces of music alive because he did not have to pay off a board of directors and shareholders," says label artist Mary Stolper, principal flutist for the Grant Park Orchestra. Because of its nonprofit status, adds Pacifica Quartet violinist Sibbi Bernhardsson, Cedille "can afford to take risks artistically." Targeting classical-music listeners "interested in going beyond the warhorses," says Ginsburg, the label sold more than 23,000 discs last year. Best-sellers include Barton Pine's Brahms recording and Chicago Opera Theater's The Medium by Gian Carlo Menotti. "Just about every month someone performs that opera," says Ginsburg. As the first label to offer it on CD, Cedille stocks plenty of copies.
For his personal down time, Ginsburg keeps handy Serenely Cedille, a collection of "relaxing rarities" culled from the label's recordings. Tagged as "the most sublime music you've never heard," its soft symphonies and gentle piano melt- easily into the afternoon air. The dog, still dozing on the floor, doesn't budge.