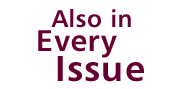 Letters
"…so one-sided it falls off my bookshelf."

Getting the number right
While I'm glad that the Magazine recently won an award for its writing excellence, I was most disappointed to find major factual errors in "Keeping Their Religion" (August/02) as to the number of Muslims in the United States. In the first place, neither the State Department nor any other government agency collects data on the religious affiliation of Americans, so the State Department cannot have any official estimates of the number of Muslims (or Jews or Catholics) or members of any other religion residing in the United States. So how, then, does the State Department know this? The article fails to provide a more specific citation, and the reader is left puzzled.
Second, precisely because the government does not collect religious information in the Census, estimates of the number of Muslims currently residing in the United States are extremely variable and, for political reasons, extremely controversial. However, one of the most reliable of these estimates was made recently by Tom Smith of the National Opinion Research Center, an organization which is located quite near the University of Chicago. In a highly publicized study, Smith has estimated that there are about 2 million to 3 million Muslims currently residing in the United States. Smith's work should have been mentioned in an article such as this. This carelessness is unworthy of your magazine.
Robert Lerner, AM'82, PhD'84
Rockville, Maryland
Mr. Lerner is right to note that the Magazine's editors erred in their condensation of the State Department Web site's statement that "[w]hile there are no official population figures for religious affiliation in the United States, experts estimate that there are approximately six million American Muslims. Other estimates range from four to eight million." For more on Tom Smith's research, see "Investigations," -Ed.
---