The annual Festival of the Arts dishes up its share of winners.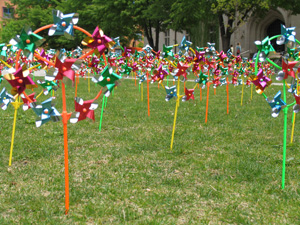 A pinwheel paradise blooms on Bartlett Quadrangle, courtesy of FOTA.
What I like most about FOTA, the annual Festival of the Arts, are projects that use the campus as both exhibition space and canvas, offering passers-by a fresh look at their daily grounds. By those lights FOTA 2005 scored high.
The Unknotting the Old School Tie Award goes to Kids These Days Walk All Over Tradition. Lana Harfoush, '08, surrounded Mitchell Tower's iconic seal with a grid of photocopied doppelgängers in shades of pink, blue, and yellow. Would students, she wondered, avoid stepping on the pastel seals just as they superstitiously dodge the bronze floor plaque, convinced that a misstep means a delayed degree? "Will they even notice? Will some not care because it's just a mechanical representation of the seal, and not the seal itself?" Her artist's statement ended on a philosophical note: "If nothing else, this project brightens up the Reynolds Club in colors that 'traditionally' represent springtime, so though the project questions the place of tradition it also reinforces it."
Two projects shared the Releasing Your Inner Child Award. Monica Herrera-Montiel created Pinwheel Timeout, a Bartlett Quad forest of whirlagigs. A pinwheel, she noted, "is such a perceptual, transparent object, with no specific purpose but itself." Yet watching it spin "takes me away from my regular state of self-absorption—in 'to do' chores, mundane anxieties, concerns about the future, in the machine of never-ending interpretations," offering "a timeout from myself." Meanwhile, cradled by the C Bench, Lego Play Area, the creation of David Pickett, '07, marshaled thousands of the building blocks in defense of play: "The University provides few opportunities for artistic play," he wrote. His project "seeks to remedy this deficiency and provide an outlet for sculpting in bright colors."

Plaudits
This spring the Magazine won two awards of its own from the Council for Advancement and Support of Education (CASE). In addition to a bronze medal for general-interest magazines (circulation over 75,000), we received a silver medal for periodical staff writing. That award recognized Associate Editor Amy M. Braverman's cover stories on alumni in Iraq ("Inside the War Zone," October/04) and a rift between some Western Hinduism scholars and some conservative Hindus ("The Interpretation of Gods," December/04); Associate Editor Megan Lisagor's report on visual-perception research at Chicago ("How You Think You See," June/04) and her profile of former CIA intelligence officer Richard Schroeder, AM'65, PhD'75 ("Spy Guy," December/04); and a report on the use of prescription drugs as study aids ("Behind the Campus Buzz," October/04) by Alumni News Editor Amber Lee Mason, AB'03.
An Essay in Full
Our apologies to English professor emeritus Richard Stern. Stern's essay in the April/05 issue was shortened because of last-minute space constraints. The full version of "A Novel Idea," Stern's account of the visiting-writers program he began at Chicago in the 1950s, can be found online.—M.R.Y.