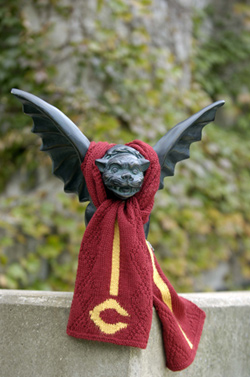 Knitwits of the world, cast off
Complete instructions, including yarn advice, can be found here. Or drop us a line by mail or e-mail (uchicago-magazine@uchicago.edu) and we'll send you a copy.
Just in time for winter, here's a way to show your University of Chicago spirit while fighting the wind-chill factor.
All you have to do is follow the pattern created for the Magazine by knitting doyenne Sivia Harding, X'78. Although Harding, of Vancouver, British Columbia, prefers to knit with lace and beads (bracelets, necklaces, and gossamer-web shawls are her specialties), she went back to breeze-blocking basics for the scarf at right, which features the Chicago "C" and an Oxbridge-inspired central stripe.
For less-experienced knitters, who may be looking askance at the X-shaped patterns running the length of the 62-inch scarf, don't despair—Harding suggests that you may want to substitute a simple stockinette stitch.—M.R.Y.