When the Magazine asked readers what made their wedding a truly Chicago experience, we heard from dozens of alumni with love stories to tell.
The e-mails and letters spanned seven decades. Husbands and wives, widows and widowers, ex-spouses—all wrote to reminisce about what made their University of Chicago wedding so Chicago. Most started at the beginning: many couples met in a seminar or lab. Others detailed their courtship: Jimmy's, the Reg, Promontory Point. Many cited the ceremonial venue: Bond Chapel or Rockefeller, Ida Noyes or the Quadrangle Club.
For the Magazine's editors, reading the missives warmed the final days of winter. We loved them all. This is the representative dozen that originally appeared in print version of the May-June/08 issue; the rest of the Maroon romances (some accompanied by vintage wedding photos) can be found here. Enjoy.—M.R.Y.
1940s
Maroon-letter day

We planned a simple wedding ceremony in Thorndike Hilton Chapel on the evening of our June graduation day for the convenience of parents from Nebraska and New York City who had never met before, our first date having been on Valentine's Day. Newspaper publicity was certainly not imagined.
The U of C public-relations office, somehow made aware of our plan, must have envisioned an opportunity and alerted the media. While we were being lined up for the procession in the basement of Rockefeller Chapel preliminary to receiving our master's degrees we were besieged by reporters.(The only question I remember being asked was whether or not I thought men were more intelligent than women.) On our return to campus for summer school our friends gave us the collection of newspaper articles. The caption for the 6 x 7–inch photo in the Chicago Daily Sun Times was "Lose 'Bachelor' Status at U. of C." It continued: "At University of Chicago ceremony where 721 win high degrees, Melba Christensen, 24, of Lynch, Neb., and Luther Gulick Jr., 25, of Bronxville, N.Y., share congratulations. Each gets master's degree. Then pair heads for campus chapel to top off big day by exchanging marriage vows." The photograph in the Chicago Tribune was taken on the east steps of Rockefeller Chapel. A third area paper headlined an article, "2 Get U. of C. Degree, Step Up to the Altar." …
—Melba ("Chris") Christensen Gulick, PhB'46, AM'48, and Luther Gulick, AM'48, PhD'52
Right from the start
I was a first-year attending the Freshman Orientation Dance in the fall of 1942. A tall, dark, and handsome senior cut in as I was dancing with a fellow freshman. His self-introduction—"Hi, I'm Big John"—began a whirlwind romance culminating in marriage five years from our first date. (The whirlwind had been interrupted by his three-year stint in the navy.) We had been married over a year when John received a letter from his College roommate, Ray Robertson, SB'43, MD'45, enclosing $5 and a note: "You win." That was the only time I had ever seen John blush as he admitted that he was with Ray at that freshman-orientation dance when he saw me and bet Ray $5 that he would marry me. …
—Louise Harvey Clark, SB'45, and Johnson Clark, SB'43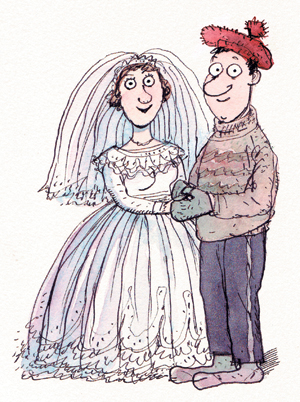 1950s
Knit one, pair two
He was premed, and I was struggling along in the general morass of students. We actually met because my roommate taught me to knit as a Christmas gift, and I knitted myself my first pair of socks during the holiday break. Later, I wanted to knit another pair of socks, but each time I mentioned it to a male friend, he acted as if it were a declaration of intent to become a couple. I was becoming resigned to not knitting for anyone when I happened to notice a male student at a membership meeting of our campus radio station: Radio Midway. He looked like a nice fellow, and, most importantly, he had big feet, and we had no previous connection. I sat down on the rug at his feet and asked if I could knit him socks. He said OK, without much enthusiasm, which I welcomed. We agreed upon colors and he left the pattern to me. Every so often, he came to my dorm to see how the socks were coming, and by the time the pair of socks was finished, we were also a pair.
He proposed on the proper pond bridge, the name of which I don't remember. The girls in my dorm gave me a bridal shower in the lovely Beecher House common room; we were married in tiny Thorndike Hilton Chapel and held our wedding reception at International House. …
When I began removing his clothing from the dresser in his dorm room to move to our apartment just prior to our wedding, I found the drawers full of beautiful and expertly hand-knitted socks, sweaters, scarves, vests, mittens, and even an ear warmer. I hadn't realized until that moment that he was the only child of a Scottish couple whose female relatives had always knitted extensively for him. He told me later that he knew at once that he would marry me, because I knitted. And, yes, I still knit items for him now and then.
—Natalie Allen Ednie, X'52, and Thomas F. Ednie, AB'51, SB'53, MD'55
1960s
Exit in style
We met in graduate school in 1965. We had both returned from serving as teachers in the Peace Corps—Tom in the Philippines and Sue in Côte d'Ivoire. We were pursuing master's degrees in comparative education. On March 27, 1966, we were married at the Quadrangle Club, joined by fellow students and members of our families, and then left on our honeymoon. It was snowing slightly as we took off and headed for Maryland on our trusty steed, a 1961 BMW r60 with 1953 Steib sidecar.
—Suellen Fisher Newman, AM'65, and Thomas W. Newman, AM'66
1970s
Whole lotta lava
One evening in June 1970, just before our third year, we were in Donald's room of the house that he and his friends were renting at 56th and Maryland Avenue. We had been "involved in a meaningful relationship" (i.e., dating) for about nine months. On that evening we were unpacking some books we had just purchased. I began to write my name, Wendy Glockner, in one of my books, when Donald said, "Shouldn't you be writing, Wendy Kates?"
"Oh, is that a proposal?" I responded, to which Donald thoughtfully replied, "I guess so."
We can't remember what transpired next, but apparently the tenor of the conversation proceeded to a level of commitment that was several notches higher than "I guess so" would indicate, because eventually we went out to celebrate our engagement with some of the guys in the house. Things were going well until we returned to Donald's room to discover that while we were out, our quintessentially Sixties lava lamp had exploded all over his stereo equipment. "This is not a good sign," I commented. Nonetheless, we proceeded with our plans.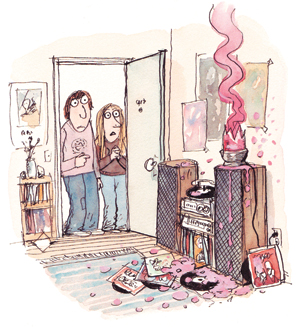 We decided to get married the following June 13, the day after College graduation. Between studying and coediting the weekly cultural supplement to the Maroon, I had little time and no interest in planning a wedding. My mother was happy to take on the task. My job was simply to show up in my hometown of Cleveland as soon as possible after graduation, with the groom in tow. So, on June 12 we marched into Rockefeller Chapel, graduated, marched out, hailed a cab to Midway Airport, and flew—standby!—to Cleveland.
And here we are, still married 37 years later. Although the legacies of the Sixties and the women's movement no doubt contributed to our now-apparent determination to underplay our engagement and wedding, we believe that the intensely intellectual, individualistic, and nontraditional environment at Chicago during our undergraduate years also played a role.
—Wendy Glockner Kates, AB'71, AM'77, PhD'83, and Donald A. Kates, AB'71
Opposites attract
My husband and I used to tell this story together, each one telling our part. Since he has died, I will tell the whole story myself.
It was September 30, 1968, the first day of autumn quarter, a gorgeous early-fall day, at about 1:30 p.m. I was sitting on the grass and enjoying the sunshine. A hippie-looking guy came up to me and said, "Can I talk to you?" I said I supposed so. We discovered that we were both going to John Cawelty's American Poetry class later that afternoon. Characteristically, although I was only auditing the course, I had already bought the book. Characteristically, although he was taking it for credit, he had not yet bought the book. We shared my book in class that day.
It was not exactly love at first sight, but love grew. We got married in 1972 and were happily married until he died in 1998.
Where exactly on the quads did we meet? I was certain it was in front of Swift because I always went to the Swift coffee shop. He was equally certain that it was in front of Cobb. The difference was only a few feet, but we "argued" about it for 20 years. On the 20th anniversary of our meeting, September 30, 1988, we flew to Chicago to reenact the event. When we arrived at the spot where I was certain we had met, in front of Swift, he gasped and said, "You're right—this is where we met!" I never asked if he really had a memory of me in front of Swift, or if he just knew it would be very romantic to admit I was right. If it was the latter, he was correct.
—Diane B. Arnkoff, AB'70, and Alvin S. Rosenthal, AB'69
1980s
If music be the food of love…
Ed and I met through a mutual friend, Vince Freeman, AB'83, MD'87, waiting to catch the Jeffery Express bus (No. 6, right?) downtown to watch a performance of the Chicago Lyric Opera. Vince had organized a group called PSOAS (Pritzker School of Medicine Opera Appreciation Society; psoas is also one of the muscles of the body, nerds that we are...). I remember vividly seeing Ed for the first time—handsome, tall, and friendly—but we both were dating other U of C students at the time. We continued to see each other in musical venues, though, and were in the University of Chicago Symphony Orchestra together. He plays the clarinet, and I was lucky that they needed a piano player for the season that the orchestra traveled to Eastern Europe on a tour to Yugoslavia, Hungary, and Austria in 1986. We could request seating next to certain members of the orchestra and also could request roommates—I didn't know why Ed made such a big deal out of wanting to sit next to me on the plane. However, the rest is history for us. …
—Wendy Lin, AB'85, MD'89, and Ed Guillery, MD'87
Typecast
I married the girl next door.
In October 1978 I was a first-year law student living in an apartment building at 57th Street and Dorchester, known as Little Pierce. The dining room in our three-bedroom apartment shared a wall with the apartment across the hall. The U of C students living in the apartment across the hall, however, had converted their dining room into a fourth bedroom, then occupied by Susan Gorschman, a first-year student at SSA.
I had unfortunately broken my arm in a touch football game in the field behind the Law School the day before classes began. As any alumnus of the Law School knows, the first-year writing program requires a substantial paper almost every week. My broken arm diminished my already poor two-fingered typing skills to a one-fingered, hunting-and-pecking style that kept me up late at night finishing those papers. I worked in our dining room (so as to disturb least my two roommates), unaware that across the thin wall separating the two apartments' dining rooms lay the young and beautiful Susan Gorschman, being kept awake by the intermittent chattering of my hunting-and-pecking on an old electric typewriter.
After a sleepless night, Susan asked one of her roommates, "Who is the ass**** that was typing in the apartment across the hall all last night?" Susan's roommate, who had met me, explained my handicapped typing circumstances and assured Susan that, notwithstanding my inconsiderate nighttime racket, I was really quite nice.
Susan and I thereafter met and, after appropriate apologies and groveling by me, began to date. (Our first date was at the Medici.) Less than three years later, after we both graduated, we were married on August 23, 1981. … Almost 27 years later—after two children, the advent of personal computers and word processors, and a secretary who now does almost all of my typing—Susan and I are still happily married. …
—Joel S. Weiss, JD'81, and Susan Gorschman Weiss, AM'80
1990s
After the honeymoon was over…
My wife Janice was a childhood friend and neighbor of Christine "Tina" Loos Keigher, AB'88, who was an Upper Flint housemate of mine in the gone but not forgotten Woodward Court dormitory.
Tina had arranged for us to meet Janice at the Taste of Chicago during the summer of 1986, just before the start of my fourth year at the College. When we met in Grant Park, Janice, who was pursuing a BFA degree from the School of the Art Institute of Chicago, was still recovering from having shaved half of her head and dying the remainder of her hair blue. After the Taste, I saw Tina's "artsy-fartsy" friend again from time to time when she visited Woodward Court.
… Janice and I began to hang out together after I moved to Lake Point Tower in 1989. She lived near Lake Michigan in Lincoln Park and would walk to work down in the Loop. She would stop by Lake Point Tower, and we would walk together, she to work and I to school at the DePaul University College of Law.
Janice and I did a lot of walking and talking together and became pretty good friends. One night during the summer of 1991, I locked us in the law office where I was clerking and made her complete her application to the GSB's 190 Executive MBA program. …
To make a long story short, Janice and I got engaged in August 1991. In the fall she matriculated to the GSB. … Janice and I were married on June 20, 1992, but that's not the end of this story. In June 1994 Janice was very pregnant and nearing the end of her final year in the 190 program. We had scheduled a caesarian section on the Monday after her last final exam on Wednesday—and, we hoped, after her graduation that Friday. Of course, she went into labor and had an emergency caesarian section very early in the morning on the Wednesday she was supposed to take her final final.
When I called Janice's professor, he proposed to send the final by facsimile to the hospital, where Janice would take the timed exam in the recovery room. After hanging up with the professor, I called the dean of students, who was able to convince the professor to relent on the final exam and award Janice her midterm grade.
On Friday, June 10, 1994, Janice attended her commencement at Rockefeller Chapel in a wheelchair that my mom "borrowed" from the hospital. After Janice's name was announced, the dean walked down from the podium to the wheelchair to award her MBA diploma.
—Philip Co, AB'87, and Janice Rizzo Co, MBA'94
2000s
One in spirit
While we did not get married on campus, or even in Chicago, our relationship narrative is pure U of C. We first met in our Frank Lloyd Wright class but didn't really talk to each other until we were part of the first study-abroad program in London. Four years later, on a gray and damp January day, we got engaged at the Point. After wandering around the neighborhood grinning at each other for a while, we searched for champagne at both Jimmy's and the Pub (to no avail—you'd think they would keep a supply for all of us kids in love). Later that night, following a concert of early music at Bond Chapel, we capped off our day in Hyde Park with another tradition: waiting a very long time in wet snow for the bus.
On June 9, 2007, our wedding was held at Hilltop, a small estate near Spring Green, Wisconsin, just across the valley from Taliesin. We even had bagpipes.
—Rowan Davidson and Lesley Martin Davidson, both AB'03
Pure Hyde Park
Rachel and I met in the campus pub in Ida Noyes in January 1999 (I'll leave out the scandalous circumstances surrounding that). We were married in Bond Chapel in August 2001, and the reception was at the Quad Club. Our daughter was born in August 2006 (on our fifth anniversary, actually) at the U of C Hospitals. As we tell her, her parents met on 59th Street, got married on 57th Street, and she was born on 58th Street.
—Joshua G. Urquhart, JD'01, and Rachel Walsh, AM'98, PhD'07
No wedding is an island
Our wedding ceremony was scheduled for Saturday, September 15, 2001, at Bond Chapel. The invitations had been mailed weeks earlier. My fiancé, Lilly Ruvolo, had spent untold hours planning and organizing every detail. We were both looking forward to a lovely wedding ceremony on the Quad, surrounded by family and friends.
September 11 was supposed to be just the Tuesday before our wedding, a day of chores and last-minute errands before the big day on Saturday. Instead, chaos ensued. Lilly and I sat glued to CNN with the rest of the country as airplanes slammed down in Manhattan, Pennsylvania, and Washington.
Many of our relatives were from these locations. America's airways came to a halt. Our concern for our loved ones drove our questions over those uncertain hours. Should we cancel our wedding? In a time when people were scrambling to buy plastic and duct tape for their windows, Lilly and I had to confront our worst fears.
Together, we quickly decided that to cancel the wedding would be a mistake.
We sent word out that our wedding was ON. We realized early that our wedding day would be forever tied to the tragic events on the East Coast. But we also recognized that to cancel our plans would be an act of capitulation, of defeat. We were both convinced that our wedding would be poorly attended. We were resigned to the darkness of that week. Honestly, at that point, we were both concerned with missing friends. The wedding became secondary. But we pushed on.
On the morning of Saturday, 9/15, our wedding took place as scheduled in Bond Chapel. Lilly and I were overwhelmed with emotion as carload after carload of family, friends, and colleagues disembarked on the Quad.
… That Saturday has become legend in our circle. It was a day of release and celebration. The uncertainties of that week were real and raw. Lilly and I will always remember our wedding day within the context of 9/11, but will also take pride in our many friends and family who were undaunted by extreme circumstances.
—Brian Ritchard, MFA'90, and Lilly Ruvolo, AM'03