Center Stage
---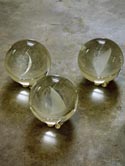 Several Silences
Through June 7. Renaissance Society, 773/702-8670. Titled after an essay by French philosopher Jean-Francois Lyotard, this exhibit features multiple artists' work, exploring the meaning of silence and its relationship to communication through sculpture, photography, drawing, video, and sound works.
Image courtesy the Renaissance Society
The Piano Lesson
May 7–June 7. Court Theatre, 773/753-4472. Directed by Ron O. J. Parson, the Pulitzer Prize–winning, 1930s installment of August Wilson's "Pittsburgh Cycle" spotlights a black family facing its slave past. The cycle is made up of ten plays, set primarily in Pittsburgh, that explore the 20th-century African American experience.
Hammurabi, King of Babylon: The Legacy of a Mesopotamian Law-Giver
May 27, 5:45 p.m. Special Collections Research Center, 773/702-7695. Martha Roth delivers a Library Society lecture on King Hammurabi, known for his extensive body of laws dealing with every area of public and private life, inscribed on clay tablets and on a massive stele now housed in the Louvre. Dean of the Humanities Division and the Chauncey S. Boucher distinguished service professor of Assyriology, Roth will discuss the visual, aural, and political messages the massive stele communicated to citizens in ancient Mesopotamia and its effect throughout the following millennia. A reception follows the lecture.
Image courtesy Martha T. Roth
Alice in Wonderland and Giselle, Act I
May 30, 7:30 p.m., and May 31, 2 p.m. International House, 773/753-2270. University Ballet presents a double feature: the first act of the Adolphe Adam classic Giselle and a student-choreographed rendition of Lewis Carroll's Alice in Wonderland and Through the Looking Glass.
First Friday Lecture: East is East and West is West? The Bible as an Asian Classic
June 5, 12:15 p.m. Chicago Cultural Center, 773/702-1722. Graham School Basic Program instructor Adam Rose, AM'93, lectures on the Bible's categorization as a Western text despite its Asian origins. The talk is free and open to the public, but registration is required.
Albert Schweitzer's Legacy
June 6 and 7. Rockefeller Chapel, 773/702-2100. A two-day event celebrating the 60th anniversary of philosopher Albert Schweitzer's visit to the University begins with a musical gala and the U.S. premiere of the organ version of Albert Schweitzer Portrait, featuring organist Thomas Weisflog, SM'69. The next day a panel discussion, A World Free of Nuclear Arms, brings together leaders from nuclear-abolition movements.
---
---
---
ALSO IN CHICAGO JOURNAL
---
EDITOR'S PICKS