Center stage
---
60 Days of UChicago Art
Through June 4. Multiple locations, 773.702.2282. Featuring Pulitzer Prize–winning writers, music and theater performances, and visual-art exhibitions, this two-month program highlights University of Chicago arts through visiting artists, faculty, and students.
The Seductiveness of the Interval
Through June 27. Renaissance Society, 773.702.8670. First presented at the 2009 Venice Biennale, this exhibit displays the works of Romanian artists Stefan Constantinescu, Andrea Faciu, and Ciprian Muresan within a two-story stage set, examining human nature's cruelty and hope.
Pioneers to the Past: American Archaeologists in the Middle East, 1919–1920
Through August 31. Oriental Institute, 773.702.9514. James Henry Breasted, the Oriental Institute's founder, traveled to Egypt and Mesopotamia in the early 1900s, hoping to acquire artifacts for the OI and find excavation sites. Curated by OI museum director Geoff Emberling, the exhibit features photos, artifacts, letters, and personal items from Breasted's travels. Along with his story is a modern commentary on archaeology's evolution over the past 90 years.
Sizwe Banzi Is Dead
May 13–June 13. Court Theatre, 773.753.4472. Court Resident Artist Ron O. J. Parson directs this 1972 Tony Award–winning play by Athol Fugard, co-written with two South African actors. Sizwe Banzi is Dead explores identity through the story of a man who fakes his death to survive.
Contempo: Tomorrow's Music Today I
May 14. Fulton Recital Hall, 773.702.8068. Contempo, the University's new-music collective, presents a concert featuring works by four graduate composition students. The pieces are performed by Grammy winners eighth blackbird and the Pacifica Quartet, the music department's ensembles-in-residence. A second concert, presenting works by four other graduate students, is May 26 at Roosevelt University's Ganz Hall.
International House Festival of Nations
May 23. 1 p.m. International House, 773.753.2275. This annual festival celebrates the University's international community through food, art, and performance, including a concert featuring Calypso-music legend Mighty Sparrow.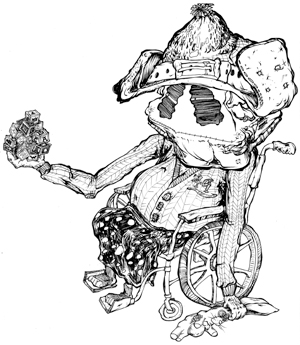 Stan Chisholm Artist Talk
June 6. 3 p.m. Hyde Park Art Center, 773.324.5520.
Chisholm, a graduate of the School of the Art Institute of Chicago, discusses his exhibition, "ThingsThatNeverReallyHappened," an installation whose narrative winds through a series of invented land masses populated by cartoon individuals.
---
---
---
ALSO IN CHICAGO JOURNAL
---
COLLEGE REPORT
---
EDITOR'S PICKS