The University of Chicago Magazine December 1995
---
Return to December 1995 Table of Contents
---
Editor's Notes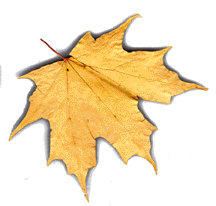 Pushing the envelope
It's faded now, and truth be told, the maple leaf was already turning dry and brittle when it fell out of an envelope one afternoon this fall. Our Washington, D.C., correspondent seemed to have tucked it into his letter almost as an afterthought--his businesslike missive contained no paean to autumn's glories, no clerical postscript along the lines of "Encl.: One leaf from a yellow wood." No explanation was needed. The bright souvenir, still smelling faintly of October sunlight, was the best piece of mail we received that day.
The Magazine has had its share of nice mail this fall, as some 4,850 readers have responded to our annual solicitation letter with checks ($93,000 to date) and notes. We're very grateful. Thank you.
A number of readers thanked us for enclosing a postcard of Botany Pond. "Blue-green is my favorite color," one writer enthused. "Your idea to put it on the fridge is great--a daily aesthetic delight." "Send me more postcards, I'll send you more $," bargained a U of C economics researcher. We did, and he did.
"Thanks for the Botany Pond view," wrote Charles A. Wright, AM'63, PhD'75. "It looked different from the bottom when the '61 Phi Gam pledge class threw me--as pledge trainer--in."
Then there was a note from a colleague at the Columbia University Alumni Federation (one of the many alumni associations and universities with whom we exchange magazines) who thanked us for the postcard ("It gives my desk serenity!") by sending along a five-dollar bill and explicit instructions on how to spend it: "Take the enclosed and buy some pastries for the office."
That money went, with the rest of your gifts, into the Magazine's budget, but the thought was enough to sweeten our day.
We've also enjoyed reading the news you send for the class-notes section. And we appreciated the clipping that Richard W. Lee, DB'64, enclosed from the Middlebury College Magazine on "How to Read Your Alumni Class Notes."
After giving advice on translating the upbeat tones of the genre into real-life terms, the writer--a Midd alumna, Class of 1986--concludes: "Alumni class notes are not some sort of graduate essay exam. They're not a yardstick with which to measure one's fame, fortune, or knowledge of trendy European ski resorts. And most important, they're not the whole story. Like an annual family Christmas photo, these carefully phrased mini-bios reveal only the smiling surface of rich and complex lives."
Dropping our I's
Much as we like to get letters, we sometimes mangle the ones we receive. In the October/95 "Letters," for example, Homer Goldberg, AB'47, AM'48, PhD'61, actually wrote from experience about the Humanities III comps--not Hum II.--M.R.Y.
The Magazine invites letters on the contents of the magazine or on topics related to the University. Letters for publication, which must be signed, may be edited for length and/or clarity. To ensure the widest range of voices, preference is given to letters of no more than 300 words. Address letters to: Editor, University of Chicago Magazine, 5757 Woodlawn Ave., Chicago, IL 60637. The Internet address is: uchicago-magazine@uchicago.edu.
To write us directly, click here for our e-mail form: uchicago-magazine@uchicago.edu.
---
Go to:Return to December 1995 Table of Contents