IS THIS TAX A CANDIDATE?
---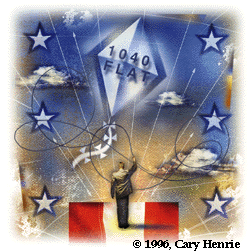 Subsidies probably won't resolve two of the flat tax's biggest politicalbarriers: the popular charity and mortgage-interest deductions. Nor areeconomists' reassurances that these losses won't be devastating likely to calmvoters or embolden lawmakers. That's why many think the only probable flat taxis a modified one that spares these sacred cows. Senator Arlen Specter hasintroduced such a bill, with a tax rate of 20 percent.
Even if the flat-taxers rally to Specter's plan, they'll face competing billsfrom Gephardt and others-and intense pressure to restore just one morededuction, and then another and another, each time shrinking the income baseand raising tax rates. Hence Merton Miller sees only minor reforms for the nearfuture. When people truly realize what change entails, he says, "they won'tgive up what they already have. The tax system will have to get a lot worsebefore it gets better."
Elizabeth Garrett is somewhat more sanguine, believing Congress will interpretthe November election as a mandate for tax reform. But a pure, broad-based,consumption tax? The link between economic growth and efficient taxes is justtoo obscure. "I couldn't sell that to people back in Oklahoma," she says of herhome state. "Even if they'll sit around for more than a ten-second soundbite,this is hard stuff. It's hard for my class to get it in a seminar onalternative taxes."
Raaj Sah wonders if the time for a perfectly loophole-free tax is perhapsalready in America's past. "The nature of family, the nature of work, havebecome more complex than they used to be," he says. A system of zero deductionsmakes a swell theory, but the occasional special-interest concession is, hecontends, "part of the democratic process, whether one likes it or not."