The University of Chicago Magazine June 1996
---
Return to June 1996 Table of Contents
---
By Debra Shore
Photography by Matthew Gilson
Her views on democracy's decline and the need for cohesive social values have brought a White House invitation and attacks from leftist scholars. It's a role Jean Bethke Elshtain seems born to play.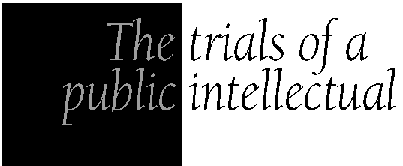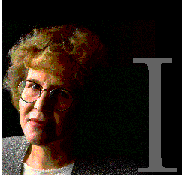 t is 1953 in Timnath, Colorado, population 180. One of the town's younger residents endeavors to publish her own newspaper for friends and family. Jean Bethke, age 13, names it the Timnath Courier, and includes in her inaugural issue book and movie reviews, as well as a page-one think piece addressing this question: Was the Yalta Agreement a good idea? In addition, the editor thoughtfully solicits reader comments, thus inducing her best friend to respond, "I think you're crazy."
The Timnath Courier has remained in publishing recess since its first two editions, but the former editor and publisher, now Jean Bethke Elshtain, has stayed in the writing and reflecting biz in earnest. Elshtain-who joined the U of C's faculty in 1995 as the first Laura Spelman Rockefeller professor of social and political ethics in the Divinity School-has published more than 200 articles and several books on topics encompassing feminist theory, theology, international relations, war, the family, and political theory. Currently she's finishing a biography of Jane Addams and will soon publish The King Is Dead: Sovereignty at Century's End.
It was her 1995 book, Democracy on Trial (Basic Books), however, that firmly established Elshtain's reputation as a public intellectual. The New York Times Book Review called her treatise on the decline of civil society "wise, humane, and profoundly reflective," while the magazine Utne Reader named the author to its list of 100 visionaries for the next century. A whirlwind book tour established her reputation as a gifted orator; soon speaking requests came pouring in-including one from President Bill Clinton, who had hoped to engage Elshtain and a few other scholars in a discourse on the state of American life. (She had the impression the President was idea-trawling for his upcoming State of the Union Address.) "It would have been great fun," says a thoroughly regretful Elshtain, who had to decline because of a planned trip to South Africa.
A diminutive woman in her mid-50s, Elshtain appears modest, earnest-and,
Continue reading "The trials of apublic intellectual"


Small-town girl: Elshtain's baby picture; at age 8, not long before she wrote her first book, a "preposterous adventure story" about gold miners; wheelchair-bound from polio, when doctors feared she wouldn't walk again; and following a recipe read by a fellow home-ec student. In high school, Elshtain was national vice-president of Future Homemakers of America.
---
Go to:Return to June 1996 Table of Contents