The University of Chicago Magazine June 1996
---
Return to June 1996 Table of Contents
---

Exhibitions
Carcharodontosaurus saharicus, through June 30. View the skull of the huge, predatory, African dinosaur discovered in 1995 by associate professor Paul Sereno and his team. Crerar Library atrium; call 702-7720. (See "Citations," p. 13.)
Heimo Zobernig, through June 30. The work of this leading Austrian contemporary artist deals with strict, formalist issues, yet also relates to the unusual architectonics of the space in which it is presented. This is Zoebernig's first American museum exhibition. Renaissance Society; call 702-8670.
Education for Life: 100 Years of the Laboratory Schools, through October 14. Including letters, documents, publications, photos, and other memorabilia, this centennial exhibit begins with the pedagogical philosophy of founder John Dewey and the original group of teachers, then examines the techniques of their successors and recent advances. It also looks at the student experience in classrooms, labs, theaters, machine shops, art studios, and field trips. Special Collections; call 702-8705. (See "Center Stage.")
Looking to Learn, Too: Visual Pedagogy at the University of Chicago, through October 14. Going back to the University's early days, this exhibition explores how objects, artifacts, and images have been collected, deployed, and displayed in teaching, research, and self-representation. Featured collections are the Speculum Romanae Magnificentiae and the Ludwig Rosenberger Library of Judaica. Special Collections; call 702-8705.
Alumna Artist: Alyce Frank, July 11-August 18. Frank's trademark large canvases of New Mexican landscapes in bold colors and expressionistic style are inspired by German expressionism and fauvism. The New Mexico-based artist, AB'50, began painting at age 43 and has established herself in the Southwest art scene. Smart Museum; call 702-0200.
MFA 1996, July 11-August 4. These works by eight graduating University of Chicago Midway Studio students include paintings, drawings, prints, sculpture, photography, and installations. Smart Museum; call 702-0200.
Music
The Yeomen of the Guard, July 19-20 at 8 p.m. Antionette Arnold conducts the University of Chicago Symphony Orchestra and the Gilbert & Sullivan Opera Company in a fully staged production. Hutchinson Courtyard; call 702-8069.
The I.O.U. Wedding (La Cambiale di Matrimonio), August 2-3 at 8 p.m. Barbara Schubert conducts the University of Chicago Symphony Orchestra and the Lyric Opera Center for American Artists in a fully staged production. Hutchinson Courtyard; call 702-8069.
Theater
Off-Off Campus: Summer Revue, Fridays at 9 p.m., June 28-mid-October. The group presents original sketches and improv. Call 702-3414 for location.
A Midsummer Night's Dream, August 9-11 and 15-17 at 8 p.m. University Theater presents Shakespeare's comedy of romance and adventure. Hutchinson Courtyard; call 702-3414.
On the Quads
Summer Carillon Festival, Sundays at 6 p.m., June 16-August 18. Rockefeller Chapel presents free outdoor concerts of carillon music performed by carillonneurs from the United States and Canada, including the U of C's Wylie Crawford and Jim Fackenthal. Picnicking on the surrounding lawns is encouraged; people may view the carillon before recitals. Rockefeller Chapel; call 753-1191.
Oriental Institute/Smart Museum of Art Family Day, June 23 at 1 p.m. This festival of music, entertainment, refreshments, games, and crafts is cosponsored by the two museums. Smart Museum; call 702-9507.
In the City
Cityfront Forum, July 11 at 5:30 p.m. Ice caps melt, the ozone layer thins, and Midwestern farmland looks like the Sahara: That's one possible scenario for the future of the world. Addressing "What's Happening to Our Atmosphere?," Professor John Frederick discusses changes in our atmosphere, how these affect us today, and what our climatic future looks like. Gleacher Center; call 702-2160.
---
Center Stage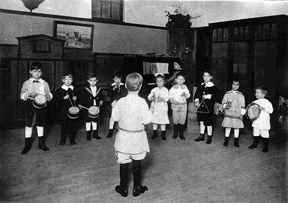 Learn by doing: Living up to Lab Schools ideals of independence and creativity, a young boy conducts a 1906 kindergarten music class.
Excellence in Education: In January 1896, the Laboratory Schools--a laboratory for pedagogical research--opened its doors in a house on 57th Street. U of C President William Rainey Harper hoped to realize his view of learning as a self-directed, organic process; cofounder John Dewey, a noted educator, believed in "learning by doing" and maximized cooperative activities while minimizing rote learning. In a centennial celebration exhibit, their early correspondence and tracts outlining their educational philosophies are on display through October 14 at the Department of Special Collections. Also included are such diverse memorabilia as a 1909-10 Boys' Club membership book, a 1960 senior beanie, and a 1993 multicultural journalism award received by the University High paper.
---
Go to:Return to June 1996 Table of Contents