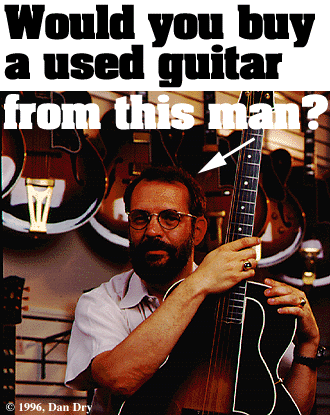 Continued
---
Martins." But Gruhn didn't buy a Martin: "I had this perverse streak in my character--I didn't want a guitar like everyone had. Since everyone was playing Martin guitars, I looked for Gibsons and others. That's when I really got hooked on guitar collecting--and it is a real addiction."
Gruhn soon found that many great used instruments lurked in Hyde Park and in pawnshops along 47th and 63rd streets.
"Pete Leibundguth's Fret Shop on 57th Street had all sorts of stuff. Pete was incredibly good at finding stuff from original owners and getting them to part with it for the price they paid for it new," Gruhn recalls. From fellow Folklore Society member Mark Greenberg, AB'67, AM'70, Gruhn began to appreciate the value of these searches: "He understood that these were truly vintage, not just used or old instruments."
Gruhn did perform once during the Folk Festival--a version of "Pretty Polly" in a modal A tuning of his own design ("People groaned," he says)--but his growing guitar acumen was garnering a more appreciative audience. "If I couldn't play well, I could show up with an original Martin D-45, and I could get backstage anywhere."
From making contacts, he went to making deals: "For every guitar I'd want personally, I'd find others that I didn't but that others would pay for. I knew this was my ticket."
Soon, collecting was a full-time occupation--not a great recipe for academic success, since Gruhn was still a College student. "My parents were concerned. They would say, 'Hobbies are a nice thing, George, but what about your education?'" It did help Gruhn's case that his "hobby" quickly became financially self-sustaining.
Indeed, as the acoustic folk scene merged with the electric-blues community sparked by Chicago artists Muddy Waters and Howlin' Wolf, Gruhn was finding more and more guitars to buy and sell. Increasing the popularity of electric instruments among white college audiences was the Butterfield Blues Band--featuring Paul Butterfield, a young Hyde Park native and Lab Schools grad, on vocals and harmonica, along with Chicago undergrad Elvin Bishop, X'64, and former Lab Schooler Mike Bloomfield on rhythm and lead guitars.
"Of all the players of the mid-1960s," Gruhn say, "Bloomfield was the most influential in terms of vintage electric-guitar trends. At the time he began using a 1952 Fender Telecaster electric, there was no used electric guitar that would bring over $100. As soon as he used it, the price went to $800. When he switched to a 1954 Les Paul, the same thing happened.…I could go down to pawnshops on the South Side, buy them for $75 or $100, send them to dealers in New York City and make $600 on each guitar."

Gruhn's entrepreneurial success hadn't yet turned him away from his academic pursuits. "I kept on going. It never occurred to me that I could do something non-academic." After earning his degree, Gruhn spent a year doing graduate studies at Duke University. His research, on the behavior of snapping turtles, was out of step with the department--and his grant was not renewed.
In 1968, Gruhn attended the University of Tennessee at Knoxville. This time, he didn't last a semester--he spent most of his time wheeling and dealing
Continue reading "Would you buy a used guitar from this man?"


George Gruhn looks at guitars as "specimens," and his Nashville store presents row after row of gleaming beauties, "evolutionary links in the history of the guitar and related instruments."
---
Go to:
Return to August 1996 Table of Contents