Continued
Echoes of the past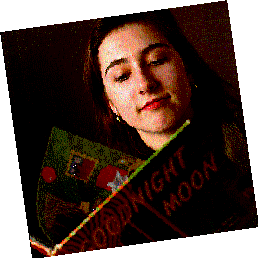 I recently chose Goodnight Moon, by Margaret Wise Brown, from the many books lined up on a child's bedroom bookshelf to read to a little girl, Jordan, at her bedtime. With the book in hand, I sat down at the edge of the bed, and Jordan jumped under the covers. She moved close beside me to get a better view of the pictures, and I started to read. "In the great green room, there was a telephone, and a red
balloon," I began cheerfully. As I turned the pages, I began to read more quietly while keeping an energetic tone. In a singsong voice, I read, "and two little kittens, and a pair of mittens," emphasizing the rhyming words. By the time I reached the line, "and goodnight to the old lady whispering 'Hush," my voice had become tranquil, and in a whisper that echoed the text, I slowly drew out the last word, "Hushhhh." I delivered the last sentence, "goodnight noises everywhere," with a soft and gentle flourish, my voice barely audible. Almost melodramatically, I closed the book....
Even I was surprised by my theatrical rendition. It seemed out of character for me, as if I were mimicking someone else. In fact, each pause, each whisper, seemed rehearsed....I realized then that I had been imitating the oral style of my mother, who had read Goodnight Moon to me countless times when I was a child. I had remembered her diction, her placement of dramatic pauses, and even the intonation she used when she read this book to me. I had recited the story to Jordan in the exact same way my mother had to me over 16 years ago.
--Rachel Kaiser, '97, pre-med English major from Downers Grove, Illinois.
---
---
Go to:
---
Return to February 1997 Table of Contents