Continued
Heartbroken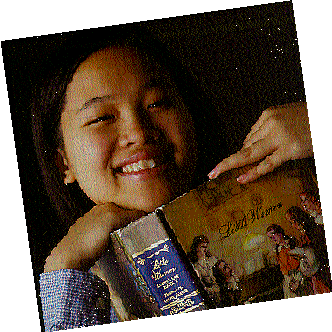 Soon after I had finished the last of the small, purple-colored Nancy Drew books, I discovered Little Women. As a third grader, I prided myself on my reading skills, and the impressive thickness of Louisa May Alcott's most popular book was reason enough for me to deem it a worthy candidate for my attentions. Like every little girl, Jo was my favorite....
I was completely enthralled by Jo and Laurie's close friendship. Like Jo, I had no brothers and, therefore, longed for such a relationship in life. It was not a surprise to me when Laurie fell in love with Jo. It seemed so natural that they should spend the rest of their lives together, and marriage seemed like the only solution. I was shocked and felt the pain that Laurie did when she refused him. Not surprisingly, "Heartaches" was my favorite chapter and, ironically, it was marked in the library book I frequently borrowed by red printing splotches that seemed to fall only on that particular chapter. It seemed like an appropriate symbol of the broken heart that Jo caused.
--Christine Tantoco, '97, biology major from Bryan, Ohio.
---
---
Go to:
---
Return to February 1997 Table of Contents