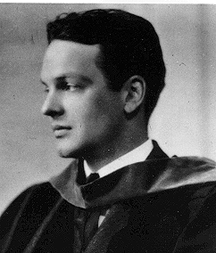 Robert Hutchins
One of Chicago's most distinguished alumnae, Katharine Graham, AB'38--chair of the Washington Post Company's executive committee and a University trustee--revealed that her initial attraction to the U of C was almost purely physical. In her new autobiography, Personal History, Graham writes that she decided to enroll in the College "not out of a sudden impulse toward serious study but simply because there flashed into my mind a picture I had seen while flipping through the pages of Redbook magazine of Robert Maynard Hutchins, the University's young, handsome, dynamic president. The caption under his picture said that he was revolutionizing the learning process and shaking things up with new and interesting ideas about college education....I added things up quickly: It was in the Midwest (I had never lived off the Eastern seaboard); it was coeducational; and it was in a city. `Okay,' I said, `I'll go to Chicago.'" Graham returned to campus in February to share her memories of Chicago and discuss her best-selling book.
And what would Hutchins, the famed vanquisher of Chicago Big-10 football, have thought of the sports fever afflicting campus during March basketball finals? The men's team made it to the third round of the NCAA Division III championships before falling to Methodist College of North Carolina, 70-74. Along the way, the Maroons won their first ever University Athletic Association crown and ended their season with a 23-5 record. While a total of 1,347 fans crowded into Henry Crown Field House to watch the Maroons win their final home game, one Chicago Tribune sportswriter visiting campus noted that most students seemed "characteristically resistant" to the more extreme effects of "March madness." Indeed, one student thought the phrase "Final Four" was a reference to the hours of study she had left before her last exam.--T.A.O.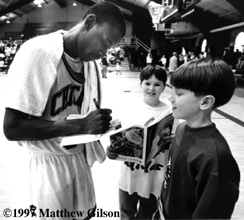 A kind of madness: Maroon players, including third-year Aaron Horne, enjoyed the spotlight at their final home game in March.
---
In this department:
Also in the Journal:
Plus items For the Record.
---
---
Go to:
---
Return to April 1997 Table of Contents