THEORY IN PRACTICE
Continued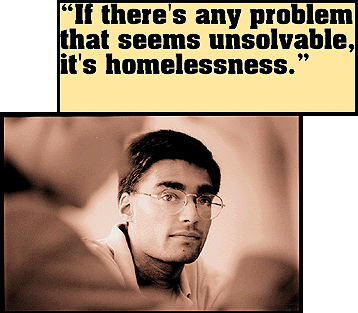 Second-year Manish Shah, right,listens intently in class.

any clinic students do intend to enter public-interest law, but plenty of others hope to work for private firms. The chance to start practicing their craft now and the close attention from their teachers, who have just eight to 15 students each, attracts both types. In the clinic, all students find themselves learning often unexpected lessons about poverty and the law. Gary Palm assesses the Mandel students in his usual blunt fashion: "Our licenses are on the line every day that they're in practice, so I don't want a bozo. It's not how bright they are. It's how diligent, and what kind of energy and effort and seriousness" they bring to their cases.

Third-year student Ian Roffman will start his career as a litigator in the Chicago office of the New York-based firm Skadden, Arps, Slate, Meagher & Flom. The Mandel Clinic, he says, offers "a combination of getting experience doing litigation-a lot of [Law School] students don't want to be litigators-and seeing the value of the work the clinic does."

This past winter quarter, Roffman gave his first appellate oral argument. Five years earlier, his client, Anthony Wright, had filed a claim of racial discrimination against his former employer, which attributed his firing to poor job performance. The Illinois Department of Human Rights had twice rejected Wright's claim: The first time the clinic asked the department to conduct more interviews of Wright's coworkers, which it did. Now Roffman was taking the case to the Illinois Human Rights Commission to argue that the Department of Human Rights should be forced to reveal the contents of those interviews. Second-year student Kenny Allston had researched and written the brief the prior summer, but without a 711 license couldn't argue at the hearing. So Roffman stepped in the week before, reading all the briefs and orders filed as well as pertinent legal research. Several other clinic students helped him conduct three "moots," or practice hearings.

Going before the Human Rights Commission can be especially unnerving, since any of its 13 members can ask a question at any time during the argument. Roffman, accompanied by Allston and professor Randall Schmidt, faced the commission in an eighth-floor room at the James R. Thompson Center. "This case is about more than just discrimination, it is about the fundamental right of due process," Roffman opened, seated at one end of a rectangular table around which the commissioners had gathered. "A full and fair trial requires that Mr. Wright have access to information the Department of Human Rights is using against him." Well-prepared, with plainspoken answers for every question, Roffman seemed to impress the commissioners more than did the department attorney, whom they took to task on both her reasoning and phrasing.

"I feel qualifiedly good," Roffman said afterward. The commission has yet to make a decision. "There are 13 people there and not all of them spoke, and you can't get in their heads." Still, "I made all of the points I wanted to make." Schmidt thinks the Mandel Clinic fosters such readiness better than most such clinics because its degree of specialization allows for plenty of preparation. Gary Palm agrees this is where the clinic outshines any traditional law course, because clinic students "have to be reacting and performing and planning, and that's what we can teach best." He adds, "I pride myself on training people how to avoid thinking on their feet, to plan ahead and anticipate and prepare alternative responses."

That training comes both in casework and in formal clinical classwork, which begins in spring of second year with Litigation Methods, taught by all the Mandel attorneys. The course teaches students to develop strategy and pre-trial skills on both sides of a fictional case. This quarter's case found one Robert Ramirez seeking damages from the city of Chicago and from Edward Waldman, a Chicago police officer who'd shot Ramirez in the back.

After the introductory first class, the students prepared their closing arguments-formulating an effective close would force them to start devising a case strategy. In Randolph Stone's group, the three prosecutors and three defenders lined up on either side of a table and each took a turn arguing before a jury of five, with Stone as judge. The sometimes lively, sometimes cliched rhetoric featured phrases like "victim of unfettered police power" and "risking their lives for their duty."

Stone asked one student how she would characterize her theory of the case; cautioned another to make Ramirez more human; told a third, "You wrapped yourself in the flag, which I think is very important in this case." He had an encourag-ing word for each and seemed pleased: Though some arguments were a bit scant, the students grasped the major concepts and no one strayed to left field.

In September, they'll return to campus for the Intensive Trial Practice Workshop, taught by clinic faculty and by local lawyers and judges--many of whom are clinic alumni. The two weeks conclude with a jury trial at the Richard J. Daley Center, using actors as witnesses and high-school students as jurors.

By third year, students' classrooms are their teachers' offices. Palm considers one-on-one teaching--such as a 45-minute meeting in February with third-year student Elisa Davis--critical. Together, the two reviewed her three cases. One had been closed and required only organizing the file; another was in the beginning stages. But the third case was setting off an alarm. Davis's client had just received a letter from the Illinois Department of Public Aid stating that her ex-husband only owed her $198 in back aid-a real shocker, because previous letters had put the figure at $30,000. In this instance, as in all things, Palm urged "creative conflict," and he wanted to know just how many conflicts Davis could create. When contacting the department, he said, she should paint a picture of the trauma the letter had caused her client. Next step: get personal. "File a grievance," he said. "Somebody should feel as uncomfortably as she does."

Though Davis was inspired by her corporations class to enter corporate law--she'll be practicing with the Chicago firm Wildman, Harrold, Allen & Dixon--she appreciates the clinic's alternative style of learning. In contrast to the Socratic method, "this is more productive," she comments. "You know what you're in there trying to do, it's not a game of hide-the-ball."

Davis was one of the students who helped write the amicus brief presented to the Supreme Court in Blessing v. Freestone and went to D.C. to hear oral arguments. "We could tell from some of the questions that they asked that their questions were informed by our brief," she says, "and we could also see them holding it up there, flipping through it during the arguments." The clinic's brief outlined why, based on prior Supreme Court decisions, states should be held accountable for enforcing the child-support provisions set forth in Title IV-D of the Social Security Act. Davis worked on the brief, mostly a "psychodrama" walking readers through the experience of trying to obtain child support, every day in October.

"I didn't know [the clinic] could sometimes be as much work as it is," says Davis, "and that's one very good argument for why we should get more credit for the work that we do."

Quite a few students and faculty agree, and a Law School curriculum-review committee is considering the issue. Though students' hours average about 12 per week, a busy week of preparing for a hearing could require 40 hours or more. Sometimes they sacrifice other classes to the demands of the clinic-the clinical program may confer only six credits, but lives, not grades, are at stake.

Learning about the "nitty-gritty of the practice" and "what a real world is out there" is exactly what Arthur Kane says he wants to foster by building the new Kane Center, which will also be home to the Law School's other clinical programs, including the Illinois Battered Women's Clemency Project, the Immigration and Refugee Law Society, and Volunteer Income Tax Assistance. At the center's April 4 groundbreaking, Kane declared, "I hope that by virtue of this building there will be more room for students to partake of the programs of the clinic."

The increased space will certainly help, but funding for the projects can sometimes be tenuous. The Law School provides 40 to 45 percent of the clinic's more than $1-million annual budget. Making up the rest are alumni gifts, attorney's fees paid by corporations that have lost litigation to Mandel, an annual stipend from the Legal Aid Bureau, and government and foundation grants. But with recent federal budget cuts, money from both the U.S. Department of Education and the Legal Services Corporation has stopped coming into clinical law programs around the country. At Mandel, that loss has meant not filling an empty faculty position or considering new projects."No matter where you look in public service the money is very tight," says Laural Jin, who has to weigh her interest in public law against school loans. She chose the Law School because of the Mandel Clinic and the opportunity to do felony cases and work with juveniles. Although she wants to be a prosecutor someday, the state's attorney's office wasn't hiring when Jin was job hunting, and she accepted a position practicing corporate law with the Chicago firm McLachlan, Rissman & Doll.

Randee Waldman, who started in the clinic the summer before her second year, had applied for public-interest fellowships across the country. When that didn't work out, she decided to be a litigator with Debevoise & Plimpton in New York and do some pro bono work in juvenile justice. Waldman came to the Law School in large part because of the criminal-justice project and the chance to be involved in a clinic early in her student career.

"I think most people who aren't in the clinic just don't understand how much you actually do," says Waldman. "People say, `Oh, but it's the clinical attorneys who actually do it.' But no, it's really you. Second-year, third-year: You make the decisions about how to actually represent somebody that affect what happens to them."

T

hat statement's not entirely correct. Recalling the often turbulent emotional atmosphere at Kevin's murder trial, Conyers says she wouldn't necessarily let a student take on a risky role, because she wouldn't want a student to be too far out of his or her comfort zone and wind up feeling responsible for having lost a case. Today, Waldman and Jin and Shah know that, whether or not they have succeeded in moving Kevin to a better environment, they've made the most convincing argument they could make, and no one could ask for more. It was a fine performance.

To celebrate the students' achievement, the four of them have ordered drinks and appetizers and settled into a table at Leona's, an Italian restaurant not far from the courthouse. Together they mull over the day.

"What I'll take away from this," Jin says, "is that I got him," the psychiatrist, "to admit Kevin did not pose a severe threat."

"It was a smooth operation overall," Conyers comments. Remembering another series of questions Jin had put to Kevin's psychiatrist, she says, "That was a nice little package," and proposes a toast "to attorneys Waldman and Jin." Four glasses clink in applause.

A little later, Waldman sighs without much hope, "I do want to win one before I leave."

Her gut instincts are right--they have not won this hearing. On March 25, Waldman, Jin, Shah, and Conyers learned that Judge Kelly had decided that Kevin should remain in prison. He'd made some progress, she thought, and the move to a new place far from his mother could disrupt the long-term process. Besides, Kevin might pose a risk to himself and others in a more relaxed setting. Still, Kelly did agree that the Juvenile Department of Corrections could be doing better, and she ordered more frequent counseling and family involvement.

A month later, the clinic filed its brief appealing Kevin's delinquent adjudication. In the fall, Conyers, Shah, and a new contingent of Mandel students will be fighting for Kevin on both fronts.



---
Go to:
---
Return to June 1997 Table of Contents